Kentucky Edges Florida in Great State Challenge
by Tom LaMarra
Date Posted: 12/7/2002 8:08:16 PM
Last Updated: 12/7/2002 10:11:01 PM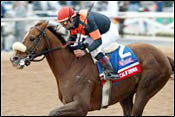 Continental Red, winning the Great State Challenge Classic.
Photo: Jeff Coady/Coady Photography

It came down to the last race of the Great State Challenge, with Kentucky edging out Florida for bragging rights of the inaugural event held today at Sam Houston Race Park.Kentucky didn't have the winner of the NTRA Great State Challenge Classic, but won by virtue of fourth-place finisher Big Number picking up points. Florida did not have an entrant in the Classic.The winner of the Classic was Sharon Fitzpatrick's Continental Red, who withstood an inquiry and objection from third-place finisher Pickupspeed. The results stood. Pass Rush was second.Sharon Fitzpatrick's husband, Wes, is president of the California Thoroughbred Breeders' Association. The Fitzpatrick's bred the winner in California.Kentucky finished with 36 points in the six races, with Florida second with 34. Next was Maryland with 29, followed by California (21), Texas (12), Illinois (10), Washington (9), Indiana (9), Iowa (1), and New York (1).Winners received 10 points, second eight, third six, fourth four, fifth two, and those 6-14 received one point if their state was not represented in the top five."That's the way is should work," a gracious Dick Hancock, executive director of the Florida Thoroughbred Breeders and Owners Association said. "It was decided by the horses on the racetrack."Total handle on the six Great State Challenge races and four other stakes on the card was $5,083,692, an all-sources handle record for the track. The attendance on track was estimated at 12,100 on a nice day in the Houston area with the temperature in the low 60s under partly cloudy skies.Continental Red, by Flying Continental, was pre-entered in both the Classic and Turf, his connections opting for the dirt.Continental Red had been running primarily on the turf, but his last start was on the dirt in the Cal Cup Classic, in which he was beaten just a head by Calkins Road.The Classic winner is trained by Ian Jory, who was unable to make the trip. Continental Red was saddled by Brian Lynch.Continental Red won by a length and ran the nine furlongs in 1:49.34. He returned $6.20, $4 and $13.The show prices were large because the entry of Big Numbers and Easyfromthegitgo, sent off 4-5, ran off the board, finishing fourth and fifth in the six-horse field. Pass Rush returned $4.40 and $14.60, and Pickupspeed returned $22.60.There was some bumping at the head of the stretch, but the stewards let the result stand."The horses just came together," winning rider Pat Valenzuela said. "There was bumping, but it certainly wasn't enough for a disqualification."In the NTRA Great State Challenge Turf, Howard and Sondra Bender's homebred La Reine's Terms pulled the upset, with favored Forbidden Apple running third. Closing late for second was Mystery Giver.Forbidden Apple was 1-2 but came up short, with La Reine's Terms, under Horatio Karamanos, winning by a half length. Second was Mystery Giver, who went off 15-1 and was flying late with Robby Albarado.La Reine's Terms (by Private Terms) paid $16.80 and ran the nine furlongs on firm turf in 1:51.61.Richard Englander's My Cousin Matt put Florida ahead in a battle of the states midway through the Great State Challenge with a crushing seven-length win in the NTRA Great State Challenge Sprint.But in the fourth race in the series, the NTRA Great State Challenge Distaff, heavily favored Take Charge Lady (Kentucky) easily defeated three other fillies and mares for owner Select Stable, trainer Ken McPeek, and jockey Edgar Prado. That put Kentucky and Florida in a tie (28 points to 28 points) with two races to go.The Sprint had all the makings of a great race on paper, and it didn't disappoint. Le Numerous (Iowa), Day Trader (Kentucky), and Royal Lad (Florida) hooked up in an early duel in the six-furlong race through torrid fractions of :21.57 and :44.44. Jockey Ramon Dominguez called on My Cousin Matt on the far turn, and the 3-year-old gelding shot through along the inside to take the lead and draw away with ease.Dash for Daylight (Kentucky) rallied for second, and Deer Lake (Maryland) rallied for third. Final time was 1:09.06, close to the track record of 1:08.88 set by Bucharest in 1994, the year Sam Houston opened.A few days before the Sprint, Englander, who claimed My Cousin Matt for $85,000 in late September, predicted victory."I don't think there is a sprinter in the country that can beat him, with Orientate retiring and Thunderello getting hurt," Englander said. "I think he's my best horse, and he's going to win on Saturday."Take Charge Lady got the early lead and never looked back enroute to victory in 1:44.40 for 1 1/16 miles. Prado called on the 3-year-old filly for run at the top of the stretch as Mystic Lady closed the gap, and she took off for an easy score by 3 ½ lengths.Take Charge Lady finished second in the Falls City Handicap at Churchill Downs a little more than a week before the Great State Challenge. The quick comeback for the filly raised some questions."I asked myself that ... It's one of those things that you put your neck out on the line if things don't go right, but it was a good spot," McPeek said. "We could probably run her back next week."In the NTRA Great State Challenge Juvenile Fillies, Michael Sherman's Elegant Designer (Florida) defeated Midnight Cry (Kentucky) and Souris (Kentucky) in 1:23.40 for seven furlongs. Elegant Designer is trained by Richard Dutrow and was ridden by Mario Pino.In the NTRA Great State Challenge Juvenile, Stan Fulton's Crackup (California) defeated Supah Blitz (Florida) and Cherokee's Boy (Maryland) in 1:22.73 for seven furlongs. Crackup is trained by Rafael Becerra and was ridden by Tyler Baze.



Copyright © 2014 The Blood-Horse, Inc. All Rights Reserved.