Japan's Hayata Group Bankrupt
Date Posted: 11/26/2002 3:44:45 PM
Last Updated: 11/27/2002 12:30:27 PM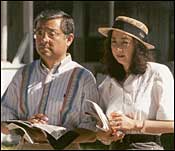 Koichiro and Yuki Hayata, breeding group in bankruptcy.
Photo: Anne M. Eberhardt

Yuki and Koichiro Hayata's Hayata Group has petitioned for bankruptcy in Japan. The Hayatas operate Hayata Farm and CB Farm, where they stand Brian's Time, one of the top sires in Japan since 1996, plus 10 other stallions. Both farms are on the island of Hokkaido. According to published reports, the farm received an adjudication of bankruptcy on Nov. 25. The total liabilities were ¥5.81 billion (about $47,736,420). Hayata Farm was founded in June, 1973. Their annual sales were ¥2.8 billion (about $23,005,504) in 1999, but has declined to ¥1.7 billion ($13,967,628) in 2001.The Hayatas, both veterinarians, were among Japan's leading buyers in the U.S. in the 1990s. In 1989 they purchased Florida Derby and Pegasus Handicap (both grade I) winner Brian's Time for stud duty in Japan. Since then he has regularly been ranked only behind Sunday Silence on that country's leading sire lists. In 2000 the Hayatas opened the Narita Brian Memorial Museum, a monument to their 1994 Japanese Triple Crown winner Narita Brian. The tribute reportedly cost ¥100 million.



Copyright © 2015 The Blood-Horse, Inc. All Rights Reserved.