Quarantine Quandry
by Ray Paulick
Date Posted: 11/26/2002 10:33:18 AM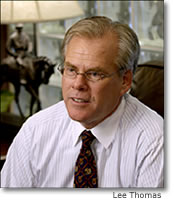 Ray Paulick
Editor-in-Chief


When the Japan Racing Association created a rich international turf race in 1981, it was a bold and creative stroke that put the island nation in the world racing spotlight, if only for a day. In the early stages, the Japan Cup (Jpn-I) was easy pickings for horses from North America and Europe. The first running went to Mairzy Doates, with North America getting its first and only sweep when Canadian Frost King finished second and The Very One was third. American Half Iced took the second running, and Ireland's Stanerra won the next year. Japan won for the first time in 1984, which, perhaps not coincidentally, marked the first year of the Breeders' Cup. Since then, as the Japanese have improved the quality of their bloodstock, the balance has tipped in their favor. However, the home team's streak of four straight wins and seven of 10 was snapped this year when Italy's Falbrav defeated America's lone representative, Sarafan, by a nose. Interest by American horsemen in the Japan Cup was waning in the late 1990s, so in 2000 the JRA created a companion dirt race on the same weekend. Because Japanese racing is more concentrated on turf than dirt, it was expected this new $2-million race would be an opportunity for Americans to dominate. That hasn't been the case, as Japanese horses have easily taken the first three runnings. The U.S. has not sent its best horses. With the exception of Lido Palace, who finished eighth in 2001, most of the American horses contesting the Japan Cup Dirt (Jpn-I) have been good allowance and stakes runners but not grade I winners. This year's renewal was a perfect example. Reba's Gold is a 5-year-old who didn't win his first stakes race until September, when he captured the Ralph M. Hinds Invitational Handicap at the Los Angeles County Fair at Pomona. The second U.S. runner, 7-year-old Abreeze, has yet to win a stakes. Japanese officials are perplexed why owners of the best American dirt and turf horses are showing such little interest. There are at least a couple of reasons the races are not being embraced by American horsemen. First, late November is a difficult time to attract top horses, because those who run in the Breeders' Cup are not likely to ship to Japan. In addition, there are some attractive late November races for 3-year-olds and up at Aqueduct, Churchill Downs, and Hollywood Park. Second, word has circulated among American horsemen that Japan's quarantine rules may compromise the chances of foreign horses. Most racing countries allow horses to go into quarantine in an isolation barn at the track where a race is being run. The time required in isolation before they are allowed to train over the track is typically 24 hours. The Japanese system requires a foreign horse to quarantine at a remote facility for five days, excluding the dates of arrival and departure. The track on which the horses can exercise is a half-mile oval unfit for serious training. As a result, horses lose a week of conditioning. Interestingly, Eagle Cafe, the Japanese runner who won this year's Japan Cup Dirt, was allowed to quarantine at Nakayama racecourse when he came back from France, where he raced in early October. That fact was cited by co-owner Teruya Yoshida as a reason for the horse's victory. The rules apparently are different for Japanese horses returning home from abroad. It's doubtful the JRA can find a better place on the calendar for its two big international events. But if they are serious about keeping the Japan Cup races in the world spotlight, JRA officials should immediately begin to lobby their own government to change the quarantine rules. Japanese officials are perplexed why owners of the best American horses are showing little interest



Copyright © 2015 The Blood-Horse, Inc. All Rights Reserved.