Federal Freeze May Delay Pick Six Payout
by Lenny Shulman
Date Posted: 11/22/2002 12:08:55 PM
Last Updated: 11/22/2002 12:36:33 PM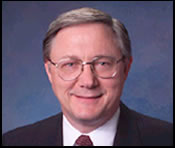 IRB director Walter Dudycz.


The executive director of the Illinois Racing Board said Friday it was premature to say if the board will take up at its Dec. 9 meeting the issue of dispersing funds to holders of winning Pick Six tickets from the Breeders' Cup World Thoroughbred Championships. The Breeders' Cup was held Oct. 26 at Arlington Park, but the Pick Six scandal involving the doctoring of tickets has held up payment. Nobody correctly and legally picked all six winners, so holders of tickets with five winners have been awaiting enhanced payouts."There are a myriad of issues at work here," said Walter Dudycz, the board's executive director. "We have created our own task force in conjunction with the Illinois Attorney General's office, and the Illinois State Police are also conducting an investigation. In addition, we have been told there is a federal freeze order on the money, and we are waiting for those documents to be sent to us. If and when we receive that in our possession, it supercedes any of our actions."The 11-member panel is scheduled to meet Dec. 9 and again on Dec. 17. It meets 10 times per year, although emergency sessions are also a possibility. Next year's schedule of meetings will be determined at one of the December sessions.Dudycz, a former Illinois state senator and Chicago police detective, said the board has received letters and communications from the racing industry as well as bettors who had winning tickets. Those who cashed Pick Six tickets with five winners were paid about $4,000, since it was initially thought someone had a ticket with six winners. When that ticket, and many tickets with five winners, turned out to be fraudulent, the winning payoff for legitimate tickets with five winners will increase to in excess of $40,000. Those who cashed tickets will need the tax forms they filled out to receive the higher amount."I'm not going to make any hasty decisions or urge my board to make any hasty decisions," said Dudycz. "We're going to do the right thing at the proper time and make sure the integrity of the racing industry in Illinois is intact. We will make the right decision based on all the facts."Dudycz added that the state's attorney general's office indicated that no one in Illinois is a target of the investigation.



Copyright © 2015 The Blood-Horse, Inc. All Rights Reserved.