Keeneland November Sale 'Slightly Ahead Of Expectations' After Two Sessions
by Deirdre B. Biles
Date Posted: 11/5/2002 7:58:00 PM
Last Updated: 11/7/2002 7:13:27 PM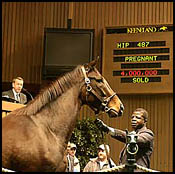 Bless, topped Keeneland's second session.
Photo: Anne M. Eberhardt

The days of big across-the-board increases at the Keeneland November breeding stock sale may be gone. But this year's auction performed "slightly ahead of expectations" during its first two sessions, according to the company's director of sales, Geoffrey Russell.At the end of business on Tuesday, the auction was running ahead of last year's pace in number sold, gross revenue, median price, and number of seven-figure horses sold. In addition, the buy-back rate was also was down significantly."The sellers have come here to sell, and the buyers have come here to buy," Russell said. "I know it's something you're getting tired of me saying, but it is a professional sale. The era of fireworks is over, and I think now we've come into an era where we are going to have professional horse sales. Good quality stock will bring a lot of money, and we'll go on about our business. Expectations have decreased."During the first two sessions, 368 horses were sold for a gross of $111,859,500, an average of $303,966, and a median of $167,500. Compared to a year ago, the number sold and gross increased by 10.8% and 5.6%, respectively. The average slipped by 4.7%, but the median rose by 1.5%. The buyback rate fell from 31.5% last year to 21.2% this year. The number of horses sold for individual prices of $1 million or more rose from 18 to 20."I think the market is very good," said Brereton Jones of Airdrie Stud. "I think there are a lot of people in the world who have money, and they don't want to put it in CDs because the rates are too low. They've also gotten scared of the stock market, so they feel like quality horses are good investments."During Tuesday's session, 182 horses were sold for a gross of $53,008,000, an average of $291,253, and a median of $162,500. The number sold and median were up by 1.1% and 1.6%, respectively, from 2001. Meanwhile, the gross revenue and average declined by 7.3% and 8.3%, respectively.The highlight of Tuesday's session came when Bless, a full sister to Kentucky Derby winner Fusaichi Pegasus, sold for $4 million to ClassicStar LLC. Her price equaled the amount brought last year by the sale-topping mare Twenty Eight Carat, who was in foal to Fusaichi Pegaus. Bless, a 3-year-old unraced daughter of Mr. Prospector, is in foal to Storm Cat. She was consigned to the auction by Arthur B. Hancock III's Stone Farm, as agent for Hancock and Stonerside Stable.ClassicStar is a commercial breeding and racing venture that involves David Plummer, Tony Ferguson, Thom Robinson, and John Parrott. Ferguson, Robinson, and Parrott are executives of Gastar Exploration Ltd., a natural gas exploration and production company. Plummer is a major shareholder in Gastar.ClassicStar was the sale's leading buyer through two sessions, spending $15,905,000. Close behind was Klaus Jacobs' Newsells Park Stud, which spent $15,230,000. Newsells, primarily a commercial breeding operation, is based in England."We waited all day to buy her and we knew she wasn't going to go cheap," said Plummer of Bless.John Adger, racing manager for the Stonerside operation of Robert and Janice McNair, confirmed he was the underbidder on the mare. Adger said the female family had been good for Stonerside but that he was not prepared to go above $4-million.The session's co-second-highest price of $2-million was paid by Australian horse breeder Jim Fleming for Warrior Queen, a 5-year-old daughter of Quiet American consigned by Eaton Sales. Fleming, the operator of Tyreel Stud who made a rare trip to the Keeneland sale because he thought prices would be depressed and it would be a buyer's market, was represented by Adrian Nicole of BBA (Ireland).Also bringing a final bid of $2-million was Ela Athena, purchased by Newsells Park Stud from the Michael C. Byrne consignment.Earlier in the day, Rose of Tara, a 6-year-old mare in foal to Storm Cat, was purchased by a Canadian breeder for $1,950,000. Consigned by Glenwood Farm/Voute Sales, the daughter of Generous was purchased by Toronto-based Chiefswood Stables. Chiefswood is the racing and breeding operation of Robert Krembil, a relative newcomer to the horse industry. Krembil previously was chairman of Trimark Financial Corporation, which was merged with another financial entity in 2000.Krembil, who said he currently has 15 broodmares, said he was attracted to Rose of Tiara's family and the fact she was in foal to Storm Cat. Produced from group II winner Flame of Tiara, Rose of Tiara is a half-sister to European champion Salsabil and to stakes winners Marju (group I), Danse Royale, Flame of Athens, and Song of Tara.Nasty Storm, a multiple grade II winner sold as a racing or broodmare prospect, brought a high bid of $1,075,000 from owner-breeder Frank Stronach. Stronach said he purchased the 4-year-old Gulch filly as a broodmare and was non-committal on whether Nasty Storm would run this Saturday in the Churchill Downs Distaff (gr. II), which she won in 2001.Starine, winner of the Breeders' Cup Filly & Mare Turf Oct. 26, was purchased by Newsells Park Stud for $1-million. The French-bred daughter of Mendocino was owned and trained by Bobby Frankel.TOP PRICES, TUESDAY SESSION:Price--Hip No./Horse/Consignor/Buyer$4,000,000--487/Bless/Stone Farm, agent for Arthur Hancock III and Stonerside Stable/Classic Star$2,000,000--537/Ela Athena/Michael C. Byrne, agent/Newsells Park Stud$2,000,000--447/Warrior Queen/Eaton Sales/BBA (Ireland)$1,950,000--371/Rose of Tara/Glenwood Farm-Voute Sales/Chiefswood Stable$1,400,000--576/Happyanunoit/Mill Ridge Sales/Newsells Park Stud$1,300,000--427/The Seven Seas/Mill Ridge Sales/Northwest Farms$1,250,000--343/Nannerl/Eaton Sales/Classic Star$1,075,000--344/Nasty Storm/Eaton Sales/Frank Stronach$1,000,000--407/Starine/Mill Ridge Sales/Newsells Park StudResults From Keeneland



Copyright © 2015 The Blood-Horse, Inc. All Rights Reserved.