Gross Revenue Increases Significantly At Keeneland November Sale; Buy-Back Rate Falls
by Deirdre B. Biles
Date Posted: 11/4/2002 7:14:03 PM
Last Updated: 11/5/2002 1:15:59 PM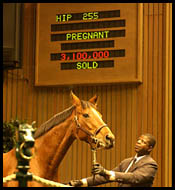 Fiji topped Monday's first session of the Keeneland November Breeding Stock Sale.
Photo: Anne M. Eberhardt

The Keeneland November breeding stock sale got off to an encouraging start in Central Kentucky on Monday, selling more horses and increasing its gross revenue from the previous year while suffering only minor setbacks for its average and median prices.Keeneland reported that 186 horses were sold during the first session for a gross of $58,851,500, an average of $316,406, and a median of $170,000. Compared to a year ago, the number sold and gross were up by 22.4% and 20.8%, respectively. The average remained about the same, falling by only 1.3%. And the median slipped by 5.6%. Meanwhile, the buy-back rate dropped significantly, from 36.7% last year to 21.2% this year. The number of horses sold for individual prices of $1 million or more rose from nine to 11."I thought it was a very professional sale," said Keeneland director of sales Geoffrey Russell. "The expectations of the sellers have adjusted to the market over the last year, and the buyers have jumped right in. Our 'not solds' were very low today. The jewels (top horses), as we call them, are still bringing excessive amounts of money, there's no mistake."Grass champion and multiple grade I winner Fiji brought the top price of $3.1 million from Betty Moran of Brushwood Stables. Reiley McDonald of Eaton Sales signed the sale ticket. An 8-year-old daughter of Rainbow Quest, Fiji sold in foal to Danehill. She was consigned by the late Fahd Salman's Newgate Stud. Other bidders who pursued the mare included Frank Lyon of Summer Wind Farm in Kentucky and Klaus Jacobs of England-based Newsells Park Stud."She (Moran) loves the top-level fights; she loves the action," McDonald said. "She fell in love with this mare. She looked at every big mare on the grounds, but had to go back to Pennsylvania. She had to have this one."McDonald had trouble getting through to Moran by phone when Fiji stepped into the auction ring late in the afternoon. He said Moran was on another line. But the agent and his client finally hooked up when the bidding reached $2.5 million."I was out of gas, but she had plenty left," McDonald said.After the Fiji left the ring, a relieved-sounding McDonald told Moran: "I'm glad you called when you did. I ran out of guts."McDonald also purchased the session's second-highest priced horse, the grade I-winning Afleet mare Flat Fleet Feet, for $2.3 million Consigned by Three Chimneys Sales, agent, she was sold in foal to Storm Cat.When asked if the buyer was Mrs. Moran again, McDonald replied that "she" did not want to be identified. McDonald supplied a similar answer earlier in the day after purchasing Christmas in Aiken (by Affirmed), the dam of multiple grade I winner Harlan's Holiday, for $1.45 million. Consigned by Taylor Made Sales Agency, agent, the 10-year-old winning mare was sold in foal to Forestry.McDonald signed the sale ticket for Fiji in the name of Brushwood, but signed the ones for Christmas in Aiken and Flat Fleet Feet as "Eaton Sales, agent."Champion Gourmet Girl brought the session's third-highest price of $2.25 million. Donald Adam of Courtlandt Farm purchased her from Taylor Made, agent. A 7-year-old daughter of Cee's Tizzy, Gourmet Girl sold in foal to Fusaichi Pegasus.Earlier in the day, during the auction's first hour, Adam spent $1,850,000 for multiple grade I winner Kalookan Queen, who sold as a broodmare or racing prospect. Adam indicated that the 6-year-old daughter of Lost Code would not race again, saying his adviser, Ken Carson, recommended breeding her to Storm Cat "if we can get a season." Taylor Made, agent, consigned Kalookan Queen to the auction. Her price was the fourth-highest of the session.The sale continues Tuesday at 10:00 a.m. (Eastern).TOP PRICES:Price--Hip No/Horse/Consignor/Buyer$3,100,000--255/Newgate Stud Farm/Brushwood Stable

$2,300,000--260/Flat Fleet Feet/Three Chimneys Sales Agency/Eaton Sales$2,250,000--270/Gourmet Girl/Taylor Made Sales Agency/Courtlandt Farm

$1,850,000--20/Kalookan Queen/Taylor Made Sales Agency/Courtlandt Farm$1,750,000--100/Salty Gal/Clifton Farm/Live Oak Stud$1,700,000--251/Fabulously Fast/Three Chimneys Sales Agency/Newsells Park Stud$1,525,000--283/Hookedonthefeelin/Hill 'n' Dale Sales Agency/ClassicStar $1,450,000--208/Christmas in Aiken/Taylor Made Sales Agency/Eaton Sales$1,300,000--194/Bright Feather/Three Chimneys Sales Agency/Overbrook Farm$1,250,000--63/On a Soapbox/Taylor Made Sales Agency/Newsells Park Stud$1,250,000--149/Veil of Avalon/Dromoland Farm Inc/France Pur SangResults From Keeneland



Copyright © 2015 The Blood-Horse, Inc. All Rights Reserved.