Pari-Mutuel Procedures Under Review at Racetracks
by Tom LaMarra
Date Posted: 11/1/2002 5:16:08 PM
Last Updated: 11/1/2002 11:35:09 PM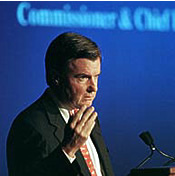 NTRA's Tim Smith.


Racetracks have already initiated a review of procedures related to pari-mutuel wagering in the wake of suspicious Breeders' Cup Ultra Pick Six wagers currently under investigation by the New York State Racing and Wagering Board."The need is clear to work on the confidence of our customers for the future," National Thoroughbred Racing Association commissioner Tim Smith said during a Nov. 1 teleconference. "We need to get the best systems and procedures as possible."One of the tracks that implemented new procedures is Santa Anita Park, where a $1-million guaranteed Pick Six will be offered Nov. 2. Sherwood Chillingworth, executive vice president of the Oak Tree Racing Association, said locks on the tote room door have been changed, a guard has been assigned to the room, and a security camera has been installed.In response to questions about public confidence, Chillingworth also said Pick Six handles at Santa Anita for Oct. 30-31 were higher than those from the same two days a year ago. The Breeders' Cup investigation was made public Oct. 28.Smith welcomed the latest developments but indicated there is a lot more to it. A new wagering technology task force is designed to be long-term."We continue to take this issue seriously, and we do have a confidence issue to address going forward," Smith said.Smith said the industry intends to ask the three major tote companies--AmTote, Autotote, and United Tote--to conduct computer security audits. He also said there are "differences in procedures" at the tote companies.The winning tickets in the Ultra Pick Six, worth more than $4 million, have been frozen. Under Breeders' Cup policy, if there aren't perfect tickets, those with five of six winners are paid. Officials said the Illinois Racing Board, which regulates 2002 Breeders' Cup World Thoroughbred Championships host Arlington Park, would handle the payout when the probe is completed.Breeders' Cup president D.G. Van Clief Jr. said the organization may very well end up implementing "event-specific practices" as a result of the investigation and the study of tote technology.



Copyright © 2015 The Blood-Horse, Inc. All Rights Reserved.