War Emblem Schools at the Gate; Came Home Jogs
by Steve Haskin
Date Posted: 10/24/2002 3:40:23 PM
Last Updated: 10/24/2002 8:08:13 PM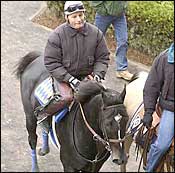 War Emblem works on Thursday at Arlington Park.
Photo: Anne M. Eberhardt<p>

It was a study in contrast Thursday morning, as the top California invaders War Emblem and Came Home went to the track for the first time. Both arrived at Arlington in good order Wednesday morning for their showdown in the Breeders' Cup Classic.Came Home was tacked up by 6:20, and headed to the track for his jog with trainer Paco Gonzalez aboard and accompanied by a pony.Two and a half hours later, Kentucky Derby and Preakness winner War Emblem went to the gate to be schooled before turning in a sharp gallop. Trainer Bob Baffert drove to the gate with War Emblem's former trainer Frank "Bobby" Springer, and the two engaged in some light levity. "Don't you feed this horse? Springer asked Baffert as he got his first glimpse of the colt. "Hey, he weighs 1,060 pounds," Baffert answered. "He's put on weight."War Emblem went into the gate with no problem and was a perfect gentleman, standing in there for a couple of minutes without turning a hair. Baffert said the colt was much improved from his gate-schooling at Del Mar."He becomes rambunctious when he gets a little sour," he said. "He's a very smart horse, and he tells you when to back off. He schooled perfect today. All signs are good. He just needs to break well. I told Victor to put him on the lead. That's the way he wants to run and we're not going to do anything to change that. Talking a hold of him is disastrous. I don't think Medaglia d'Oro can keep up with him, and I don't think E Dubai will be in front of him. He better not be."War Emblem and Came Home will be slugging it out, not only for the $4 million Classic purse, but Horse of the Year honors. Both Baffert and Gonzalez, however, feels their colt has not received the respect he deserves."I hope he can show it one more time," Gonzalez said. "He's doing great, and I'd love to see him prove to everybody how good he really is."Baffert said he's not surprised that people have jumped off War Emblem's bandwagon after his defeat in the Pacific Classic. "It's just natural that if a horse loses his last race, everybody jumps off," Baffert said. "It's the nature of the business. It's 'what have you sone for me lately?' I was hoping to sneak in like we did in the Derby."Came Home drew post 11 in the 12-horse field, which pleased Gonzalez. "It's a lot like the Pacific Classic when he had post 9," he said. "Mike (Smith) knows the horse now and sit wherever he wants. I told him before the Pacific Classic that this horse will relax on his own, as long as you let him run and don't take a strong hold of him. I told him he'll come off the pace, and he relaxed beautifully.



Copyright © 2015 The Blood-Horse, Inc. All Rights Reserved.