Duchossois: 'We Have to Change Some of Our Ways'
Date Posted: 10/24/2002 7:32:01 PM
Last Updated: 10/25/2002 9:02:11 AM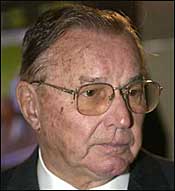 Arlington Park's Richard Duchossois calls for change.
Photo: Anne M. Eberhardt<p>

Arlington Park chairman Richard Duchossois says the horse racing industry can attract new patrons, but that it needs to change some of the ways it does business in order to remain competitive.Honored by the National Turf Writers Association during the organization's annual awards dinner in Arlington Heights, Illinois Wednesday night, Duchossois recalled the changes that have taken place over the past 10-20 years within racing and also at Arlington."Ten years ago, 90% of all bets were made at the racetrack," Duchossois noted. "Today, 90% of all bets are made someplace other than the racetrack. We have to change some of our ways of doing things, with new vocabularies and new networks. We have to get out and sell our industry and we can sell our industry."Duchossois said Arlington's status as one of the top racetracks in the country has been somewhat a result of the hardships and setbacks that Arlington has endured. "One thing we can say is we have never had a dull moment," Duchossois said in reference to the 1985 fire that destroyed the track and the track being shuttered for two years due to declining attendance, handle, and revenues. Duchossois rebuilt Arlington following the fire. After receiving favorable state legislation during the two years it was closed, Arlington reopened in 1989."All that has done is make us better people and enable us to build a better racetrack," Duchossois said.Arlington is now owned by Churchill Downs, in which Duchossois and his family are the largest shareholders.Duchossois was one of two recipients of the NTWA's Joe Palmer Award during the meeting attended by about 275 members of the media, owners, trainers, and breeders. The Joe Palmer Award, presented for meritorious service to the racing industry, also went to owner Eugene Melnyk.Melnyk was honored for the $1-million contribution by him and his wife, Laura, to build a child-care center at Belmont Park named after the couple's daughter Anna.Melnyk reiterated his first introduction to horse racing during his youth when he lived near Woodbine Racecourse in Toronto, Canada. He made frequent forays to the track and later considered himself a handicapper, Melnyk said. That interest later morphed into horse ownership, first with claiming horses and now with horses bought at public auction.Also honored by the NTWA were retired jockey Chris McCarron, the "Mr. Fitz" award for "typifying the sport of racing," and writer Billy Reed, the Walter Haight Award for "outstanding achievement in Turf writing."The Breeders' Cup Writing Awards were presented to Jay Privman of Daily Racing Form for newspaper writing, and Billy Reed for magazine writing for an article that appeared in Backstretch.



Copyright © 2015 The Blood-Horse, Inc. All Rights Reserved.