Ivanavinalot Out of Juvenile Fillies; Other Developments
Date Posted: 10/24/2002 11:35:10 AM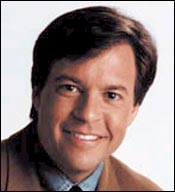 Bob Costas anchors NBC-TV coverage of Breeders' Cup.


Ivanavinalot, morning-line third choice for Saturday's Long John Silver's Breeders' Cup Juvenile Fillies (gr. I), was scratched Thursday morning. Breeders' Cup officials said the daughter of West Acre, trained by Kathleen O'Connell, had developed a fever and been treated with medication.Gilbert G. Campbell's homebred had won three in a row, including runaway victories in two races that are part of the Florida Stallion Stakes series.In other Breeders' Cup developments Thursday morning in Chicago, NBC announced that Bob Costas would head the network broadcast Saturday, and the weather forecast was changed again, this time not for the better.With Tom Hammond, who has been on all 18 Breeders' Cup telecasts, recuperating from double-bypass surgery, Costas has been chosen to lead the team that will handle the five-hour show. Coverage begins at noon Central time. The Breeders' Cup Classic (gr. I) runs at 4:35.Hammond will be shown from his home in Lexington.The National Weather Service is calling for rain Thursday and Friday, and morning showers on Breeders' Cup World Thoroughbred Championships Day. There is a 60% chance of rain for Thursday and Friday, and 30% chance on Saturday.The high temperature on Saturday is predicted to be 51 degrees.On Thursday morning, it was chilly and damp on the Arlington backside as intermittent rains fell.In other news:

River Downs publicity director John Engelhardt said he would "jump in the lake" if Ohio-bred Harlan's Holiday wins the Breeders' Cup Classic. Harlan's Holiday won the 2001 Miller Genuine Draft Cradle Stakes as a 2-year-old."I jokingly said one day about a year ago that I'd jump into the infield lake if a Cradle winner ever won the Breeders' Cup Classic," said Engelhardt, who will be at River Downs Oct. 26 in case he has to make good on his bet. "My assistant, Darlene Guenther, wrote the statement down and had me sign it, and it has been hanging on her wall ever since. How did I know the horse would get so good--or the water so cold!"Talk about mixed emotions," Engelhardt said. "I want to see him win, but I'm not so crazy about taking a swim in 50 degree temperatures. Certainly a victory will give me the chills--some I'll never forget."Lone Star Sky, winner of this year's Cradle, will compete in the Bessemer Trust Breeders' Cup Juvenile.



Copyright © 2016 The Blood-Horse, Inc. All Rights Reserved.