Sky Mesa's Connections Happy With Juvenile Post Position Draw
by Deirdre B. Biles
Date Posted: 10/23/2002 3:21:06 PM
Last Updated: 10/23/2002 4:17:05 PM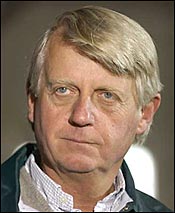 John Ward pleased with post position draw for Sky Mesa.
Photo: Anne M. Eberhardt<p>

When post positions were drawn Wednesday at Arlington Park for the Bessemer Trust Breeders' Cup Juvenile (gr. I), the connections of Sky Mesa didn't want to be too far outside or too far inside. After the son of Pulpit was awarded the No. 9 spot, everyone breathed a sigh of relief, according to Donna Ward, who assists her husband, trainer John Ward.Post position was especially important this year for several reasons. The Juvenile is set for its longest distance ever -- 1 1/8 miles -- and the distance from the starting gate to the first turn is only 397 feet. In addition, the race drew a full field of 14, so gaining a favorable spot early in the running could be a challenge."I really didn't want to be compromised in being able to make a choice of what position we wanted to race in," Ward said. "I felt being dead to the inside or completely outside would do that. We drew somewhere close to or a little bit past the middle, and I'm totally happy. I think you've got about six horses in there that have never run around two turns, and I didn't want to be so far out that if they didn't make the first turn, we couldn't do it. I didn't want to be inside because any time you're too close to the rail, it dictates your pace too much and you get locked in. You spend a lot of time trying to get into position."Sky Mesa, undefeated in three races, is the Juvenile's 3-1 morning line favorite. His two added-money victories came in the Hopeful Stakes (gr. I) and Lane's End Breeders' Futurity (gr. II).Patrick Biancone, the trainer of 6-1 Whywhywhy and 20-1 Zavata, had mixed emotions about the draw's results. Whywhywhy ended up with the No. 1 post position while Zavata got No. 10."For Whywhywhy, it (the draw) was perfect," Biancone. "It was not so good for Zavata, but it could have been worse. It's really a jockey problem more than trainer problem. I've talked to the jockeys who ride here every day, and they said in the 1 1/8-mile races, everything in posts 1-8 is good and everything outside eight is not good."Mike Battaglia, who set the Breeders' Cup's morning line, said the positions drawn in the Juvenile did not make him change his odds, even though he made a note to himself beforehand to remind himself to consider them. Battaglia left Champagne Stakes (gr. I) winner Toccet at 6-1, even though the colt is on the far outside. The oddsmaker also left No. 13 Wando and No. 12 Most Feared at 15-1 and 30-1, respectively."When Toccet (who stalks the pace) drew the outside, I figured it wouldn't hurt him as much," Battaglia said. "Wando, I had him at a big enough price and he can run late, so that didn't bother me. And the other, Most Feared, was already 30-1, so I left him alone."The Long John Silver's Juvenile Fillies (gr. I) will also be run at 1 1/8 miles, and that race will have a field of 11. The even-money favorite, Frizette (gr. I) and Matron (gr. I) Stakes winner Storm Flag Flying, drew the No. 4 spot. The 4-1 second choice, Frizette and Del Mar Debutante (gr. I) runner-up Santa Catarina, is in No. 1.Santa Catarina is trained by Bob Baffert, as are other Fillies entrants 5-1 Composure (No. 3) and 20-1 Atlantic Ocean (No. 9). In the Juvenile, Baffert will saddle 4-1 second choice Vindication (No. 6), 12-1 Bull Market (No. 5), and 12-1 Kafwain (No. 2).Said Baffert of the post position draw: "The only thing I'm disappointed in is the Juvenile Fillies. I would have liked to have had Santa Catarina outside a little bit. But the positions they draw, you never know how much they will matter. They all have to break well. I think it's going to be one of these things where these fillies are going to get out there, and if they can go that far, they can make it. And if not, they can't make it. The colts all look good."To Battaglia, post position was not as important in setting the odds for the fillies because there was not a full field and Storm Flag Flying was such a heavy favorite."I didn't worry about the fillies," he said. "Storm Flag Flying was going to be the favorite no matter what. If she had drawn the No. 11, I might have moved her up to 6-5."



Copyright © 2015 The Blood-Horse, Inc. All Rights Reserved.