Paulson Legacy Lives On at Breeders' Cup
by Dan Liebman
Date Posted: 10/22/2002 11:39:21 AM
Last Updated: 10/22/2002 3:09:09 PM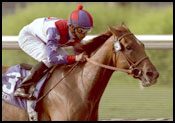 Azeri, shown winning the 2002 running of the Clement L. Hirsch Handicap, carries on the legacy of breeder Allen Paulson.
Photo: AP/Benoit Photo<p>

Allen Paulson died in July of 2000, but the legacy of his breeding successes continues. Paulson, the leading breeder of Breeders' Cup horses by earnings, will be represented by two runners Saturday at Arlington Park in the Breeders' Cup World Thoroughbred Championships.Paulson, who owned Brookside Farm near Versailles, Ky., bred five Breeders' Cup winners. Of Paulson's 25 starters, 13 others finished second through sixth and picked up a check. Paulson-breds have earned $6,694,800.Paulson bred two winners in 1992, Fraise, who won the Turf (gr. I) and Eliza, who scored in the Juvenile Fillies (gr. I). Paulson's best known Breeders' Cup winner was 1995 Classic (gr. I) hero Cigar, and he also bred 1997 Distaff (gr. I) winner Ajina and 1998 Distaff winner Escena.A third Paulson-bred will have a chance to win the Distaff this year. He bred favorite Azeri. Both Azeri and the other Paulson-bred, NetJets Mile (gr. IT) starter, Del Mar Show, are raced by his trust.The second leading breeder by money won in Breeders' Cup history is W.T. Young's Overbrook Farm. The home of leading sire Storm Cat has bred three Breeders' Cup winners and had 11 other horses, from 24 starters, to earn checks. The farm's earnings are $4,843,000.This year, Overbrook is represented by two starters, Boston Common in the Mile (gr. I) and Buffythecenterfold in the Long John Silver's Breeders' Cup Juvenile Fillies (gr. I).There are several other breeders that could have a big day Saturday. Seven others will be represented as the breeder of more than one starter. One breeder has four horses running on Saturday and two others have three each.The Niarchos family is the one with four entries: Domedriver, Aldebaran, and Good Journey in the Mile, and Denon in the John Deere Breeders' Cup Turf (gr. IT). Three of those runners were bred in the name of the family's Flaxman Holdings, who has previously bred the winners of three Breeders' Cup races.Juddmonte, owned by Khalid Abdullah, has had the most Breeders' Cup starters as a breeder, 31, but just one winner, Banks Hill, who won the Filly & Mare Turf last year. This year, Juddmonte has three, Banks Hill who seeks a repeat, as well as Beat Hollow in the Mile and Zenda, who was pre-entered in the Filly & Mare Turf and Mile.The other person that bred three of this year's starters is Stone Farm owner Arthur Hancock. Solely, Hancock bred Owsley and Dublino in the Filly & Mare Turf and in partnership with Stonerside Stable, bred Classic contender E Dubai.There are four breeders that will each be represented by two 2002 Breeders' Cup starters: Arthur Appleton, Atlantic Ocean in the Juvenile Fillies and Forbidden Apple in the Mile; Ballymacoll Stud Farm, Golan in the Turf and Islington in the Filly & Mare Turf; Payson Stud, Farda Amiga in the Distaff and Vindication in the Juvenile; and Wertheimer & Frere, Listen Indy in the Juvenile and Medecis in the Mile.



Copyright © 2015 The Blood-Horse, Inc. All Rights Reserved.