Saint Ballado to Undergo Surgery
Date Posted: 10/9/2002 8:47:22 PM
Last Updated: 10/10/2002 11:23:54 AM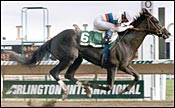 Saint Ballado scheduled to undergo corrective surgery.
Photo: Four Footed Fotos<p>

Major stallion Saint Ballado is scheduled to undergo surgery to correct mild incoordination, according to Ben Taylor, head of the Taylor Made stallion division. Dr. Phil McCarthy, an independent veterinarian who handles the Taylor Made stallions, examined the 13-year-old son of Halo and noticed some degree of incoordination."We consulted with leading experts Dr. Bill Bernard of Rood and Riddle as well as with Drs. Jim Robertson and Steve Reed from Ohio State University," McCarthy said. "A myelogram confirmed that Saint Ballado is suffering from a cervical compressive myelopathy. The surgery has been scheduled to stabilize his condition. We are confidant this horse will be in the breeding shed and ready to go by the beginning of the breeding season."A decision has not yet been reached as to where the surgery will take place, but Taylor mentioned Rood and Riddle as a strong possibility and within a week. Saint Ballado has stood for several seasons at Taylor Made near Nicholasville, Ky., and is represented by a career total of 33 stakes winners.



Copyright © 2015 The Blood-Horse, Inc. All Rights Reserved.