Belmont Park Race Report (Cont.)
Date Posted: 10/5/2002 8:26:26 PM
Last Updated: 10/8/2002 4:30:19 PM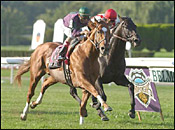 Green Fee, outside, wins the Kelso at Belmont Park.
Photo: AP/NYRA: Adam Coglianese

Maryland ManeuversThe Oct. 5 Maryland invasion hit on two fronts. One was expected. One was not. But they both came together just past the Belmont finish line, where trainer John Scanlan was standing, waiting for his 2-year-old colt Toccet to return after winning the $500,000 Champagne Stakes (gr. I). Scanlan's cell phone rang, and it was fellow Maryland trainer John Salzman, calling to congratulate him. Salzman had just saddled his remarkable filly Xtra Heat to a three-length victory over the colts in the Phoenix Breeders' Cup (gr. II) at Keeneland. Now, both were headed to Arlington for the World Thoroughbred Championships. "Hey, how about that filly?" Scanlan said to Salzman. "Congratulations. Is she a runner or what?" He could very easily have been referring to his own horse, whom he called "the best horse I've ever been around." Toccet actually has more of a Philadelphia connection than Maryland. That's where his owner, Daniel Borislow, is originally from. Borislow, who looks as if he just stepped off the pages of GQ, is a big hockey fan and named this colt after one of the most popular players ever to skate for the Philadelphia Flyers. Unfortunately, his name is spelled Tocchet. "We misspelled the name due to a bookkeeping error," Borislow said. "Rick (Tocchet) said I have to change the spelling of the horse's name. But I told him, 'If this horse wins, you'll have to change your name.' " Joining Borislow at Belmont was former Flyer Keith Jones, known for being more of a scrapper than a goal scorer. So, he really wasn't too offended when Borislow named one of his horses Jones Never Scores. Toccet came to Belmont off two runaway victories in Maryland, breaking his maiden at Laurel by 10 lengths and winning a 1 1/16-mile allowance race at Pimlico by 8 1/2 lengths. "I've known this horse was special from the day he walked into the barn," Scanlan said. "And he's got a lot more to show us, too. You wait your whole life for a horse like this. At least I have. He wants to run all day. I can never get this s.o.b. tired. I keep trying, but I can't do it." Toccet certainly showed no signs of getting tired in the Champagne. The race didn't draw one of its stronger fields, with Del Mar Futurity (gr. II) winner Icecoldbeeratreds, owned by Mike Pegram, shipping in from Bob Baffert's barn in California, and Pretty Wild trying to land his first stakes score after second-place finishes in the Hopeful (gr. I) and Futurity Stakes (gr. I). Conspicuous by his absence was Zavata, who had to withdraw after suffering a minor leg injury in his stall. None of the other starters in the field of nine had even come close in graded stakes. Icecoldbeeratreds took over the lead from the Wayne Lukas-trained Desert Warrior on the turn and appeared on his way to victory, as he opened a two-length lead in the stretch, with a moderate pace of :47.05 and 1:12.18 behind him. Jorge Chavez had Toccet in a contending position in fourth throughout, while along the inside. He brought the son of Awesome Again outside one horse nearing the top of the stretch, then steered him back to the inside. Toccet kept plugging away, but didn't seem to be making a dent in Icecoldbeeratreds' lead. Then, in the final sixteenth, his perseverance paid off. Whether the leader began to tire or Toccet found another gear at the end, the winner surged past Icecoldbeeratreds in the final yards and bounded away to win by 1 1/2 lengths in 1:44.45 for the 1 1/16 miles. Erinsouthernman, coming off only one start, a maiden victory at Saratoga, ran a big race to finish third, three lengths behind Icecoldbeeratreds. Pretty Wild had to settle for fourth. Toccet managed to fly in under the radar, paying a generous $20.20. Borislow and Scanlan now have their sights set on the Breeders' Cup Juvenile (gr. I) and beyond. "I learned a lot from my first trip to the Kentucky Derby (gr. I) last year with Talk Is Money," said Scanlan, who trains privately for Borislow. "I didn't do any good, but I can honestly say it was a learning experience." Borislow was one of the first Internet and long-distance telephone entrepreneurs, and his firm, Tel-Sav, was the exclusive provider for AOL. Now he has turned his attention to racing and breeding, keeping around 25 broodmares at Knockgriffin Farm near Lexington. He bought Toccet's dam, Cozzene's Angel, from Frank Stronach at the 1999 Adena Springs broodmare sale at Fasig-Tipton Kentucky. But one thing still gnaws at him. "Unfortunately, I sold her cheaply a year and a half ago to a woman in Washington. For the past three months I've been trying to buy her back, but she's smarter than me. After we saw what we had, I called Stronach about 60 days ago and told him what a great horse this is, and I never do that. So far, we've been very successful breeding horses. We're hitting at 45% winners with our homebred 2-year-olds." As Scanlan, Borislow, and their entourage toasted Toccet's victory and their first grade I score with a glass of champagne after the race, Scanlan turned to Borislow and said. "It's going to be a nice drive home. It took me six hours to drive here. It's going to take me one hour to drive back."(Chart, Equibase)



Copyright © 2016 The Blood-Horse, Inc. All Rights Reserved.