Belmont Park Race Report (Cont.)
Date Posted: 10/5/2002 9:00:17 PM
Last Updated: 10/8/2002 4:29:12 PM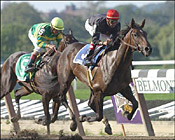 Storm Flag Flying, right, goes on to an easy victory in the $500,000 Frizette at Belmont.
Photo: AP/NYRA: Adam Coglianese

Run Up the FlagThe Phipps family's breeding Bible reads: "And Grecian Banner begat Personal Ensign...and Personal Ensign begat My Flag...and My Flag begat Storm Flag Flying." It's going to be a while before Storm Flag Flying begets anything, but you can bet her suitors will be lined up at the door when the time comes. The daughter of Storm Cat remained unbeaten with an impressive victory in the $500,000 Frizette Stakes (gr. I) Oct. 5. But more importantly, she answered the main question that was on trainer Shug McGaughey's mind: Would she behave more professionally than in her first two starts? The answer was an emphatic yes. Although she still pulled a few antics in the paddock, she was a dream on the track. There was no switching leads back and forth, no ducking in and out, no nothing but a powerful, professional effort in which she did everything perfectly. McGaughey, who has been blessed with many top-class horses over the years, has also been blessed with many head cases, including Storm Flag Flying's mother, sister, and brother. Between this family and the flaky Coronado's Quest, McGaughey has had more wild adventures in the saddling area than most trainers have on the racetrack. When Storm Flag Flying, while walking around the paddock, froze in her tracks a couple of times by the path leading to the tunnel, McGaughey just had her head right to the track, with jockey John Velazquez attempting to hop aboard en route. Compared to Coronado's Quest's antics and other things McGaughey has had to deal with, this was a piece of cake. And it would only get better...much better. Storm Flag Flying, sent off at 3-5 after a 12 3/4-length romp in the Matron Stakes (gr. I), was tested this time by the Bob Baffert-trained Santa Catarina, fresh off a narrow defeat in the Del Mar Debutante (gr. I). Although she was keen to go on early, Storm Flag Flying rated nicely for Velazquez. Santa Catarina looked strong on the lead, setting fractions of :23.70, :47.58, and 1:12.26. But when Velazquez finally pushed the button on Storm Flag Flying nearing the quarter pole, she quickly collared the leader, then drew clear to win by two lengths in 1:44.20. It was a gap of 11 1/4 lengths back to third-place finisher Appleby Gardens. "This was exactly what she needed," McGaughey said. "I thought she ran great. I didn't want Johnny to ride her hard today, so this race was probably easier for her than the last, when she made mistakes and he had to get into her. She was pretty professional today. Her little things, like what she did in the paddock, are things we'll have to work with. "One thing I like about her compared to her mother is that she's precocious. Johnny said he could have gone to the lead with her at any time. We know her traits, and we just have to be patient and let her take it from there." Continued...)(Chart, Equibase)



Copyright © 2015 The Blood-Horse, Inc. All Rights Reserved.