Santa Anita Race Report: Be Wary of Azeri
by Craig Harzmann
Date Posted: 10/2/2002 9:53:50 PM
Last Updated: 10/8/2002 4:45:51 PM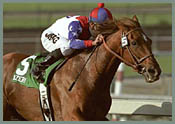 Azeri impressed with her Lady's Secret victory.
Photo: AP/Benoit photos

Published in the Oct. 12 issue of The Blood-Horse
As Azeri bounced along the pathway, tugging assistant Jeff Ford back home once again, a small but loyal fan club followed in her wake. Their admiration was undeniable. "Look at her, Mike," said trainer Laura de Seroux, her eyes fixed on the indefatigable filly. "She didn't have a race. You see how strong she is?" "Yeah, she's awesome," owner Michael Paulson replied. "The only word you can describe her with." At this stage, few would argue the point. It has been nearly a year since that first race, an ordinary six-furlong sprint that introduced the racing world to an extraordinary athlete. Since then, Azeri has developed like few before her, adding layer upon layer of grace and glory to her pristine reputation. And now, following her latest triumph in the $217,500 Lady's Secret Breeders' Cup Handicap (gr. II) at Santa Anita Park, the daughter of Jade Hunter stands on the brink of completing a dream campaign. "It's been perfection," de Seroux admitted. "I couldn't have scripted it better." Blessed with all the trappings of a superstar, Azeri has led a charmed existence during her brief but brilliant career. For 10 straight races--nine of them facile wins--the pieces have fallen into place harmoniously. According to her trainer, it has been an ideal schedule that has brought on a crucial ingredient. "In terms of muscle mass, she has added strength to her frame," de Seroux said, noting the biggest change in recent months. "It's part of a natural maturing process, and you know, her races have been spaced well all year, so rather than her races depleting her, her races have enhanced her physically. The only race where she lost weight or looked a little depleted was after the La Canada (gr. II)." That, of course, is her lone loss, the one blemish on an otherwise impeccable record. Azeri has been untouchable ever since, and her 3 1/2-length slam dunk in the Lady's Secret clearly stamped her as the one to beat Oct. 26 in the $2-million Breeders' Cup Distaff (gr. I). Though accustomed to a lonely lead, Azeri found herself challenged early in the Lady's Secret by Netherland. The duel sent sparks, as Azeri met the pressure with a half in :45.53. But the real test came when jockey Gary Stevens and Mystic Lady engaged the 3-10 favorite leaving the backstretch. "He did a good job trying to beat me," explained Azeri's rider, Mike Smith. "It was a brilliant move. He got on top of me, you know, he wanted to make that weight and everything else count. And he came at her so hard that it kind of took her by surprise." Beneath a 127-pound impost--a career-high--Azeri couldn't match Mystic Lady's abrupt move right away. According to Smith, though, it took only about three strides for Azeri to step it up. By then, they had gone six furlongs together in a brisk 1:08.98. Within a sixteenth of a mile, Azeri had already shaken off Mystic Lady for good. The final quarter-mile was simply a formality. Smith busted the race open, putting adequate separation between Azeri and her hapless rivals, then geared her down wisely in the final few yards. Azeri still clocked 8 1/2 furlongs in 1:41.10. Starrer caught Mystic Lady for second. "It's unbelievable," Smith said as Azeri cooled out back at the barn. "And that was the kind of race that you like going into the Breeders' Cup. She got something out of it, but then she was able not to tip over. You don't want to squeeze more than you have to." And de Seroux is the first to admit that the Breeders' Cup won't be a cakewalk. Four-year-old Azeri, bred by the late Allen Paulson and owned by his living trust, will face such sophomore standouts as Take Charge Lady, You, Imperial Gesture, and Farda Amiga, as well as her arch rival, Summer Colony. It will be by far Azeri's toughest challenge yet. Nevertheless, the game plan will be simple. "She's showing us her natural style, and I don't believe in trying to change a horse's style," said de Seroux, adverting to Azeri's free-wheeling ways. "I think she showed us today she can look a horse in the eye. If something goes wrong, we know that she can come from off the pace, so I'm not going to over-think it here." RIPE FOR THE PICKING Ben Cecil leaned against the white fence, trying hard not to wash out. It wasn't easy. His nerves were about shot. His one saving grace was the horse herself. "Compare her now to when you saw her at Del Mar," Cecil said as Golden Apples made her way down the pathway. "This filly has never been as good as she is right now." It hasn't been an easy year for Golden Apples, but her dramatic victory Oct. 5 over Voodoo Dancer and Banks Hill in the $500,000 Yellow Ribbon Stakes (gr. IT) proved the daughter of Pivotal is once again working at full strength. In early May, however, the 4-year-old filly had what amounted to the world's worst sore throat. The culprit--a large cyst, right on her epiglottis. "It was the size of a golf ball," remembered assistant Jon Applegarth, the filly's exercise rider. "Pretty vicious-looking." "The vet said it was the biggest one he'd ever seen, and it had probably been in there for a month. She ran with it, without a doubt," Cecil explained. "And you know, the medication she was on really knocked her out. She wouldn't eat, she wouldn't do anything." In terms of training, Cecil lost all of May and most of June with Golden Apples and consequently found himself in a scheduling dilemma as the back half of the year commenced. By the time Del Mar's Ramona Handicap (gr. IT) rolled around in late July, Golden Apples was just about out of her funk. Still, the effects were unmistakable. "If you looked at her, she looked horrific," Cecil recalled. "I mean, she had a winter coat in the middle of summer. She was skin and bones. Like I say, I was actually embarrassed. She looked so bad. I thought, 'I can't run her looking like this.' " Fortunately for Cecil and owner Gary Tanaka, Golden Apples fires her best shot every time. After a narrow defeat in the Ramona, she came back to upend division leader Astra in Arlington's Beverly D. Stakes (gr. IT). In the 10-furlong Yellow Ribbon, Golden Apples faced the reigning queen, last year's Breeders' Cup Filly & Mare Turf (gr. IT) champ Banks Hill. As it turned out, the toughest challenge came from Voodoo Dancer. The two fillies cornered together turning for home, leaving the traffic-plagued Banks Hill behind. Under Pat Valenzuela, Golden Apples finally edged ahead passing the eighth pole and went on to beat Voodoo Dancer by a length. Banks Hill ended up three lengths farther back in third. "I think we're in good shape," said a relieved Cecil, mulling over Golden Apples' upcoming test at the Breeders' Cup. "The one thing with this filly is she gives 120% every time you run her. She always tries." Continued...)
(Chart, Equibase)



Copyright © 2014 The Blood-Horse, Inc. All Rights Reserved.