Equine Attorney Don Sturgill Dies at 74
by Lenny Shulman
Date Posted: 10/2/2002 2:46:22 PM
Last Updated: 10/4/2002 2:44:38 PM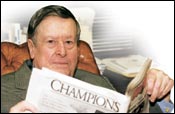 Lexington attorney Don Sturgill, dead at 74.
Photo: Anne M. Eberhardt

Don Sturgill, prominent Lexington equine attorney who served as general counsel for both the national and Kentucky chapters of the Horsemen's Benevolent and Protective Association, died Wednesday morning, Oct. 2, of a heart attack at his Lexington home. He was 74.Sturgill was an important player in the horse industry for some 47 years. After graduating from Harvard and passing the bar in 1955, Sturgill was approached by Brownell Combs and asked if he would represent Spendthrift Farm. "That's like being asked if you want to go to heaven," Sturgill said in a 2000 interview. He represented Spendthrift in the farm's heyday, handling the syndications of Triple Crown winners Seattle Slew and Affirmed. Sturgill, who also owned and bred Thoroughbreds, was a senior partner in the law firm of Sturgill, Turner, Barker & Moloney. The firm originated in the mid-'50s as Sturgill, Turner & Moreland. "He was like an uncle or a brother to all of us here," said Phil Moloney, Sturgill's law partner. "He was the dean of equine attorneys, a wonderful man who knew more people than anyone."Sturgill was instrumental in getting simulcast revenues distributed to horsemen at a time when nobody knew what simulcasting was. He argued the key federal case that upheld the horsemen's right to simulcasting revenue.Sturgill is survived by his wife and law partner, Ann. Funeral services are scheduled for 11:30 a.m. Monday, Oct. 7 at Christ Church Cathedral on Market Street in Lexington.Contributions are suggested to the Don S. Sturgill Scholarship Fund at the University of Kentucky College of Law.



Copyright © 2015 The Blood-Horse, Inc. All Rights Reserved.