Include Takes On Gander at Meadowlands
by Kristin Ingwell Goode
Date Posted: 10/2/2002 1:04:45 PM
Last Updated: 10/4/2002 8:06:43 AM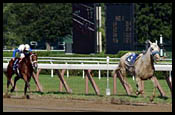 After losing his rider, Gander crossed the finish line first in the Saratoga Breeders' Cup.
Photo: AP/Jim McKnight

Include will be back at Meadowlands Friday night for another shot at the Meadowlands Cup (gr. II), a race that eluded him last year, when he came up two necks short of the top prize as the odds-on favorite.For his second attempt at the $400,000 race, trainer Bud Delp has made some adjustments to the horse, adjustments that were necessary following the colt's lackluster performance in the Iselin (gr. II), finishing sixth in the seven-horse field at odds-on."The horse looked like he pulled up okay," reported Delp after the Iselin Handicap, and later found out what went wrong. "It turned out that he displaced his soft palate, which he'd never done before, not in the three years Iíve trained him," said the latest trainer to join the Hall of Fame. "We've changed equipment, going from a noseband to a figure eight and he's been fine since. He's had three solid works and he's doing great."Include last worked on Sept. 24 at Laurel, going seven furlongs in 1:26 2/5.For Friday night's 1 1/8-mile contest he will be reunited with jockey Mario Pino, who rode the colt to win the Jennings Handicap at Pimlico this year, his lone win in three starts in 2002. The son of Broad Brush, winner of the 1986 Meadowlands Cup, will tote highweight in the race of 118 pounds.Some familiar foes will be ready to tackle Include in the Cup, including the top three finishers from the Iselin Handicap: Cat's At Home, Bowman's Band and Runspastum. Also, former rival Gander, who beat Include in last year's Meadowlands Cup, will be back in an attempt to be the first horse ever to win back-to-back runnings of the race. Gander is the 7-2 morning line favorite.In last year's running, Gander led at every call. Trainer John Terranova said although the horse likes the front, he doesn't have to be in the lead in every race. "If he gets it, that's fine, but he's an old pro and when he's ready to fire, he runs his race." In his last start Gander was second in the Sept. 7 Woodward Stakes (gr. I). Bowman's Band has the advantage of making his last start at Meadowlands over the same distance. He finished second to Cat's At Home, in the Aug. 18 Iselin. Owner Martin Swartz said Bowman's Band runs best off four or five weeks of rest. He hasn't started since the Iselin, while Cat's At Home was unplaced in the Woodward.Bowman's Band will have a new rider, Jose Santos. The jockey's agent had asked about the mount previously, and the rider has been watching tapes of the horse's races to get up to speed. Burning Roma also made his last start at Meadowlands. He won the Sept. 13 Alysheba Stakes for his first victory since last year. He is back in Heather Giglio's barn after stints with Tony Dutrow and Bill Mott. Giglio is very positive about the horse's recent progress. "He's coming back into himself like was coming into his 3-year-old year (when he won the Tampa Bay Derby)," said Giglio. She said the horse needed his most recent race and has responded well since then. "He needed a win and he's done terrific off that," she said. The field for Friday's $400,000 Meadowlands Cup, with jockeys and odds, from the rail:
1--Open Sesame, Jorge Chavez, 15-1
2--Burning Roma, Eibar Coa, 10-1
3--Gander, Richard Migliore, 7-2
4--Volponi, Shaun Bridgmohan, 5-1
5--Cat's At Home, Jose Velez Jr., 6-1
6--Bowman's Band, Jose Santos, 4-1
7--Express Tour, John Velazquez, 8-1
8--Windsor Castle, Javier Castellano, 20-1
9--Include, Mario Pino, 9-2
10--Runspastum, Michael McCarthy, 15-1
11--Cool N Collective, Chuck Lopez, 20-1



Copyright © 2015 The Blood-Horse, Inc. All Rights Reserved.