Industry Focus: Racing Experience Needs Some Diversity
by Tom LaMarra
Date Posted: 9/30/2002 7:45:56 PM
Last Updated: 10/1/2002 9:19:40 AM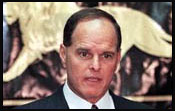 Casino executive and horse owner Terry Lanni.
Photo: Associated Press

Thoroughbred racing's advertising campaign for 2003 is somewhat geared toward it. A top casino executive says it's a necessity if the sport is to move forward. And it has been Magna Entertainment chairman Frank Stronach's mantra for several years.What is it? Racetracks must be more than racetracks.The National Thoroughbred Racing Association's new ad campaign, unveiled Sept. 30 at the organization's annual meeting at the Mirage in Las Vegas, is tied to research that produced three recommendations: The horse racing experience should be for "people like me" doing "things I do," transcend images only associated with the sport, and be tied to direct and relationship marketing geared toward both core and light fans.The ad campaign picks up on the music-based theme of this year. One of them features a broad mix of people and the song "It's Your Thing" by the Isley Brothers; the second, which notes that unlike other sports, the "players are in the stands," goes with an original rock score; and the third, based on the Toby Keith song "Should've Been a Cowboy," is focused on jockeys. There was a 7-to-1 positive reaction to the spots, officials said during the presentation at the NTRA annual meeting.The idea is to change, at least in part, the perception of the type of people who attend the races, and perhaps show that a racetrack is a happening place. A key finding in the research, which was developed from 1,000 interviews and Web-based technology, is that people attend the races because they are asked to go by friends.Still, getting them to wager is another story. Though his lunchtime talk was focused on racetrack gaming, keynote speaker Terry Lanni, chairman of MGM Mirage, said the racetracks must follow casinos in becoming entertainment destinations.Stronach, of course, has talked of having food courts, malls, and live entertainment at his racing facilities. Though a regular concert series at Magna's Gulfstream Park has lured thousands of new people to the facility, racing industry wise guys have panned the promotion on the contention the concerts distract from the racing product.Lanni, a Thoroughbred owner and well-known casino/entertainment executive, seems to agree with Stronach."A day at the races or a night at the races is just too long," Lanni said. "People are looking for a concentration of entertainment for less than three hours. You need an entertainment product so people compare you to other entertainment products. You need to find deep-pocketed individuals who can provide entertainment in consultation with the racetracks themselves."Lanni pointed to casinos with shopping malls, high-profile entertainers, and top-class restaurants as examples. He said that of MGM's total revenue of $4.3 billion, 51% of it now comes from non-gaming facets of the business. Years ago, about 85% of casino revenue came from gaming."The last decade has been a true transition of gaming," Lanni said. "The transformation of Las Vegas occurred at the same time when a gaming proliferation began throughout the country."On the topic of "racinos," Lanni said they work well, especially for states looking to eliminate budget deficits in the range of $200 million to $500 million. He said slot machines have fueled large purse hikes at tracks and make sense because racetracks can be properly fitted for the devices. Still, just having slot machines isn't the answer, he said."It's easy to expand them everywhere, so to have slots alone is not the key," Lanni said. "Anyone who thinks there is cross-over (to pari-mutuel wagering), it just isn't happening. (Slots) are not going to affect the underlying problems that affect racing today."Lanni said that, like casinos, racetracks must reach out to vendors who would pay to be on site to perhaps operate restaurants or entertainment venues. He suggested racing's business model needs modification, and went so far as to say industry participants should pay some of the freight."Why should farriers come (to the backstretch) for free?" Lanni said. "Why shouldn't the feed lot people be charged? Why not have veterinarians pay fees for having that concentration of horses at a track?"The NTRA may not tackle that one, but it has made considerable progress in luring new blood into the business via sponsorships this year. In fact, it is poised to announce a deal with FedEx, a longtime sports sponsor.Chip Campbell, the NTRA's senior vice president of television and sponsorship, said he's confident a formal announcement will be made before the Oct. 26 World Thoroughbred Championships at Arlington Park. The NTRA just announced that Guinness has signed on as a sponsor."This is a win-win for us and a win-win for FedEx," Campbell said. "If we do this right, I think FedEx will be with us for a long time. I think we'll have two to three other new sponsors before the end of the year if things go as we expect."Much of the new-found success is tied to the NTRA's decision to link group purchasing and sponsorship initiatives. Campbell said the racing industry has proven it will support sponsors that support it in turn."We must sell the loyalty of our industry to companies," Campbell said. "If we can deliver on that ... it is what differentiates us from any other sport trying to sell its product. Nobody else, including NASCAR, can do that."Joe Morris, who heads group purchasing for the NTRA, said he expects $17 million in sales this year. Combined, participants have saved about $3.5 million off the list price for various items and services, he said.NTRA commissioner Tim Smith kicked off the annual with what he called a "sermon" that called for more "positive energy" in the industry. The fundamentals, he said, are that horse racing is a fantastic sport, and that its wagering aspect is unique."We see 2003 as an especially and important promising year," Smith said. "Positive energy can overcome the industry's obstacles. Differences are just part of the landscape, or what I call part of the local color. If you had be against the Breeders' Cup 20 years ago, you would have lost."Smith said the fact horse racing's television ratings are way up for the first three-quarters of 2002 is extremely positive in light of the fact other sports are taking a hit. The PGA Tour, of which Smith was associated several years ago, is looking for 20 new sponsors, and attendance at Atlanta Braves Major League Baseball games is down 33% this year, he said.In the area of finances, Smith said member dues would be capped for 2003, though the merits of the decision can be debated. New members, which weren't named, could pump "seven figures" to the NTRA's bottom line next year, and if revenue from television and sponsorships continue on the current path, it may soon be even or higher than the expense side of the ledger.



Copyright © 2015 The Blood-Horse, Inc. All Rights Reserved.