Steve Haskin's Classic Preview: Evening Attire Leaps to Head of Division
by Steve Haskin
Date Posted: 9/30/2002 4:43:38 PM
Last Updated: 10/4/2002 8:12:06 AM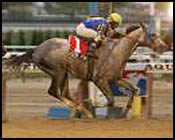 Evening Attire Takes Command of Classic Division.



With the Meadowlands Cup on Friday and the Goodwood Breeders' Cup Saturday the last opportunity for the older horses to sort themselves out, we could be looking at a very thin group come Breeders' Cup Day.After last weekend's races, only Jockey Club Gold Cup winner Evening Attire looks to be among the favorites for the Classic. The gray son of Black Tie Affair is getting good at the right time and is really hitting on all cylinders now. What he does have going against him is that only two of the previous 18 Classic winners came off a victory in the Gold Cup, and they were superstars Cigar and Skip Away.But Evening Attire is a lanky, long-striding gelding who doesn't appear to take too much out of himself, and with four weeks now separating the two races instead of theee, that statistic might not have as much bearing as before.Although Evening Attire, who loves a wet track, caught a blazing, drying out surface in the Gold Cup, he still closed his final three quarters in :23, :23 2/5, and :23 4/5 to complete the 10 furlongs in 1:59 2/5. That's 1:10 1/5 for the final six furlongs, which is sensational on any kind of surface going that far.To prove that wasn't a fluke, Evening Attire closed his final quarter in the Saratoga Breeders' Cup Handicap in :24 3/5 over a wet, but dead surface. And even in his fourth-place finish in the paceless Suburban Handicap, he still came home his last quarter in :23 4/5. He's won on fast, good, and sloppy tracks, and won the Aqueduct Handicap last winter in the snow. The feeling here is that this is a classy gelding who has a big future ahead of him, and another big one left in him this year.After Evening Attire, however, it's going to take a monumental effort for any of the remaining older horses to reach the winner's circle on Oct. 26. Pure Prize and Dollar Bill, one-two in the Kentucky Cup Classic, will have to step up against much better opposition; Milwaukee Brew will have to show major improvement off his fifth-place finish in the Gold Cup; and E Dubai will have to be at his best after being off for nearly four months recuperating from a foot injury. And assistant trainer Tom Albertrani has always felt 1 1/4 miles is not his best distance. His presence obviously will not help War Emblem if the Kentucky Derby and Preakness winner is looking to wire the field with an easy lead. That leaves the consistent, but seldom victorious Momentum and the improving Pleasantly Perfect, both of whom will slug it out in the Goodwood against the hard-hitting 3-year-old Like a Hero and Kela. The Meadowlands Cup is expected to draw Include, a top-class colt on his best day, and possibly Milwaukee Brew if trainer Bobby Frankel decides to wheel him right back in a week. Frankel said the Santa Anita Handicap winner came back from the Gold Cup as if he hadn't run and cooled out in a matter of minutes. His alternatives are running in an allowance race on the grass this weekend or training up to the Classic. Also pointing for the Meadowlands Cup are Gander, Bowman's Band, Burning Roma, Cat's at Home, and Windsor Castle, although none are likely to go on to the Breeders' Cup. Iselin Handicap winner Cat's at Home would be a slight possibility if he should put in a monster performance.Gold Cup runner-up Lido Palace turned in his usual solid effort, and kept digging in to the end, but simply couldn't stay with Evening Attire. At this point, owner John Amerman has not made a decision whether he'll shell out $800,000 to supplement to the Classic. It is worth noting that Lido Palace is 0-for-4 at 1 1/4 miles since coming to the United States, but has won three grade I's at 1 1/8 miles.It was expected by many that Sunday's Washington Park Handicap would prove to be the launching pad for Macho Uno, but the colt ran a dismal race at 3-5, and was out of it by the five-sixteenths pole. The winner, Tenpins, was all out to fight off a tenacious Generous Rosi, with Bonus Pack, the longest price in the five-horse field, right there until the final yards. Tenpins is as honest as they come and would be a welcome addition to the Classic. But it would be a major step up the ladder for the 4-year-old son of Smart Strike. What he does have going for him is that he's fairly lightly raced with only nine career starts and five this year, so we really don't know how much room for improvement there is. And more importantly, he likes to win.That brings us to the 3-year-olds, four of whom – Came Home, War Emblem, Medaglia d'Oro, and Harlan's Holiday – occupy the top four places on the list of Breeders' Cup point leaders. In addition to those four, the other Classic hopefuls who are in the field based on points are Milwaukee Brew, Dollar Bill, and Repent. The remainder of the field will be determined by the Breeders' Cup selection committee.Of the three 3-year-olds in the Gold Cup, it actually was the Nick Zito-trained Nothing Flat who might have run the best race in finishing fourth. The son of Peaks and Valleys was forced to circle the field on the turn and was hung out six-wide turning for home. He didn't change leads until the sixteenth pole, but when he did, he found another gear and was flying at the finish. One stride past the wire, he was by Harlan's Holiday for third. He was beaten only 3 1/2 lengths for all the money, and actually came home a tick faster than the winner. All Zito can hope for now is that there is a spot for him in the Classic field.Harlan's Holiday also ran an excellent race after battling on or near the lead all the way with Abreeze. And for a good part of the way, he was dueling with Abreeze on his outside and Repent on his inside. He continued to battle gamely, stuck on the rail, with Abreeze still lapped on him, and never saw any of the closers. Second race back off a layoff is usually the toughest, and he should improve off this effort. He is not a brilliantly fast horse, but he does have a powerful kick on the turn that he wasn't able to use in the Gold Cup. His best races are when he's able to sit back behind the speed and make one quick run inside the three-eighths pole. The main question is whether he can win at 1 1/4 miles against the best horses in training, which is why he needs to run his kind of race if he's going to get the distance.As for Repent, this was a huge disappointment for his connections, and for those who bet him down to 8-5 based on his performance in the slop in the Travers Stakes. It was surprising to say the least to see him rush up to challenge for the lead down the backstretch, regardless of the slow opening fractions. Coming off the kind of effort he put in in the Travers, the last thing he needed in the Gold Cup was to completely change his running style and engage the early pace just when it was starting to heat up. He tried to keep up, but cashed it in early. Now it's a question whether he can rebound off this race and still be a factor in the Classic.On the European scene, Hawk Wing's defeat in Saturday's Queen Elizabeth II Stakes at Ascot, his second straight loss, has confused the Ballydoyle picture. Even trainer Aidan O'Brien doesn't know how they're going to sort it all out. Hawk Wing could still go for the Classic or the Mile, or he could be put away for the year. Rock of Gibraltar, who scratched out of the QE II, will run in either the Mile or the Classic. He obviously has never run on dirt, but his sire, Danehill, is by Danzig, out of a His Majesty mare. Rock of Gibraltar's broodmare sire, Be My Guest, sired Belmont Stakes winner Go and Go, and "The Rock's" two tail-female fourth generation sires are Bold Ruler and Prince John, both major dirt influences.



Copyright © 2015 The Blood-Horse, Inc. All Rights Reserved.