Kentucky Race-Day Drug Policy Officially Revised
Updated: Friday, September 27, 2002 2:01 PM
Posted: Tuesday, September 24, 2002 2:34 PM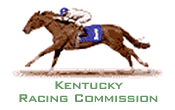 With no opposition in sight, the Kentucky Racing Commission on Sept. 24 officially revised its Thoroughbred race-day medication policy to reduce the number of permitted substances from 16 to five.The commission also modified its four-hour race-day rule to permit the use of mouthwashes in racehorses as long as they don't contain prohibited substances.Under the Kentucky policy, the race-day therapeutics on the approved list are: - No more than two NSAIDs, namely phenylbutazone (Butazolidin) and flunixin meclofenamic acid (Banamine), naproxen, or ketoprofen. - No more than one steroidal anti-inflammatory agent such as prednisolone, dexamethasone, prednisone, or triamcinolone. - Furosemide and aminocaproic acid (amicar), both of which can be used to treat exercise-induced pulmonary hemorrhage.Stimulants, local anesthetics, depressants, tranquilizers, masking and interfering agents, milkshakes, and possession or use of erythropoietin (EPO) and related substances would be prohibited.There will be withdrawal times set, as well as threshold levels for all potential trace contaminants such as lidocaine and morphine.The policy was developed by commission staff, veterinarians, and members of the scientific community. It will be enforced, said commission chairman Frank Shoop, who hopes it serves a model for the nation."We will not permit any abuse," Shoop said. "I consider this four-hour rule next to an act of God. If anyone violates it, they will pay the price."The racing industry began its push for uniformity in drug-testing and medication rules in earnest last year. A national consortium continues to meet on the subject, but thus far no proposed race-day policy has been issued. The American Association of Equine Practitioners, which got the ball rolling with the first Racehorse Medication Summit in 2001, advocates use of only furosemide (Salix) on race day.Dr. Jerry Johnson, a Kentucky racetrack practitioner, said the Salix-only policy did not receive widespread support among AAEP members. In addition, some Kentucky vets have contended their views had no voice in the push for national uniformity."We've gotten a lot of heck from the AAEP," said Johnson, who had input in Kentucky's new policy. "We feel we should be the leaders" and not follow "someone who doesn't touch racehorses everyday. The horse has to be number one, and the bettors need to be protected."Johnson said he believes "very strongly" the new policy should serve as a national model. Racing commissioner Alice Chandler called it a major step in the right direction, but suggested there could eventually be a need for modification."When the time comes for us to join in with national rules, we need to be part of it," Chandler said. "I'd rather go with the national (position)."Trainer John Ward said the policy "is well thought out and makes Kentucky consistent with the national picture. I think it shows the direction the state of Kentucky is headed and helps the integrity of horse racing. It also well-defines the responsibilities for participants in racing."David Switzer, executive director of the Kentucky Thoroughbred Association, and Marty Maline, executive director of the Kentucky Horsemen's Benevolent and Protective Association, both publicly stated that their organizations support the revised race-day policy.The scratch of Joseph Vitello's Tenpins from the $400,000 Kentucky Cup Classic at Turfway Park Sept. 14 led the commission to revise its four-hour rule. The stewards scratched the Don Winfree trainee after a report that Tenpins had received something orally within four hours of the race. Winfree said a groom washed out the horse's mouth with an herbal wash.Observers of the racing scene claim almost every horse has its mouth washed out before a race, and has for years. The new four-hour rule allows use less than five fluid ounces of the mouthwash. Containers must have labels that bear each ingredient and its quantity.In other medication-related business, the commission upheld hearing officer Jim Robke's recommendation that Dr. Joseph Kutz, a Thoroughbred owner, be fined $25,000 and suspended for 30 days effective Sept. 25 in connection with a positive test for Prozac in one of his horses this winter at Turfway Park. Kutz, a well-known Louisville surgeon, has the right to appeal.Shoop said the $25,000 fine is the largest ever ordered by the racing commission.
FREE! E-Newsletters from The Blood-Horse!...
Follow the top stories of major racing events, racing previews and results with FREE e-newsletters from bloodhorse.com. As news develops, we'll deliver updates to your inbox. Follow important events moment by moment, step by step!