Keeneland September Market Starts to Stabilize; Hennessy Colt Sells for $1.1 Million
by Deirdre B. Biles
Date Posted: 9/13/2002 8:03:42 AM
Last Updated: 9/15/2002 8:28:33 AM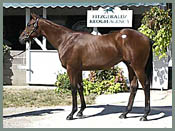 Hennessy colt, sold for $1.1 million.
Photo: Anne M. Eberhardt

After three consecutive days of sharp declines, the Keeneland September yearling sale turned in a solid performance on Thursday. When the numbers were compared to the same session a year ago, the gross revenue decreased by 4.8%, and the average price slipped by only 1.6%. The median rose by 10.8%."I think the market actually started to turn around a third through the day on Wednesday," said Craig Bandoroff of Denali Stud. "It was like somebody said, 'Hey, they're selling horses at Keeneland; let's get over there.' Horses started bringing good prices, and people started asking you in the back (of the sale pavilion) about them. It just felt like a regular year. I don't know what caused the change. Maybe they (the buyers) just stayed away from book one because they were afraid of the prices."Bandoroff and other consignors were encouraged further by heavy traffic in the barn area where horses are stabled that will be sold on Saturday and Sunday after Friday's break. Robert Courtney Sr. of Crestfield Farm said he did not plan to show his yearlings that were shipped to Keeneland on Thursday morning until Friday. But he received so many requests from buyers that he decided not to wait.The 244 horses sold on Thursday grossed $22,330,500 and averaged $91,518. The median was $72,000. In 2001, on the sale's fourth day, 252 horses were sold for a gross of $23,445,500, an average of $93,038, and a median of $65,000.Through the first four days of this year's auction, 879 horses were sold for a gross of $150,044,000, an average of $170,699, and a median of $105,000. Compared to 2001, the number sold was up by 1.2%, but the gross, average, and median plunged by 23.8%, 24.7%, and 16.0%, respectively.Thursday figures were pumped up by a $1.1-million Hennessy colt that was produced from the unraced Alydar mare Altair. The powerful Coolmore Stud team was the buyer.Consigned by FitzGerald/ Keogh, agent, the colt descends from a female family that includes Kentucky Derby winner Cannonade, champion Tosmah, and leading sire Halo, and other top stakes horses. Sanford R. Robertson, who lives in San Francisco, Calif., bred the colt.Aisling Cross and Paul Shanahan represented Coolmore, purchasing the colt in the name of Irish agent Demi O'Byrne."He is an absolutely beautiful horse," Cross said. "We were lucky to get him."Also pursuing the colt were Dr. Robert McMartin, representing Eugene Melnyk, and Florida horseman J. B. McKathan, who often bids on the behalf of trainer Bob Baffert's clients."It was a huge price, above and beyond what we thought he would bring; we had all the major buyers on him," said Jim FitzGerald, who consigns horses in partnership with James Keogh. "He was a big, loose-walking colt, a great example of a what a racehorse should be. He's exactly what people are looking for these days. It (a seven-figure price) can still happen if you have the right individual."Said Kathryn Nikkel, who manages Robertson's Thoroughbred holdings: "We're over the moon." Fillies by Real Quiet and Menifee tied for second-highest-price honors, bringing $450,000 apiece. David Plummer, who owns Classic Star Farm near Versailles, Ky. bought Real Quiet's daughter out of Morris Code from Viking Stud, agent. Mr. and Mrs. Jerry Moss of California purchased Menifee's daughter out of Madeira M'dear from Nursery Place, agent. The Mosses also paid $375,000 for a Tale of the Cat--Thorough Fair colt that was consigned by Spendthrift Farm, agent. The colt, who was bred by blacksmith James E. Jones, is a half-brother to 2002 graded winner Whywhywhy (by Mr. Greeley)."He was one of those 'gotta haves,' " Jerry Moss said. "I loved the way he looked, and I loved the way he held himself. He's a pretty classy individual, and his dam has already had some success."Moss added: "I think it's a great time for buyers. There are some real wonderful pedigrees here that you can get at a reasonable price. And I'm very pleased to have the funds available to take advantage of it."The colt is "definitely a special horse because of the attitude that he has and the way he does things," said Jones, his breeder. "He's also a quick horse. He will make a nice 2-year-old."Here's what some other consignors had to say about the open sessions that have been completed:Braxton Lynch of Three Chimneys Sales: "We had a lot of mid-range horses in our Wednesday group. We found there were a lot of people who were willing to pay $100,000 to $150,000, but they were quite conservative going beyond that, even on nice horses. Although there were profitable sales and good sales, they didn't really exceed expectations. When we had good horses, we knew they would bring $150,000 and hoped they would bring $300,000, and they brought $200,000. If we had positive surprises, they were small."Mark Taylor of Taylor Made Sales Agency: "I think it was more of the same. The good-looking horses sold tremendous. If you had a below average horse that maybe had a little vet problem, you were dead in the water. We had a good sale. One thing that is happening is you're getting more horses sold, which makes you feel better as a consignor. You hate to see all those 'RNAs' piling up. But people are getting less for their horses. We all are, and that's a negative. I thought the session (on Wednesday) was solid, but it was hard to get that breakthrough horse. We sold the highest-priced colt and filly, but the horses that were just a cut below them, it seemed like they would kind of fly to $150,000, if people were on them, and then the brakes screech."After Friday's one-day break, the sale has eight more sessions that run through Sept. 21.Results, other coverage, Keeneland



Copyright © 2015 The Blood-Horse, Inc. All Rights Reserved.