Keeneland's Marathon Sale Kicks Off With 33% Average Decline
by Ron Mitchell
Date Posted: 9/9/2002 12:46:06 PM
Last Updated: 9/11/2002 4:52:36 PM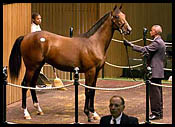 Danzig colt purchased by D. Wayne Lukas for $2.4 million.
Photo: Anne M. Eberhardt

With downturns in the U.S. economy and the selected summer sales, an air of uncertainty hung over the Keeneland sales pavilion in Lexington, Ky. before Monday's first session of the 12-day September Yearling Sale. By the end of the day, a lot of the questions being asked by buyers, sellers, and sales company officials had been answered. The bottom line is that there is less money in the yearling marketplace than there was at this time last year.Keeneland reported 195 horses were sold for a gross of $50,431,000 and an average price of $258,621. The average represented a 33.13% decline from the 2001 first session average of $386,737 when 156 yearlings grossed $60,331,000. Monday's median price was $170,000, compared with a $250,000 median for the comparable session one year ago. The 77 horses that did not sell by virtue of not attaining their reserve prices represented 28.3% of the total through the ring. Last year's opening-session buyback rate was 36%."It was as expected," said Keeneland sales director Geoffrey Russell. "The market showed an adjustment of one-third. All the main players were buying. They just seemed to have less amount of money to spend. There were fewer RNAs this year as consignors did a very good job of adjusting their expectations to the market. I think when breeders planned these matings three years ago the world was a totally different place than it is today."While the numbers were down, some consignors were not disappointed by the outcome Monday.Duncan Taylor, whose family's Taylor Made Sales Agency has the sale's largest consignment, concurred that the first day exceeded his expectations."It's better than we expected," said Taylor, noting that the agency adjusted many of the consignment's reserve prices prior to the sale. "It's down, but it's not a catastrophe. The people we are selling for are selling. We aren't taking many of them home."Hall of Fame trainer D. Wayne Lukas paid the session's top price of $2.4 million for a Danzig colt from the Middlebrook Farm consignment.Lukas, who said he's not sure which of his clients will end up owning the colt in partnership, cited the foal's pedigree and conformation as reasons for his bullish bid. "He's a lovely horse," Lukas said. The colt was produced from the grade II winning Alydar mare Aquilegia and is a full brother to European star Bertolini."He is the type of horse I can put more than one person in and all come out ahead," Lukas said of his ambiguity on the colt's ownership. "I am going to have to put something together."The session's second-highest price of $2,150,000 million was paid by Irish agent Demi O'Byrne, who represents Coolmore interests, for a Seeking the Gold--Gioconda (by Nijinsky II) colt."He has a spectacular pedigree and is a great looking horse," O'Byrne said. "He is a great mover."The half-brother to grade I winner Ciro was consigned by Three Chimneys Sales, as agent for the Jayeff B Stable of Richard Santulli and George Prussin. Earlier in the sale session, Jayeff B paid $1-million for an A. P. Indy colt."We like to buy good horses and we like to sell good horses," said agent Reynolds Bell Jr., who represents Jayeff B.Third-highest price of $1,650,00 was paid by John Ferguson, representing the Maktoum family, for a Deputy Minister--Highest Glory (Damascus) colt from the Middlebrook Farm consignment. O'Byrne also bought a full-sister to $3.5 million earner Spain for $1.2 million. Consigned by Mill Ridge Sales, the daughter of Thunder Gulch--Drina could remain in the U.S. for racing, O'Byrne said.The session produced its first seven-figure sale when a Storm Cat colt was purchased by Jeanne Vance for $1-million. Vance, who campaigned champion Lemon Drop Kid, was among the most active buyers during the early part of the fist session of the marathon sale."I was quite happy with what we got him for," said Laddie Dance, Vance's husband, indicating they probably would have gone higher to get the colt from the Mill Ridge Farm consignment.Not long after the Storm Cat colt went through the ring, Bell purchased the A. P. Indy colt for $1-million on behalf of Jayeff B Stable. The colt produced from the stakes-winning Nureyev mare Wild Planet was consigned by Lane's End.Santulli, the more active partner in Jayeff B, is chairman and chief executive officer of NetJets. Prior to the beginning of the Keeneland sale, Santulli announced that NetJets has become title sponsor of the $1-million Breeders' Cup Mile."It's about what we expected to pay for him," Reynolds said, noting that Santulli was buying additional yearlings to augment the crop of 2001 foals produced from the mares owned by Jayeff B.An Unbridled filly produced from the Pleasant Colony mare Solar Colony (a full sister to champion Pleasant Stage) was bought by Betty Moran's Brushwood Stable for $900,000. Moran said she had not decided who will train the filly, who was consigned by Lane's End.
Complete, live interactive results from bloodhorse.com



Copyright © 2015 The Blood-Horse, Inc. All Rights Reserved.