Consignors Preparing For Downturn At Keeneland September Yearling Sale
by Deirdre B. Biles
Date Posted: 9/9/2002 7:39:38 AM
Last Updated: 9/9/2002 11:00:59 AM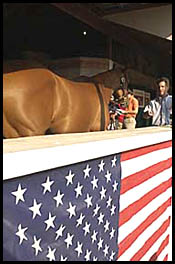 With the image of the American flag in the foreground, a yearling waits in the shadows to be shown to a prospective buyer.
Photo: Anne M. Eberhardt

As the Keeneland September yearling sale approached, consignors were steeling themselves for a significant downturn in prices. Most said they were seeing fewer prospective buyers than they had in the past. At times Saturday morning, the barn area was very busy, but there were also plenty of lulls in the action."Overall. the traffic has been light," said Frank Taylor of Taylor Made Sales Agency. Watching a Storm Cat filly kick up her heels in the shedrow, he added: "These horses are high today. I think it's because they haven't been showing as much as they normally have."The auction begins on Monday at 10 a.m. (EDT) with the first of two select sessions. There will be 12 sessions in all, continuing through Sept. 21, with a one-day break from selling on Sept. 13. There are 4,367 horses in the catalogue for the auction, which is the largest Thoroughbred yearling sale in the world.Padua Stables will be missing among the major shoppers after "filling our quota" at earlier auctions, according to Satish Sanan. While representatives of the Maktoum brothers were out in force, they said they weren't expecting any members of the Dubai's royal family to attend the September sale."Sheikh Mohammed has lots to do, and there's lots going on around the world," said John Ferguson, who manages the Crown Prince's bloodstock."They could surprise us, but as far as I know, none of them are coming," said Michael Goodbody, a key adviser to Sheikh Maktoum al Maktoum.Consignors, not surprisingly, were worried. Many spoke about being very conservative in establishing their reserves."It's not a time to swing for the fence," said Benny Bell Williams, who was helping out her husband, John Williams, at his consignment. "Every time you're up at bat, you should just try to do what you can to get safely on base. Just stay in the game and keep it all going. Sell a good horse, make a little profit, and move on. You need to look at it realistically."Said Taylor: "My question is this, what's a horse worth for you to go race and pay $30,000 or $40,000 a year to train? Think about doing that and then think about what would be the absolute bottom dollar you would take now. That's the kind of approach I'm taking. People have got to adjust their reserves to get their horses sold. The market has been good for a long time, but now it's coming down a little bit."Keeneland president and chief executive officer Nick Nicholson also was cautious."It's really funny how you hear different things," he said. "In July, people wanted more horses and more paper (better pedigrees). Well there's plenty of paper here and plenty of horses. The people are here, too, so we'll see. The sale will be as good as the economy will allow it to be."Here's what some other people had to say.Reiley McDonald, Eaton Sales: "I'm always a cautious optimist going into any sale. I've heard a lot of talk on the grounds that there haven't been enough lookers, but from our vantage point here, we've had plenty of lookers. I would say that this sale will be similar to the other select sales in that buyers will probably have fewer orders (for horses). But as far as the lookers go, we've been busy for three days showing, and we have to be happy with that."Helen Alexander, Middlebrook Farm: "Logic tells you it is going to be down. Fortunately, I think racing is going great guns, so that's the one positive side. But a lot of people have seen their paper wealth shrink up pretty severely over the last year, Horses are better than a lot of other investments right now, but people will be cautious. They'll use common sense."John Williams: "I think we all just need to realize that there is going to be a downturn, and it's going to bring this thing into perspective. With world conditions and the stock market like they are, people are holding on to their disposable income. But there could be a silver lining because stallion service fees may be adjusted. That will be healthy for those of us who are breeders because production costs have gone through the roof."Alice Chandler, Mill Ridge Farm: "After what's already happened this year, you're not going to get overly optimistic. But this morning, some people who are good judges of a horse and wouldn't try to flatter me told me we have some very nice horses. Now what that means, I don't know. I'm a little cautious."



Copyright © 2015 The Blood-Horse, Inc. All Rights Reserved.