Pennsylvania Derby Report: The Answer Man
by Linda Dougherty
Date Posted: 9/2/2002 9:05:02 PM
Last Updated: 9/4/2002 10:38:16 AM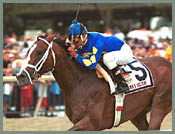 Harlan's Holiday, en route to victory in the Pennsylvania Derby.
Photo: AP/Equi-Photo

Published in the Sept. 7 issue of The Blood-Horse
He was facing a small field in a race that carried only a grade III ranking, but still there were plenty of questions concerning Jack and Laurie Wolf's Harlan's Holiday in the $500,000 Pennsylvania Derby at Philadelphia Park on Labor Day. Could he get 1 1/8 miles after nearly a 100-day layoff? Would he be able to run down Morton Fink's Wiseman's Ferry, the horse that appeared to be the lone speed? And how had he acclimated to the barn of his new trainer, Todd Pletcher, who'd taken over from Kenny McPeek after the Preakness Stakes (gr. I) on May 18? The answers to those questions, in order, were: Yes, yes, and just fine, thank you. Harlan's Holiday, a remarkably consistent colt over the last two years despite his poor efforts in the Kentucky Derby (gr. I) and Preakness, rebounded in high style in Philadelphia Park's richest race of the year. He came roaring down the middle of the lane to win just as jockey Edgar Prado--who just wrapped up the Saratoga Racecourse riding title and had piloted the son of Harlan in his previous four starts for McPeek--pleased. Harlan's Holiday was installed the even-money favorite, while Wiseman's Ferry was a close second choice. Godolphin's Essence of Dubai, a survivor of two races in the Triple Crown and third-place finisher in the Jim Dandy Stakes (gr. II) on Aug. 4, was third at 5-1. Nancy Alberts' Magic Weisner, the Preakness runner-up and winner of the Ohio Derby (gr. II) in July, was scratched two days prior to the race after coming down with a fever. Susan and John Moore's Iron Deputy was withdrawn the morning of the race with a slight injury, leaving the field with five runners. Wiseman's Ferry did shoot to the lead as expected under Jorge Chavez, but Pletcher and Prado decided before the race that they couldn't allow him to waltz up front in slow time, or else he might prove tough to catch. "If we let him (Chavez) go in :48 and change or slower, we'd be in trouble," said Pletcher. "But we knew my horse was sharp and fresh and hoped we could stay close." Prado let Harlan's Holiday set sail after Wiseman's Ferry and stayed within a length, on his outside, around the first turn and down the backstretch, through an opening half in :47.39. Chavez started to float Harlan's Holiday wide as they approached the far turn, however, leaving a gaping hole down at the rail for Essence of Dubai, who started to inch closer under local jockey Jose Flores. At the three-eighths pole, Prado asked Harlan's Holiday to run and he exploded with the type of move that had won him both the Florida Derby (gr. I) and Toyota Blue Grass Stakes (gr. I) earlier this spring, setting sail for the wire with an ever-increasing lead. Wiseman's Ferry gave up the chase nearing the eighth pole, and Essence of Dubai passed him for second, while Delaware Park invader Make the Bend rallied for third. The official margin of victory for Harlan's Holiday was 4 1/2 lengths, and he was timed in 1:51.10. "Kenny (McPeek) did a marvelous job with this colt, and we were just hoping to carry it along," said Pletcher in the winner's circle. "Anytime you take over the training of a horse like this you feel pressure. We had hoped he'd do well in his first start back--he's obviously a very talented colt and it's no secret he's one of the top 3-year-olds in the country." Pletcher said Harlan's Holiday had been given a brief freshening after the Preakness, and he had worked well at Saratoga, where he spent the meet with the rest of Pletcher's horses. "The timing of this race (Pennsylvania Derby) was perfect, because it puts us on a schedule with one month between here and his next race, and another month until the Breeders' Cup Classic (gr. I, Oct. 26)," he said. "I don't have his next race picked out yet, but the Jockey Club Gold Cup (gr. I) at Belmont (Sept. 28) is a logical spot."
(Chart, Equibase)



Copyright © 2015 The Blood-Horse, Inc. All Rights Reserved.