Saratoga Race Report: Coming of Age
by Steve Haskin
Date Posted: 8/31/2002 8:43:36 PM
Last Updated: 9/4/2002 11:29:23 AM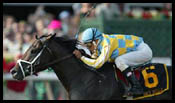 Sky Mesa, in upset Hopeful victory.
Photo: AP/NTRA/Horsephotos

Published in the Sept. 7 issue of The Blood-Horse
The premise of the 2002 Hopeful Stakes (gr. I) was simple: take a bunch of kids in short pants who still use training wheels on their bikes, and tell them to go kick the heck out of the kid in the leather jacket riding the Harley. That basically was the task five 2-year-old colts were given when they were asked to pick a fight with Zavata, the toughest kid on the block who had already trounced his rivals in several major street brawls. So, what do you do in a situation like that? You surround him. Before anyone could say mortal lock, Zavata found himself encircled by the kids in short pants. By the time he was able to get free, he was dismayed to discover that there was more fight in a couple of them than he bargained for. And he would soon learn that one of them, Sky Mesa, was a lot cooler and tougher than he thought. The son of Pulpit had already displayed a killer instinct, but having had only one skirmish and then getting sick for several days, he had a lot of catching up to do against a colt who had already won two graded stakes by huge margins. When Zavata finally was able to see daylight turning for home, he looked as if he were going to kick some more butt. But he found he was no match for Sky Mesa, who emerged victorious over another pretty wild kid named Pretty Wild, with Zavata coming out third-best in this scuffle. To trainer John Ward Jr., Sky Mesa has always been special and certainly was no kid in short pants who was going to be intimidated by a bully like Zavata. "He already looks like a 3-year-old," Ward said. "He's always been a very strong horse, and nothing he did ever took anything out of him. He has a good mind and a solid body, and he enjoys what he does. So far, he hasn't found out that there's work involved in this. Zavata had beaten what he had to, but with a lot of 2-year-olds getting started late because of the virus that was going around, there was a lot more out there to face, just as there will be more out there for Sky Mesa to face." With so much going for him, and with a pedigree that shouts distance, it looks like Sky Mesa could very well be the new tough kid on the block for a while. It was no wonder Ward was willing to pay $750,000 of owner John Oxley's money to get the colt at the Keeneland September yearling sale. "He had a great big gaskin and forearm, and had a good walk to him," Ward recalled. "And he's grown into a super-looking animal." Bred by Harbor View Farm, Sky Mesa has a star-studded bottom line. His dam, Caress, a multiple graded stakes winner of over $600,000, is by Storm Cat out of the Affirmed mare La Affirmed, who traces to Busanda, the dam of Buckpasser. Although Sky Mesa lost some time after his maiden victory due to a bronchial infection, Ward said he really didn't lose that much, because he would have been given a day or two off anyway following the race. "He's such a strong horse, he got over it quickly and was feeling so good we had to bring him back to the track," Ward said. In the Hopeful, Zavata's form justified his 1-5 odds. After rallying to finish second in the Three Chimneys Juvenile Stakes at Churchill Downs in his career debut, he rattled off three straight brilliant victories, winning an allowance race under wraps by 5 1/2 lengths, then winning the Tremont Stakes (gr. III) by 6 1/4 lengths in near-track-record time, and romping by 7 /4 lengths in the Saratoga Special (gr. II). No other horse in the field had won more than one race. Sky Mesa was impressive breaking his maiden by 7 3/4 lengths at Saratoga on Aug. 3, but was still far behind Zavata. At the start, Zavata broke a bit slowly, as Sky Mesa shot to the lead. But jockey Edgar Prado took Sky Mesa back and allowed Roaring Fever and Pretty Wild to cut out the early fractions. Jerry Bailey on Zavata was stuck between horses and appeared to check, dropping back to last. Bailey quickly moved him back into contention, behind the two leaders, but when Sky Mesa ranged up on his outside, there was no place for the favorite to go. Around the far turn, after a quarter in :22.41 and a half in :45.61, Sky Mesa had clear sailing on the outside and moved up to challenge. Bailey, still stuck behind horses, could only wait for him to go before thinking about fanning out. Once Sky Mesa cleared him, Bailey started looking for an escape route. He saw an alley open and steered Zavata to the outside. For the first time in the race the favorite had a clear path in front of him. Bailey sent Zavata after Sky Mesa and Pretty Wild, but it quickly became evident he was out of gas. Prado, meanwhile, hand-rode Sky Mesa, but when he saw his colt wouldn't go by a stubborn Pretty Wild on his own, he went to a series of right-handed whips. Inside the eighth pole, Sky Mesa began pulling away, crossing the wire 1 3/4 lengths in front, with Pretty Wild finishing two lengths ahead of Zavata. With a strong final eighth in under :12.50, Sky Mesa completed the seven furlongs in a solid 1:23.08, paying $9.80. Although CNBC's Charlsie Cantey called Zavata's trip a nightmare, and footnotes on Zavata from the official chart read: "Checked; shuffled back; boxed in turn; altered course," Bailey said the only "bad luck" he had was getting "bounced around leaving the gate. "I tucked in and saved ground, the way we've been working him," Bailey said. "It just didn't work out today. I thought he'd run those horses down, but he didn't." Sky Mesa is the latest in a string of top-class horses for the Ward/Oxley team, who have won major stakes over the past few years with Monarchos, Beautiful Pleasure, Hero's Tribute, Booklet, Forest Secrets, and Snow Dance. Now, for the first time, they have a major player in the 2-year-old colt division, one with the pedigree to match his looks and brilliance. "He came out of the race in excellent shape," Ward said the following morning. "We'll run him next in the Breeders' Futurity (gr. II) at Keeneland. We want to put him around two turns so he can continue to rate and close. At Arlington Park (the site of the 1 1/8-mile Breeders' Cup Juvenile, gr. I), you'd better be able to rate and close." From preceding page(Chart, Equibase)



Copyright © 2015 The Blood-Horse, Inc. All Rights Reserved.