Steve Haskin's Analysis: 3-Year-Old Division Takes a New Turn
by Steve Haskin
Date Posted: 8/28/2002 1:36:39 PM
Last Updated: 10/1/2002 4:10:53 PM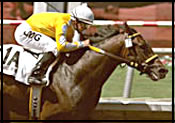 Haskin says: "Came Home could very well be the big horse we've all been looking for."
Photo: Benoit photos

Victories last weekend by Came Home in the Pacific Classic and Medaglia d'Oro in the Travers, combined with War Emblem's sixth-place finish in the Pacific Classic, have tightened up the 3-year-old division, with the Eclipse Award now up for grabs.Although a tardy start was given by some, including trainer Bob Baffert, as an excuse for War Emblem, the feeling here is that the start itself had absolutely nothing to do with the colt's defeat. Basically, all that happened when the gates sprung was that the Kentucky Derby and Preakness winner was in the process of lifting his head slightly and broke a tad flat-footed. But, other than a little brush, he had a clean trip going by the stands, and could have gone for the lead if Victor Espinoza had pushed him. But with Sky Jack already hooked up with Bosque Redondo through a fast opening quarter of :22 2/5, Espinoza was wise in taking up a stalker's position, especially considering War Emblem was not fighting him.War Emblem looked like a strong horse taking the lead around the far turn, but simply could not sustain it. Perhaps it was the torrid :57 3/5 work leading up to the race. Whatever the reason, this simply was not a good spot for War Emblem, considering the legitimate speed in Sky Jack and the kamikaze speed in Bosque Redondo, who is a top-class horse in his own right. That blazing work was certainly not an ideal prep for such a race.The fact that Came Home was able to rate beautifully in fifth off the fast fractions (:45 2/5 and 1:09 4/5) is what won him the race. While Came Home ran an unbelievable race at a distance most people, including the fans who made him 10-1, felt was too far for him, let's remember they did come home the last half in :51 3/5, with Came Home getting his final quarter in :25 4/5.But races are not always won in the last quarter mile, and despite the slow final half, they did fly early, and Came Home still was only 3 1/2 lengths off that wicked pace. His quick move nearing the top of the stretch, then blowing by the three leaders turning for home was a thing of beauty. With nine victories in 11 career starts and having won at five furlongs, six furlongs, seven furlongs, one mile, 1 1/16 miles, 1 1/8 miles, and 1 1/4 miles (all but his career debut in graded stakes), Came Home could very well be the big horse we've all been looking for. Unfortunately, most people have let the colt's speed-oriented pedigree prevent them from seeing the true talent, professionalism, and heart that lies beneath his family tree – regardless of the distance. With only two more starts remaining before his retirement to Lane's End Farm, it is unfortunate that we are only now beginning to appreciate this extraordinary horse who has been running his heart out since last summer.With the Goodwood Breeders' Cup his next likely start, we'll have to speculate until the Breeders' Cup whether he's as effective outside of California. He did win the Hopeful Stakes at Saratoga, but that was last August, and his two career defeats (in which he finished out of the money) have come in the Breeders' Cup Juvenile at Belmont Park and the Kentucky Derby. So, now we have Came Home in the Breeders' Cup Classic picture, and with the new dimension he showed on Sunday, he has now pulled just about on even terms with War Emblem, who has now finished out of the money in two of his last three starts, and still has to prove he can win from off the pace or after getting down and dirty early on. He also has to learn how to behave at and in the gate. But while he appears to be one-dimensional, with quirks about the starting gate, and the always worrisome ankle chips, he still is going to be dangerous wherever he runs. The Pacific Classic did not suit him at all, and he had a lot going against him. Trainers may not be as concerned about him on the front end as they've been since the Kentucky Derby, and that could prove to be a major mistake.From a physical standpoint, there is no more formidable opponent right now than Medaglia d'Oro, who is beginning to remind us a lot of Skip Away in his running style. A big, powerful, long-striding colt, Medaglia d'Oro likes to mix it up, but is content either setting his own pace or sitting just off the pace, just as long as he's in the fight. In the Travers, he seemed perfectly content being sandwiched between two horses through testing fractions in the slop of :23 and :46 4/5. Then, down the backstretch, he seemed just as content sitting back in second, stalking the front-running Shah Jehan. When Jerry Bailey asked him for an early move nearing the half-mile pole he obliged and took it home from there, turning back the relentless charge of Repent, who burst back on the 3-year-old scene with an unbelievable effort coming off a 4 1/2-month layoff.Medaglia d'Oro has shown he can run head and head the whole way as he did in Wood Memorial and for the most part in the Belmont Stakes. He's shown he can drop back and come on again as he did in the San Felipe Stakes. He's shown he can withstand pressure early and still hold off any late challenges as he did in the Travers. And he's shown he can demolish his opposition if he gets his own way early as he did in the Jim Dandy.As for Repent, this was a super comeback effort, especially with only four works under him. It's possible the slop helped, as he ran huge in it last fall in the Kentucky Jockey Club Stakes. But making the jump from 1 1/16 miles to 1 1/4 miles off that long of a layoff against a top-class horse like Medaglia d'Oro, and finishing 7 1/2 lengths ahead of third-place finisher Nothing Flat, there is little doubt that Repent will be a major presence the rest of the year.So, just like that, the much-maligned 3-year-old division has developed into a quality group. In addition to War Emblem, Came Home, Medaglia d'Oro, and Repent, we could see more Breeders' Cup Classic contenders emerge from next Monday's Pennsylvania Derby, with Magic Weisner squaring off against the returning Harlan's Holiday and the always dangerous Wiseman's Ferry. Mention also must be made of Puzzlement, who was moving stride for stride with Repent before bleeding. It was obvious something was wrong, as his action fell apart nearing the top of the stretch and he began struggling noticeably after turning for home. This powerful stretch runner still bears watching.The Woodward Stakes on Sept. 7 is the older horses' last chance to regain some of the reputation they commanded a few months ago, before Street Cry, Lido Palace, Macho Uno, Milwaukee Brew, and Sky Jack all were defeated. Street Cry and Lido Palace are still a powerful pair, and if Street Cry can repeat his spectacular performances in the Dubai World Cup and Stephen Foster, then he'll once again be the horse they all have to beat in the Classic. A newcomer to watch coming out of the Pacific Classic is Pleasantly Perfect, trained by Dick Mandella, who overcame a lot of traffic to finish a solid fourth, a half-length behind Milwaukee Brew. Then there is the hard-hitting multiple stakes winner Evening Attire, winner of the Saratoga Breeders' Cup Handicap at 1 1/4 miles in the mud, and Cat's at Home, winner of the Philip H. Iselin Handicap at Monmouth.And don't forget, Godolphin also has Suburban Handicap winner E Dubai to go along with Street Cry, while Aidan O'Brien has a dynamite mile and a quarter horse in Hawk Wing, winner of the Eclipse Stakes at Sandown.



Copyright © 2015 The Blood-Horse, Inc. All Rights Reserved.