Magna Skeptics
by Ray Paulick
Date Posted: 8/27/2002 11:34:10 AM
Last Updated: 8/27/2002 2:49:04 PM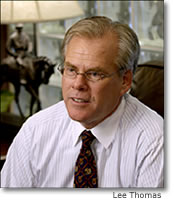 Ray Paulick
Editor-in-Chief


If the investment community is unclear about the direction Magna Entertainment is heading, it isn't alone. People in racing also are wondering exactly what chairman Frank Stronach has in mind for the company that has either acquired or has agreements to purchase racetracks in nine states and in one province of Canada. It is not unusual for a publicly traded company's share prices to fall as it goes on an acquisition spree, and as The Blood-Horse's financial writer, Eric Mitchell, reported recently (issue of Aug. 10, page 4310), at least two stock analysts have lowered their expectations for short-term performance by Magna Entertainment. But the analysts appeared to be reacting more to a disappointing second-quarter earnings report issued in late July than to recent announcements that the company is acquiring Pimlico and Laurel in Maryland and the license to operate Lone Star Park near Dallas. In the days following the July 31-issued earnings report, Magna stock fell by nearly one-third to a one-year low. It's gained back some of those losses in August, but as this is written the share price of 4.40 is well below the 52-week high of 10.25 set earlier this year. What may be confusing to investors and among people in the racing industry are the conflicting messages being sent by chairman Stronach and some of his top aides, notably Jim McAlpine, Magna's president and chief executive officer. During a conference call to discuss the second-quarter financials, McAlpine said Magna would slow investment and capital spending and instead focus on operations at its existing portfolio of tracks. McAlpine said such projects as the redevelopment of Gulfstream Park from racetrack to entertainment center would be put on hold until at least 2004. A few days later, however, during an interview with Tom Keyser of the Baltimore Sun, Stronach said Pimlico would be "totally rebuilt from scratch. We would flatten it completely." Stronach said he would like the project to begin after next year's Preakness and be completed by 2005. Now while anyone who's ever been to Pimlico would quickly identify it as a front-line candidate for demolition, Stronach's timetable seems to be in direct conflict with McAlpine's blueprint for Magna's immediate future, which did not include an adequate capital budget for the rebuilding of the Baltimore-area track. If Pimlico isn't bulldozed next year, it wouldn't be the first time Stronach's vision raced ahead of his ability or financial wherewithal to execute on it. Going back to a December 1998 interview with this publication, Stronach promised sweeping changes at Magna's first acquisition, Santa Anita Park. Foremost among them were plans for new barns in the track's stable area, which Stronach labeled a "disgrace." To date, no new barns have been built at the Southern California track. At a public forum at Gulfstream Park in January 2001, Stronach outlined plans to rebuild that South Florida track while also developing a training center an hour north in Palm Beach County. The training center, Palm Meadows, is under construction, but no substantive changes have been made at Gulfstream Park, leaving some to wonder if Magna eventually plans to move live racing to Palm Meadows and fully develop the Gulfstream Park property. Within two weeks of the company's second-quarter earnings report, two independent members of the Magna board of directors resigned their seats: Joe Harper, who also serves as president of the Del Mar Thoroughbred Club, and J. Terrence Lanni, the Thoroughbred owner who is chairman and chief executive officer of the casino giant MGM Mirage. Both men said their resignations resulted from a desire to focus solely on their own businesses and had nothing to do with activities at Magna. I'll buy that explanation, but I can't speak for those investors and horse industry principals who are becoming increasingly skeptical of the company that Frank built.



Copyright © 2015 The Blood-Horse, Inc. All Rights Reserved.