Del Mar Race Report: Right at Home
by Craig Harzmann
Date Posted: 8/25/2002 7:42:15 PM
Last Updated: 8/27/2002 12:03:35 PM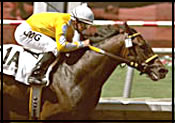 Came Home, upsetting the Pacific Classic.
Photo: Benoit Photos

Published in the Aug. 31 issue of The Blood-Horse
The scene stretched just a few yards but covered an expanse of emotion. Came Home should have returned to a hero's welcome just minutes after knocking off War Emblem and a host of older opponents in the $1-million Pacific Classic (gr. I). But the reception was only modest, for the sight was one of uncertainty. He trotted by the track ambulance, where seated in the passenger side was jockey David Flores, a bit dazed but thankfully intact. As fellow rider Mike Smith rode past, surveying the surroundings, Flores pumped his fist in the air, a symbol of triumph and a confirmation of safety. Smith, seated atop Came Home, looked back and responded in kind. A few steps behind them was Came Home's fallen stablemate Bosque Redondo, standing sweaty and defenseless, waiting to board an ambulance of his own. For Bosque Redondo, however, there was no glory, the only outward sign of courage a metal splint fitted to his right front leg, supporting an ankle now rendered useless. It was an odd juxtaposition of majesty and misfortune, taking the shine off an otherwise stellar performance by Came Home. From the outset, however, Pacific Classic XII had all the trappings of an unforgettable event. No doubt the crowd came 36,041 strong to watch War Emblem, fresh from his free-wheeling finest in the Haskell Invitational Handicap (gr. I). But the challenges were much bigger in the 10-furlong Pacific Classic, where the son of Our Emblem would not only debut on the West Coast but against older competition to boot. If that wasn't enough, the presence of Hollywood Gold Cup (gr. I) winner Sky Jack--a confirmed front-runner himself--created the potential for a pace meltdown. Mass hysteria swept the backstretch. What resulted was the largest Pacific Classic field ever assembled. "People are taking shots at War Emblem because he's only three and he seems a one-dimensional type of horse," explained Sky Jack's trainer, Doug O'Neill. "And probably people think that we're a one-dimensional horse." "It looks like there's going to be a lot of speed," said trainer Marty Jones, who went in with longshot Speedy Pick. "A lot of guys think if they just run something in there, they can just sit back, and if there's a real fast pace, they can come pick up part of it. For a million dollars, that's not bad." The addition of Bosque Redondo--ostensibly for extra heat on the front end--more or less guaranteed sparks would fly early on. Few, however, could have predicted that War Emblem would never see the lead. Like the Belmont Stakes (gr. I), his troubles stemmed from the start. Once in post 6, he began pawing the stall doors, prompting starter Gary Brinson to have the colt reloaded. Brinson figured the strategy would help War Emblem relax. It didn't. With Del Mar's third-largest crowd in boisterous anticipation and his 13 rivals ready for action, War Emblem was given yet another chance. As soon as he walked in the third time, Brinson pressed the trigger. War Emblem was a split-second slow into motion, giving Sky Jack first run at the lead. The gelded son of Jaklin Klugman was soon flanked by Bosque Redondo, with War Emblem tracking in third on the outside. As the field sorted themselves into place approaching the first turn, jockey Garrett Gomez had Momentum moving easily along the fence. Came Home, meanwhile, had found a spot in the clear, just outside and behind War Emblem, the Kentucky Derby and Preakness (both gr. I) winner. Up ahead, Came Home's stablemate had Sky Jack on the engine. Together, they zipped through a :45.48 half, and Bosque Redondo kept the pressure on around the far turn. There, jockey Victor Espinoza launched an outside attack with War Emblem, and the move was timely, for the early heat was starting to take a toll on the leaders. But War Emblem couldn't finish off Bosque Redondo or Sky Jack. Their biggest danger, instead, was Came Home. The Gone West colt had been in striking distance from the start, simply drafting behind War Emblem through the first six furlongs. The trip had been spotless, and from his seat atop the compact bay, Smith could see War Emblem already struggling. He began to move in. Gomez was brimming with confidence as well, equally as pleased with the vibes he felt from Momentum. But with Came Home going by to his right and Sky Jack starting to slow along the fence, Gomez found himself wedged, trapped on the heels of both Bosque Redondo and War Emblem at the most crucial of moments. "At that stage, I needed to go," Gomez said. "I had a great trip down in there, but at the same time, I just needed somebody to either stop or kick on. And neither one of them happened." Instead, he could only sit, wait, and watch Came Home charge to the front. When Momentum finally found a way out, it was too late. The son of Nureyev put in a gallant second run, but the effort fell short. Came Home held off Momentum to win by three-quarters of a length, joining Best Pal and General Challenge as the only 3-year-olds to win the Pacific Classic. His time was 2:01.45. Milwaukee Brew wound his way into third, another 1 1/2 lengths behind Momentum. War Emblem finished sixth. "Everything worked out. The race shaped up like we thought it would," said Smith, recounting Came Home's easy journey. "It's nice when things go as planned. It hardly ever happens, but boy, it sure happened today. Almost picture perfect." Almost. Seconds later, the excitement turned adversely. Despite the intense pace, Bosque Redondo managed to fight on valiantly, getting nosed out for fourth by Pleasantly Perfect. A few yards past the wire, however, his right front ankle gave way. Jockey David Flores was pitched hard to the dirt, yet he was only slightly roughed up, more or less dizzied by the incident. Bosque Redondo wasn't as lucky. "Right now, he's doing everything 100%. He's exactly where we want him," said Dr. Sam Bradley as the 5-year-old son of Mane Minister rested in his stall. According to Bradley, Bosque Redondo sustained not only bilateral sesamoid fractures of his right front ankle but a thin medial condylar fracture of the cannon bone, as well. The injury was nearly identical to those suffered by Saratoga Six, Mazel Trick, and Manndar. Each horse required a complex surgical procedure designed to fuse the ankle joint. All went on to secondary careers at stud. Ninety minutes after the mishap, Bradley visualized the same scenario for Bosque Redondo. "The operation's going to be a success. That won't be a problem," Bradley added. "It's how he handles it afterwards, how his body responds afterwards, and how good he takes care of himself afterwards." Some, however, felt that Bosque Redondo shouldn't have been there to begin with. At the post-race news conference, co-owner Trudy McCaffery refuted the notion Bosque Redondo was merely a necessary pace sacrifice for Came Home. "You know, I really wish they wouldn't call him a rabbit," she said. "He was going to go in this race if Came Home didn't run."Continued...(Chart, Equibase)



Copyright © 2015 The Blood-Horse, Inc. All Rights Reserved.