Sunday Silenced
by Ray Paulick
Date Posted: 8/20/2002 3:37:14 PM
Last Updated: 8/20/2002 4:07:05 PM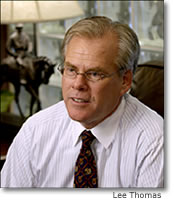 Ray Paulick
Editor-in-Chief


Arthur B. Hancock III readily admits Sunday Silence saved Stone Farm from bankruptcy in the late 1980s. Like many others who thought the good old days were going to last forever, Hancock found himself overextended as he pursued an earlier vow for Stone Farm to become bigger than Claiborne, the family operation that was turned over to his younger brother, Seth, following the 1972 death of their father, A.B. "Bull" Hancock Jr. Indeed, Hancock made Stone Farm bigger than Claiborne, adding parcels of Bourbon County land with the zeal of a glutton at the buffet table, until his 3,800 acres numbered more than Claiborne's 3,400. Only one problem: As the bank loans piled up, the bloodstock market came crashing down. Hancock remembers his investments being worth 30 cents on the dollar. "I thought I was the Bourbon County land baron," he said later, "and suddenly realized that I was, but it was spelled B-A-R-R-E-N." Hancock said he needed a financial miracle. That miracle didn't occur at the 1987 yearling sales, when the Stone Farm consignment at Keeneland in July included a Halo colt out of Wishing Well later to be named Sunday Silence. Hancock thought he was doing a favor for his client, Tom Tatham's Oak Cliff Thoroughbreds, when he bought back the colt for $17,000. Tatham, however, didn't want him, and he wasn't alone. He asked a number of his trainers--including Gary Jones, John Gosden, Michael Whittingham, Eddie Gregson, and Maurice Zilbert--to look at the colt. None wanted him. Jones, who had trained Sunday Silence's dam, said the colt's hind legs "were so crooked they looked like coat hangers." Hancock figured he blew $17,000, but tried to recoup his investment, taking in good friend Paul Sullivan as a partner and sending Sunday Silence to a 2-year-olds in training sale in California. Hancock bought him back there, too, when bidding stopped at $32,000. Then, making matters even worse, the van taking Sunday Silence back to Kentucky from the sale crashed after the driver suffered a heart attack. Sunday Silence recovered from the trauma of the accident, then went back to Stone Farm. Hancock talked another friend, Hall of Fame trainer Charlie Whittingham, into taking Sullivan's half-interest in the colt, after which Whittingham sold half his share to a client, Dr. Ernest Gaillard. Then it was back to California, where Whittingham soon discovered the horse no one wanted had more than a little talent. "Arthur," Whittingham called to say one morning in the autumn of 1988, "that black s.o.b. can run." He sure could. Sunday Silence won once in three starts at two, but took seven of nine during his championship season in 1989, beating division rival Easy Goer in the Kentucky Derby (gr. I), Preakness (gr. I), and Breeders' Cup Classic (gr. I). The latter cemented Horse of the Year honors. As the sleek black colt flashed past the finish line a neck in front of Easy Goer in the dusk of Gulfstream Park, Hancock sank to his knees, clasped his hands, and looked to the heavens. His prayers for a miracle had been answered. By the time his racing career ended prematurely due to injury the following summer, Sunday Silence had earned nearly $5 million. Later that year, after American breeders snubbed Hancock's efforts to syndicate him for $250,000 per share, the late Zenya Yoshida purchased Sunday Silence to stand at his Shadai Stallion Station on the Japanese island of Hokkaido. The price, including a 25% interest bought earlier by Yoshida for $2.5 million, totaled $11 million. Hancock's share was more than enough to save the farm. Sunday Silence did much more than keep Stone Farm out of bankruptcy. He thrilled millions of racing fans with his heart and determination on the track, and passed those same traits to his many offspring racing in Japan and around the world. His death on Aug. 19 seemed slow and painful, yet came at far too early an age.



Copyright © 2015 The Blood-Horse, Inc. All Rights Reserved.