Industry Leader Albert Clay Dies at Age 85
by Evan Hammonds
Date Posted: 8/20/2002 1:02:47 PM
Last Updated: 8/21/2002 1:44:45 PM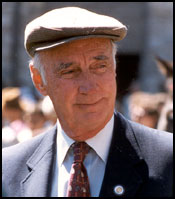 Albert G. Clay
Photo: Anne M. Eberhardt

Albert G. Clay, breeder and long-time Thoroughbred industry leader, died the morning of Aug. 20 at his residence in Mt. Sterling, Ky. Clay was 85.Clay helped found the American Horse Council in 1969, and served as that organization's secretary for many years. He also was a leader in the creation of the University of Kentucky Equine Research Foundation, which he served as chairman from 1988-98, and the Maxwell Gluck Equine Research Center. As a breeder, Clay bred 18 stakes winners, including partnerships with sons Robert and John Clay. Clay bred grade I winners George Navonod, Albert the Great, and Pompeii. With Robert Clay and Warner Jones' Hermitage Farm, Clay bred a pair of outstanding fillies in Kentucky Oaks winner Seaside Attraction and Gorgeous. Both grade I winners were from the Key to the Mint mare Kamar. The multiple grade I-winning Albert the Great, named for Clay, was campaigned by Tracy Farmer, and now stands at stud at Three Chimneys Farm.Clay graduated from Duke University in 1938. He attended Harvard Business School in 1939 and served as a lieutenant in the U.S. Navy during World War II. He earned many honors during his career in the tobacco industry and also served as a director of the Federal Reserve Bank of Cleveland. From 1968-72, he served as chairman of the bank.Clay was known for his quiet and understated demeanor, but he worked tirelessly throughout his life for causes he believed in. He served for 20 years on the board of the University of Kentucky and is a former chairman, vice chairman, and member of the executive committee. He received an honorary degree as Doctor of Law from UK in 1990. He was also recognized by the Thoroughbred Club of America as its guest of honor in 1997. His son, Robert, is owner of Three Chimneys Farm near Midway, Ky. Robert is a former president of the Thoroughbred Owners and Breeders Association and is a board member of the National Thoroughbred Racing Association.He is survived by his wife, Lorraine Newlin Clay; his two sons, Robert, and John; a daughter, Charlotte Clay Buxton; and seven grandchildren. He was preceded in death by his brother, William C. Clay Jr.A memorial service will be held at 2 p.m., Aug. 23 at the First Christian Church in Mt. Sterling. A private burial will be held at Machpelah Cemetery in Mt. Sterling.In lieu of flowers, contributions are suggested to the Clay Community Center, P.O. Box 1474, Mt. Sterling, Ky.; or the Albert G. Clay Endowed Chair in Equine Reproductive Physiology, c/o The University of Kentucky Equine Research Foundation, 805 S. Limestone St., Lexington, Ky. 40536-0339.



Copyright © 2015 The Blood-Horse, Inc. All Rights Reserved.