Derby Winner, Top Japanese Sire Sunday Silence Dies
by Barbara J. Bayer
Date Posted: 8/19/2002 9:46:50 AM
Last Updated: 8/22/2002 6:36:25 PM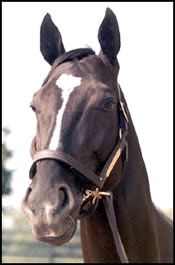 Sunday Silence
Photo: Anne M. Eberhardt

The long vigil is over. After 14 weeks of battle, Sunday Silence died of heart failure Sunday, Aug. 19, brought on by infection in his leg and the debilitating effects of laminitis.At Shadai Stallion Station in Japan's Hokkaido, where staff and veterinarians have watched over the stallion since early May, there was great sadness, but it was mixed with the somewhat comforting belief that the great stallion in his last hours found some freedom from the pain. There is some comfort also in the fact that he left this world on his own, at his own pace.Eisuke Tokutake, media liaison at Shadai Stallion Station said, "Sunday night he lay down for the first time in a week. Maybe he was finally comfortable, I don't know, but he lay down again this morning,"Later in the morning, the vets were all there, including the insurance company veterinarian, and the talk was that Sunday wasn't getting up," Tokutake continued. "They had just given him an injection of painkiller and had gone to prepare the next injection. When they came back he was gone. His hooves were severely deteriorated and the pain was severe. From Saturday they'd switched to a stronger painkiller and were giving him lots of it. I think that helped make him more comfortable and that was why he probably lay down," Tokutake explained.Katsumi Yoshida, owner of Northern Farm, was on hand for Sunday Silence's last moments, Tokutake said.Teruya Yoshida, Katsumi's brother, was out of the country and released an official comment that was distributed to the media."With illness, in any living creature, there are just things that one must accept, but at 16 years of age, normally one would expect to look forward to many more years of active service. It's terribly unfortunate. I think it is not only a great loss to the Japanese breeding industry but to the entire world of racing," Yoshida said. "From here on, I will endeavor to see that the great number of offspring that Sunday Silence has left behind will carry his blood forth for many generations to come."Japan Racing Association president Masayuki Takahashi also released an official comment. "It is with deep regret that we witness the passing of Sunday Silence, who has given us so many outstanding racehorses, and whose name is known not only in our country but throughout the world. I pray for the success of those he has left behind, for the success of his sons and daughters in racing and in breeding."Sunday Silence, by Halo, out of Wishing Well, was born at Stone Farm in Kentucky in 1986. He won the 1989 Kentucky Derby (gr. I), Preakness Stakes (gr. I), and Breeders' Cup Classic (gr. I).A 25% interest in Sunday Silence was purchased for $2.5 million near the end of his racing career by Shadai Farm's founder, Zenya Yoshida. When American breeders showed little interest in breeding to the Horse of the Year, Yoshida purchased the remaining 75% for $7.5 million. He had paid ¥1.65 billion and syndicated the horse for ¥2.5 billion, at the time a Japanese record.Sunday Silence began stud duty in Japan in 1991 and has held the leading sire spot in Japan for the past eight years. His offspring have won 143 graded races, including 28 group I races and four Nippon Derbys, in JRA-sponsored races.He covered over 2,000 mares in Japan. Close to 330 of his offspring are now running in JRA races, with an additional 50 in municipally governed racing. In JRA races this year, 117 winners have notched 156 wins for over ¥4 billion in prize money.Despite the blow Sunday Silence's death undoubtedly means to the Shadai operation, or perhaps because of it, according to Tokutake, there was unlikely to be a memorial service similar to the one held for El Condor Pasa earlier this month. Sunday Silence will be buried at Shadai Stallion Station.Just two hours after Sunday Silence's death, Tokutake, who had described the stallion as fiery and aloof, "the boss" of Stallion Station, said he hadn't yet had time to get a reading on his own feelings. "We've had so many people coming in and out today. There just hasn't been time to sit down quietly and think."Others, the 40-year-old office affairs manager said, undoubtedly felt some shock, but, he said, "I believe the general feeling is one of a kind of relief, relief that Sunday Silence is finally at peace." By Barbara Bayer



Copyright © 2015 The Blood-Horse, Inc. All Rights Reserved.