Saratoga Race Report: Anticipated Earnings
by Mike Kane
Date Posted: 8/10/2002 7:31:18 PM
Last Updated: 8/13/2002 2:05:14 PM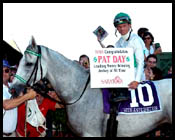 Pat Day, aboard With Anticipation, after becoming racing's all-time leading rider by earnings.
Photo: AP/NYRA/Coglianese

Published in the Aug. 17 issue of The Blood-Horse
With Anticipation has been described many ways during his career: capable dirt horse, turf star, front-runner, stalker, closer, stakes winner. After Augustin Stable's 7-year-old gray gelding overcame a seemingly impossible situation to win the Sword Dancer Invitational (gr. IT) at Saratoga on Aug. 10, owner/breeder George Strawbridge Jr. tossed some new words into the let's explain With Anticipation mix. The trophy presentation in the winner's circle at Saratoga Race Course was complete and the photos had been taken, but Strawbridge was still very much in the grips of the adrenaline rush produced by With Anticipation's stunning repeat victory in the Sword Dancer. A year ago, the son of Relaunch led from gate to wire. In round two, he came from a bit off the pace and escaped a precarious situation. Further compounding the post-race excitement, With Anticipation was Pat Day's vehicle to become racing's career leader in purse money won by a jockey. With dramatic flair, Day overtook Chris McCarron in front of a crowd of 33,342. With Anticipation was stuck behind three horses coming off the third and final turn, unable to follow Denon up the hedge, when Day swung the horse to the outside. Once he found room to run, about four paths wide, With Anticipation rushed through the stretch to catch Denon and win by a head. Day and With Anticipation completed the 12 furlongs over firm ground in 2:24.06. The $300,000 from the purse of $500,000 gave Day's mounts career earnings of $264,580,968, a total of $229,289 more than McCarron, who retired in June. Strawbridge was clearly caught up in the emotion as he described With Anticipation's sixth victory in 12 starts since being switched to the turf in the spring of 2001. A seventh win was taken away by disqualification. "Denon is a multi-grade I winning horse and is obviously very, very classy, but this horse has the courage of a lion," Strawbridge said. "I've never owned a horse that had so much courage. That took courage today. It took courage in the United Nations, but more courage today because he had to go four-wide and beyond." On July 6 in the United Nations Handicap (gr. IT) at Monmouth Park, With Anticipation got the first run on the Bobby Frankel-trained Denon, and prevailed by a neck. The Sword Dancer had a different scenario and nearly the opposite result. Sunset Handicap (gr. IIT) winner Grammarian set a solid early pace of :23.34, :47.23, and 1:11.74 around the tight turns of the inner turf course. Volponi, never more than a length behind, stalked on the outside under jockey Jose Santos. Running along in hand two lengths behind the leaders were Denon and With Anticipation. From his position in the clubhouse, trainer Jonathan Sheppard could see that With Anticipation was having some trouble getting over the turf course. "Pat thought the ground was stinging him," Sheppard said. "We haven't had much rain up here and the track is probably a little bit further than he's really comfortable with. I think that had a lot to do with it." When the pace quickened in the final turn, Grammarian began to tire, while Denon, With Anticipation, and Startac moved into contention. At the quarter pole, Volponi was a head in front of Grammarian, who was a head in front of Startac. Denon and With Anticipaton were heads apart another half-length back. Coming off the turn, jockey Edgar Prado guided Denon up the hedge inside of Volponi. Day wasn't able to follow Prado through the hole and appeared to be trapped. By that point, Sheppard had put down his binoculars and was watching the race on the television screen in the box seat. "I was pretty concerned at the top of the stretch approaching the eighth pole that it wasn't going to be his day," Sheppard said. "Then all of a sudden it's just a question of whether he's going to get there in time because I could see he was closing in pretty hard. He'd finally gotten free of the other horses, was stretched out and doing his patented late run." As the leaders hit the straight, Day took the only avenue available to him and went wide. "I had no choice," Day said. "I wasn't going to stop and think and dwell on what had happened or what hadn't happened. I was going to go on and ride my race and try and get the job done. "I'm very grateful that With Anticipation was good enough to overcome the wide trip. In spite of Bobby's horse getting through on the fence and jumping away from us, we were able to run him down in the stretch. Frankel, frequently the winner of close finishes in graded stakes, was satisfied with Prado's work on Denon. "He rode a great race, but for that type of horse he might have found himself on the lead a little too early," Frankel said. "He rode a great race and he had to go when the hole opened up. He's the type of horse in the morning when you work him he won't work unless you put a horse in front of him. It would almost have been better if he got shut off and got through a little later. You can't fault the rider." Starting from the inside post, Prado was able to remain along the hedge all the way. "He rode him exactly the way I wanted him to ride him," Frankel said. "I just wish somebody was in front of him a little longer. You can't have everything perfect. The other horse still had to lose a little ground, while I saved all the ground. It was a very good race. I'm happy." In his own controlled, professional way, Day was pleased, too. After dismounting and weighing out, he hugged his sobbing wife, Sheila, and kissed her twice. Though he did not hear Strawbridge's comments, he used the same word to describe With Anticipation. "I think he's very courageous," Day said. "We've had a lot of success with this gelding. I think Jonathan Sheppard deserves a tremendous round of applause. He's just done an awesome job with this horse, keeping him happy and keeping him moving forward. He shows up and gives us a good effort and we're very proud of him." Day acknowledged that the script for his record-snatching performance couldn't have been better. "It would be exciting to set the record, regardless, but to do it in a grade I aboard a horse like With Anticipation for the connections of Jonathan Sheppard and Mr. Strawbridge is great," he said. "It's special to do it here in a place like Saratoga in front of a full grandstand with the enthusiasm being what it is." Strawbridge owned and raced Selkirk, the champion European miler, but said With Anticipation is the most successful of the many horses that have raced in his colors. Ironically, With Anticipation was bred to be a dirt horse and wasn't moved to the turf until after he finished last in the Gulfstream Park Handicap in March of 2001. Running almost exclusively in grade Is, his career earnings are $1,857,204. As he waited to watch a replay of the Sword Dancer on the infield video board, Strawbridge provided a play-by-play of his recollection of the stretch run. "A hundred yards out he was beat," Strawbridge said. "Fifty yards out, I began to get a little hope. Then a lot more hope. I never realized he's won, actually, because I was too far down the stretch to tell." Strawbridge smiled and shook his head in disbelief. "He has such guts. Today was the most courageous performance he's ever had," Strawbridge said. "It's a testimony of how he's not only durable and tough, but how courageous he is. I know that sounds trite, but it's absolutely true." Continued(Chart, Equibase)



Copyright © 2015 The Blood-Horse, Inc. All Rights Reserved.