Sunday Silence's Condition Takes 'Drastic Turn for the Worse'
by Barbara J. Bayer
Date Posted: 8/9/2002 9:56:10 AM
Last Updated: 8/13/2002 9:38:04 PM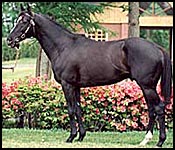 Kentucky Derby winner and leading Japanese sire Sunday Silence.


Sunday Silence is fighting for his life and a decision may have to be made to euthanize the American champion and leading Japanese stallion, Shadai Stallion Station owner Teruya Yoshida said Aug. 8.Speaking to reporters at a memorial service for El Condor Pasa held at Northern Horse Park, Yoshida said the son of Halo had developed laminitis in his left foreleg. He said a decision may have to be made within the week about euthanizing Sunday Silence.Shadai Stallion Station spokesman Eisuke Tokutake, 40, said Aug. 9 that laminitis set in about two weeks ago and the stallion's condition has gradually worsened. Sunday Silence underwent a third and apparently successful operation on his right foreleg July 18 for bacterial peritendinitis. "He seemed to be making a miraculous recovery," Tokutake said. "There was even talk of next year's bookings. We were worried about laminitis but there was no sign of it and we thought luck was on our side. Then things suddenly took a drastic turn for the worse." The 16-year-old Sunday Silence is being treated at the Stallion Station in Hokkaido's Hayakita. "He's been moved to a stall where it's easier to treat him and we have several staff workers and veterinarians attending him in shifts. We're doing everything we can," Tokutake said.According to Tokutake, who is in charge of the Stallion Station office operations and press relations, Sunday Silence has an appetite, but is not eating that much. Temperatures in the area are a pleasant 20 degrees Celsius. "There's been a lot of rain though and it's damp," Tokutake said. "The leg that was operated on is not 100% healed. It would get better with each operation, then worsen," Tokutake said. "He can still get up and lie down on his own but he's moving around a lot more and shifting the weight back and forth between his forelegs. He does seem to be in pain. Because he's such a strong horse mentally, I think it just doesn't show how much he's suffering. I think he's really fighting"A decision to euthanize, Tokutake said, would likely come if Sunday Silence "gets to the point where he appears to be in terrible pain or can't stand. It would be a formal decision involving several people." The stallion's death would be an incredible blow to the Shadai operation, following the death of sires End Sweep on July 12 and El Condor Pasa July 16.



Copyright © 2016 The Blood-Horse, Inc. All Rights Reserved.