Summer Chill: All Indicators Fall at Fasig-Tipton Saratoga Sale
by Evan Hammonds
Date Posted: 8/9/2002 10:33:26 AM
Last Updated: 8/29/2002 4:10:46 PM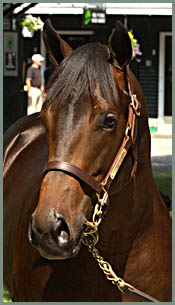 Unbridled's Song colt brought $1-million at Thursday's closing session.
Photo: Skip Dickstein

The final session of the Fasig-Tipton Saratoga yearling auction saw further declines in gross and average for the third straight session in Saratoga Springs, N.Y., and overall the sale's average fell 34.7% from last year's record mark.Thursday evening's session saw 50 horses sell for $12,310,000; an average of $246,200. That session was down 46.4% from last year's closing session that hovered just over the $450,000 mark. If there was one encouraging sign, it was the buy-back rate which was 22% for the evening and 29% for the overall sale -- less than what was seen at the Keeneland July sale. Also, according to Fasig-Tipton officials, there was "more vigor tonight" than had been seen in the first two sessions."Tonight, it seemed the buyers were more aggressive and it felt pretty good in there," said Fasig-Tipton's president Walt Robertson. "And consignors were perhaps a little less aggressive."Here are the sale's final numbers:2002: 140 horses sold for $35,242,000. In 2001, 162 horses were sold for $62,412,000. The gross fell 43.5%.The overall average this year was $251,729, compared to a record $385,259 a year ago; that's a 34.7% drop. The average fell below the 1999 figure of $261,456.This year's median, $180,000, was a 23.4% decline from last year's record $235,000.The buy-back rate at this year's auction was 29%, compared to 2001's unheard of rate of 19.4%.Last year, nine horses brought final bids of $1 million or more. This year, that figure was two. One sold on Thursday evening, and the other was the $1.3 million sales-topping filly by Storm Cat out of champion Sacahuista that sold on Wednesday. Missing from the figures was the $3.8-million buy-back of the full brother to Forestry that Robert Evans took home Wednesday."Had we sold two horses for $3 million, it would have changed the sale quite a bit," Robertson said. "And that's what we did last year."Several chilling statistics emerged from this year's sale. This year, 14 horses brought a final bid of $500,000 or more compared to 28 last year. Also, only one buyer this year, Satish and Anne Sanan's Padua Stables, spent more than $2 million. Last year, eight individual buyers spent at least $2 million.Bringing the closing session's lone seven-figure bid was Hip. No. 188, a son of Unbridled's Song out of the Miswaki mare Wanda's Dream. The winning bidder, at $1 million, was bloodstock agent Buzz Chace, who purchased the dark bay or brown colt for Aaron and Marie Jones. Chace made the winning bid from the balcony of the sales arena while on a cell phone with Jones. Underbidder on the colt was trainer D. Wayne Lukas. The colt was consigned by Dromoland/Hartwell Agent I.Later in the evening, back-to-back hips brought near seven-figure bids. Hip No. 201, a bay colt by Grand Slam was purchased by John Oxley for $900,000. Consigned by Jeffry Morris' Highclere Sales as agent, the colt is out of Alaska Queen, by Time for a Change and is a half-brother to the grade II-winning Keats. The following horse into the ring, a dark bay or brown colt by Forestry brought a winning bid of $950,000 from Lukas. Consigned by Eaton Sales, as agent, the colt, out of the stakes-winning mare Alexandrina, is a half-brother to Canadian Horse of the Year Thornfield. His second dam is Canadian champion La Lorgnette.Fasig-Tipton's chairman, D.G. Van Clief Jr. summed up the three-day sale: "Do we think there are some factors present, or that were present the last few days to think that there's been some adjustment in the marketplace? Yes. Is the sales company shaken at all? No. Look at the buy-back rate. Do we think Saratoga is still a magical place to sell a good individual? Yes we do."One of the factors that played into the sale is the stock market. "Affected by the stock market? Of course we were," said trainer Bob Hess Jr. "I think everybody was."One consignor noted that several buyers from previous Saratoga auctions, all involved with Wall Street, were absent from this year's sale. Also missing from this year's sale was one of the sale's major buyers over the last few years: Prince Ahmed Salman of The Thoroughbred Corp., who died last month.The leading overall buyer at the sale was Padua Stables, which purchased seven horses for $2,130,000, an average of $304,285. The second-leading buyer was Bob and Beverly Lewis, whom purchased four horses for $1,790,000, good for an average of $447,500. Both John Oxley and Overbrook Farm spent $1,700,000 at the auction and were the co-third leading buyers by gross.The sale's leading consignor was Eaton Sales, with 21 head selling for $5,770,000. Second was the Taylor Made Sales Agency with 15 head selling for $4,480,000. Third was Lane's End, selling eight head for $3,290,000.The sale's leading sire by average, with just one individual sold, was Storm Cat, who had the $1.3 million sale topper. With at least three horses sold, Forestry lead the ranks with an average of $725,000. Unbridled's Song was the leading sire by gross with $4,315,000. With seven horses sold, his average was $392,272.A key element in the Thoroughbred industry is hope, and there is hope for the Fasig-Tipton Saratoga sale in 2002. "One thing we've got to look forward to next year, is we've got two fantastic, good-looking stallions with foals on the ground this year, and it's going to be fun selling Fusaichi Pegasus and Giant's Causeway foals next year," said Boyd Browning, Fasig-Tipton's executive vice president and chief operating officer. "Who's going to help fill some of this void? We've got these two major stallions entering the marketplace next year."
Top Priced HorsesTop BuyersTop ConsignorsTop SiresAll BuyersAll ConsignorsAll Sires



Copyright © 2015 The Blood-Horse, Inc. All Rights Reserved.