Saratoga Sale's Opening Session Fails To Keep Pace With Last Year
by Deirdre B. Biles
Date Posted: 8/6/2002 11:55:47 PM
Last Updated: 8/8/2002 4:37:50 AM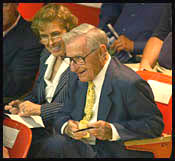 Bob and Beverly Lewis, bought top-priced horse at Saratoga sale opener.
Photo: Skip Dickstein

The Saratoga select yearling sale got off to a lackluster start on Tuesday night in New York. The number sold, gross revenue, average price, and median price all were down from last year's comparable session, and the buy-back rate was up significantly. There also were no horses that cracked the $1-million mark.However, Fasig-Tipton officials were not surprised with the results."Our team did believe that it (business) would be off against last year; that was fully expected going in," said Fasig-Tipton chairman D. G. Van Clief Jr. "Looking at the relative quality of the horses in tonight's sale versus the next two nights and against first night last year, the pedigrees indicated that you would see a drop this year." The 46 horses sold grossed $11,112,000 and averaged $241,565. The median was $195,000. Compared to 2001's opening night, the number sold and gross decreased by 20.7% and 37.3%, respectively. The average and median declined by 21.0% and 4.9%, respectively. The buy-back rate soared from 16% last year to 32.3% this year."I would like to have seen it a little stronger, but good horses sold pretty well," said Fasig-Tipton president Walt Robertson. "We just didn't have anything that really blasted off tonight; there wasn't one big horse or two to carry the load. We had two or three horses in the $600,000 or $700,000 range this year. Last year, we had one top the session at $1.8 million. Rest assured, I will be shocked if we've seen anything close to the sale topper. We've got some nice horses coming up the next two nights."But Fasig-Tipton's executive vice president, Boyd Browning, warned there might not be as many seven-figure horses this year as there were in 2001, when a sale record total of nine was sold."There's no question that the commercial market is lacking in sire power this year," he said. "There are no Mr. Prospectors this year, and there are no Seattle Slews this year, and there are fewer Storm Cats (at Saratoga). And that's a reality. Physically yes, we have the same type of horses as last year, but pedigree wise, no."The session's most expensive yearling was a $750,000 Unbridled's Song filly. She was purchased by Californians Robert and Beverly Lewis, who outlasted Don Adam of Courtlandt Farm. The bay filly was produced from the unraced Mt. Livermore mare Dreamscape. who is a full sister to the champion filly Housebuster. She was consigned by Gainesway, which bred her in partnership with Muirfield Ventures."She's a magnificent filly," Robert Lewis said. "I thought her conformation and her structure were absolutely the epitome -- probably as good as I've seen. She looks like she has all the attributes to be a potential champion. We think she has the equipment to go a distance; we'll see what happens."The Lewises also bought a Tale of the Cat filly for $500,000 from Highclere Sales, agent. The filly was produced from the 10-year-old Java Gold mare Doppio Espresso, who finished second in the Astoria Breeders' Cup Stakes (gr. III).Bob Baffert will train the Tale of the Cat filly, but Lewis said he had not decided who would get the Unbridled's Song filly.The Lewises are scheduled to leave Saratoga at noon on Wednesday because Robert Lewis has business commitments in California.Mrs. M. J. Dance Jr. of Lemon Drop Kid Fame spent $700,000 for an A.P. Indy colt out of the 8-year-old stakes-winning Magesterial mare Fleet Road. He is a half-brother to stakes winners Tuzia (by Blushing John) and Tanja (by Allen's Prospect). Bred by William S. Farish, the colt was consigned by Farish's Lane's End, agent. Robert Baker of Greenwich, Conn., paid $600,000 for a Grand Slam colt out of the 10-year-old winning Star de Naskra mare Heartful Star. The colt is a half-brother to Federico Tesio Stakes (gr. III) winner Oliver's Twist. Dromoland/Hartwell, agent consigned the colt, which was bred by Ward D. Stiff and Earle I. Mack.Early in the session, D. Wayne Lukas purchased a handsome Kingmambo colt for $575,000 from Derry Meeting Farm, agent. The Hall of Fame trainer said he was acting on behalf of new clients Clinton and Susan Atkins of Champaign, Ill. Clinton Atkins is in the real estate business, and he also is involved in manufacturing remote control toys, according to Lukas. Bred by George Strawbridge, the bay colt is the first foal produced from the 8-year-old stakes-winning mare Clandestine Caller (by Housebuster)."We're just getting our feet wet," Lukas said.The Saratoga sale runs through Thursday, with sessions beginning at 7:30 p.m.



Copyright © 2015 The Blood-Horse, Inc. All Rights Reserved.