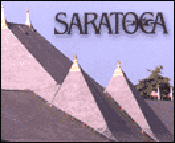 "We knew we'd come alive in week 2 because of the repositioning of the Whitney," NYRA senior vice president Bill Nader said. "Last year, the Whitney was run on the first Saturday of the meet. This year, it was scheduled for the second Saturday of the race meet. We knew we were going to suffer in week 1 and then we would benefit in week 2. That's the way it's played out. It's more a function of scheduling the Whitney.

Comparing the actual attendance for the two Whitney days, this year's attendance of 42,379 was up 11 percent over the day the race was run last year.

"So we'll end week 2 in pretty good position, given that it has been a little hot and we have had more rain," Nader said. "We've lost seven races off the turf this year already in two weeks and last year we lost eight for the entire meet."