Still Budding
by Evan Hammonds
Date Posted: 8/5/2002 2:48:43 PM
Last Updated: 8/5/2002 4:22:15 PM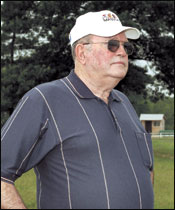 Bud Delp.
Photo: Jeff Snyder

Published in the Aug. 3 issue of The Blood-Horse
Grover "Bud" Delp has made his own way in the Thoroughbred business. He isn't a high-profile trainer based in New York or California. He hasn't been blessed with deep-pocketed owners who purchased high-priced stock. He never pushes his 2-year-olds. Yet the 69-year-old trainer has saddled 64 stakes winners, including the animal he once said is "the greatest horse to ever look through a bridle." His path--from Maryland, to stardom, to the New Orleans-Chicago circuit, and back to Maryland--has led him to racing's pinnacle: the National Museum of Racing and Hall of Fame in Saratoga Springs, N.Y. "He worked hard all his life to get where he's at," said his brother, Richard, Bud's longtime assistant and a solid trainer in his own right. "People on the outside don't realize that. "He's done some things with horses that other people wouldn't have been able to do," he said. "If he had the horses that a Baffert or a Lukas has had, he'd done just as good...maybe better." Bud Delp started early with horses--at age nine--and continues to be an early bird. Each morning, he rises at 3:45 at his home in Ellicott City, Md.--"17 miles from Laurel and 16 miles from Pimlico"--to tend to his 36-horse stable. "We lost my dad when I was three years old," Bud Delp said of his youth. "Six years later my mother remarried a horse trainer, Ray Archer. He had a farm in Harford County (Maryland). I went to work on the farm when I was nine. That's when I was initiated into Thoroughbred racing." Delp was an eager student. "When I was 12 or 14, I remember distinctly getting up on my own, because we didn't have an alarm clock, and sitting waiting in his car--because he wasn't calling me. He would drive from the farm to Delaware Park, or Bowie, or Laurel, and I would go with him. I would hang around the barn. I started walking hots. Then I got on the payroll and was making $35 a week." Delp, against his stepfather's wishes, went out on his own in 1963. "He discouraged me to get into the business because it's a seven-day-a-week job and you have to work a lot of hours. He thought I should do something else." However, it wasn't long before he was the leading trainer in Maryland and at Delaware Park. He saddled his first stakes winner, Charlie's Luck, in 1968. Some neophyte owners, Harry and Robert Meyerhoff, sought to connect with the up-and-coming trainer. It would be a connection that eventually would make sparks fly across the racing world. "We tried to get him to train for us a year or two before we got him," Harry Meyerhoff said. "We weren't big on his picture. We first went to Charlie White, who was an old-timer. We didn't do too good by him. We went to Bud again, but he wouldn't take horses from White." Delp's character wouldn't allow it. "He (White) was stabled right across from me at Laurel. I had a barn fire in '64. The barn burned down at 7 o'clock one night and we saved only two of the 30 horses I had at the time. I had great owners like James Bayard, Charles "Flash" Gordon, and Green Lantern Stable. We lost all those horses. I was devastated. The next day, I claimed three horses. Charlie White opened his tack room to me and said, 'Anything I have here you're welcome to use. If you need room for your horses, you can have my empty stalls. You can use my equipment.' He helped me along in those days after the fire." Delp eventually took on the Meyerhoff brothers as clients. They weren't as interested in claiming as they were buying horses from the lower-end yearling sales. As Bon Etage Farm, they bought a yearling filly by Bold Bidder for $16,500 in 1970 they named Bold Place. She became a multiple stakes winner who they eventually sold as a broodmare for $250,000. "He's got a good eye for a horse," Richard Delp said. "He's never bought horses at the big sales. He buys a lot of horses at the cheaper sales." Harry and Robert Meyerhoff had an amiable split, and Delp trained for Harry and his son, Tom, under the Hawksworth Farm banner. At the 1977 Keeneland fall sale, they purchased another offspring of Bold Bidder, a colt, for $37,000. They named him Spectacular Bid, and the run was truly spectacular. Bid, who entered the Hall of Fame himself in 1982, won 26 of 30 career starts. He won the Kentucky Derby (gr. I) and Preakness (gr. I) before an ill-fated effort in the Belmont Stakes (gr. I). At four, he shattered the American record for 1 1/4 miles, running it in 1:57.80 in the Charles H. Strub Stakes (gr. I) at Santa Anita. So feared, his final start, the Woodward Stakes (gr. I), was a walkover. It's been 22 years since Bid's undefeated 4-year-old campaign--and Delp's emphatic claims still stand. He can compare the Bid to two greats of the '70s--Secretariat and Affirmed, because Delp ran against them both. He saddled Ecole Etage, who set the early pace in the '73 Preakness. "Secretariat went by us like he was tied to the rail...and he was the best horse in my barn. "On a given day, Secretariat could beat any horse, no question about it. But he had some bad days. If he was checked in a race, he had such a large stride, it was hard for him to overcome it. On a given day, Spectacular Bid was a winner. I don't take a backseat with Spectacular Bid to Secretariat. He ran a mile and a quarter in 1:57 and four. That's still printed in the program every day." As a 3-year-old, Spectacular Bid was beaten three-quarters of a length by Affirmed in the 1979 Jockey Club Gold Cup (gr. I), a race Delp still thinks he could have won if jockey Bill Shoemaker had sent Bid after the 1978 Triple Crown winner earlier in the race. "He never got a chance to eyeball him," Delp said. Perhaps Delp's strongest quality as a trainer is his ability to keep a horse in training over a sustained period of time. More than 20 of his 64 stakes winners won stakes in more than one campaign. "He can get the most out of a horse for you. He can make a horse last a long time," Harry Meyerhoff said. "You don't see that too much from the big names (trainers). (Millionaire) Sunny Sunrise was one of those. He had plenty of others, too." Horses like Aspro, Timeless Native, Silent King, Truly Bound, and Dispersal. It continues even today with Robert Meyerhoff's grade I winner Include. His golden rule for longevity? "I don't rush them as 2-year-olds," Delp said. "My 2-year-old record isn't great. I like for a horse to reach its maturity, to reach its potential." Spectacular Bid was an exception, being exceptional at two. But he was also exceptional at three and four. No horse since then has been as dominant as Spectacular Bid over a period of time: champion at two; dual classic winner and champion at three; undefeated champion older male and Horse of the Year at four. And the then-brash Delp was front and center every step of the way. "I want people, when they think of racing, to think of Spectacular Bid," he said in the spring of 1979. "Not Man o' War, not Citation, not Secretariat, but Spectacular Bid. That's the way I think. I think he's the greatest horse ever." "Spectacular Bid could run--and Bud knew that from the get-go," brother Richard said. "He's one of the best of all-time, and you could say the same thing about Bud."



Copyright © 2015 The Blood-Horse, Inc. All Rights Reserved.