Cigar Raised the Bar
by Steve Haskin
Date Posted: 8/5/2002 2:42:17 PM
Last Updated: 8/5/2002 4:33:59 PM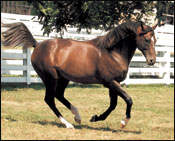 Hall of Famer Cigar enjoys a well-earned retirement at the Kentucky Horse Park.
Photo: Anne M. Eberhardt

Published in the Aug. 3 issue of The Blood-Horse
It was Tuesday, April 2, 1996. A cool afternoon breeze whipped through the Belmont Park backstretch. There was little activity at one o'clock on a dark day, so no one was around to notice a lone horse being led down Secretariat Ave. to barn 25. This was not the welcome one would imagine for a conquering hero returning halfway around the world from one of the most significant victories in racing history. Not only had Cigar been proclaimed the first ever "Horse of the World" following his dramatic win in the inaugural Dubai World Cup, he had extended his winning streak to 14 races, and was on the threshold of equaling the 16-race modern-day record set by the great Citation in 1950. Cigar was a ham who loved the camera, but on this day, he was too busy enjoying the crisp April breezes blowing in his face. After four months in the heat of South Florida and Dubai, it was good to be home. Cigar felt invigorated as he gnawed away at his lip chain and had the arms of assistant trainer Simon Bray fully extended. At one point, a van blocked his way on the horse path and he and Bray had to wait for the driver to return. As he did, a pickup truck came to a stop, and the driver shouted, "You gotta move that van for the mighty Ceeegar, the greatest horse of all time." This was the zenith of Cigar's career. He had just conquered the world and was on the verge of accomplishing the impossible. After all, no horse of the modern era could possibly win 16 races in a row. At this moment in time, many people would have agreed with the truck driver's comment. It's difficult to say what made Cigar great. He wasn't one of the fastest horses of all time. He didn't have an explosive closing kick. He never raced as a 2-year-old. He didn't win his first stakes until November of his 4-year-old campaign. But once he did, he never stopped. He knew he was a champion and carried himself like one. He flashed so much white in one eye it was as if he were looking right through you. The people loved everything about him. When Madeleine Paulson, wife of owner Allen Paulson, arranged to have Cigar paraded at the National Horse Show at Madison Square Garden following his final career start--something unprecedented in racing history--the horse received a police escort into New York City. Seventh Avenue was closed for several blocks. The New York Knicks cheerleaders, a team of bagpipers, and Clydesdales paraded ahead of his van, which was decorated in red, white, and blue, and was emblazoned with a large photo of the horse in action and the words, "Cigar: America's Racehorse. Champion and Horse of the Year." Members of the New York Rangers and Knicks, and comedian Bill Cosby showed up to help honor him. Outside Madison Square Garden, school kids holding signs lined up to see the great Cigar. Inside, Cigar cantered around the arena like a champion show horse with jockey Jerry Bailey aboard. Then the Garden darkened and a spotlight shone down on Cigar and trainer Bill Mott, who led the horse around to the strains of "Auld Lang Syne." When the lights came back on, people could be seen wiping away tears. As the public address announcer said: "Ladies and gentlemen, this is Cigar!" Yes, this is Cigar..."the invincible, the incomparable, the unbeatable Cigar," as New York Racing Association track announcer Tom Durkin called him. And now, he is the Hall of Famer Cigar. Despite racing with quarter cracks throughout most of his career, he amassed record earnings of $9,999,815, equaled Citation's modern-day record of 16 consecutive victories, won 11 grade I stakes, and twice carried 130 pounds to victory. He earned a Beyer Speed Figure of over 110 in the final 16 races of his career. Cigar's adventures began well before he ever started racing. As a foal at Brookside Farm near Versailles, Ky., he was nicknamed "The Hammer," because whenever anyone went to touch him on the forehead, he would rear on his hind legs and strike at them with his front legs. At Country Life Farm in Maryland, where he was born, he was only a month old when he kicked farm owner Josh Pons' wife Ellen--who was six months pregnant at the time--in the stomach. As a weanling at Brookside, he got spooked by some deer who had gotten into his paddock and ran into a fence with such force he ripped his chest open, almost to the bone, and left 30 feet of V-mesh fencing lying in a twisted heap. But as he began racing, he became much more settled and professional. His disposition improved so much that Brookside assistant farm manager Mac Carr couldn't wait to get him back from the racetrack so he could make a pony out of him. After all, his sire, Palace Music, had produced virtually nothing of consequence, and Cigar had managed only two wins in his first 13 starts--one in a maiden race on the dirt and the other in an allowance race on the grass. After his first nine starts under the care of Alex Hassinger in California, Cigar was sent to Mott at Belmont Park. He had been a large-framed 2-year-old with some minor problems, and didn't even make his career debut until February of his 3-year-old campaign. After four uninspiring performances in allowance races on the grass, Mott put Cigar back on the dirt, and in doing so, unleashed a superstar. Cigar romped by eight lengths on Oct. 28, 1994. He would not lose again until Aug. 10, 1996. In between, one of the greatest chapters in the annals of Thoroughbred racing was written. After winning the grade I NYRA Mile (now named the Cigar Mile) by seven lengths and an allowance race at Gulfstream, Cigar took on defending Horse of the Year Holy Bull in the 1995 Donn Handicap (gr. I) in what promised to be an epic battle. Unfortunately, Holy Bull pulled up on the backstretch with a career-ending injury, as Cigar drew off to win by 5 1/2 lengths. The victories continued to pile up--the Gulfstream Park Handicap (gr. I), Oaklawn Handicap (gr. I), Pimlico Special (gr. I), Massachusetts Handicap, and Hollywood Gold Cup (gr. I). Then it was back home to Belmont for the big fall stakes leading up to the Breeders' Cup Classic (gr. I). Cigar strolled home under wraps to win the Woodward Stakes (gr. I) in 1:47 flat before defeating a determined Unaccounted For in the Jockey Club Gold Cup (gr. I) over a wet-fast, but heavy, track. Only the Classic stood between Cigar and an undefeated campaign. One can still hear Tom Durkin's frantic voice as Cigar charged up on the far turn to take the lead in the Classic: "Cigar! Cigar makes his move and he sweeps to the lead with a dramatic rush." From there on it was no contest. Cigar drew off to win, covering the 1 1/4 miles over a muddy track in a swift 1:59 2/5. He had completed an unforgettable year, winning all 10 of his starts while extending his winning streak to 12. One day after Mott, Allen Paulson, and Bailey all received Eclipse Awards in San Diego, Cigar made his 1996 debut, winning the Donn Handicap again. After a good deal of thought it was decided to point for the inaugural Dubai World Cup, with its record purse of $4 million. It was at Nad al Sheba racetrack on March 27 that Cigar truly entered the pantheon of the greats. Continued...



Copyright © 2015 The Blood-Horse, Inc. All Rights Reserved.