Serena's Song: Winning Tune
by Lenny Shulman
Date Posted: 8/5/2002 2:27:32 PM
Last Updated: 8/5/2002 4:15:18 PM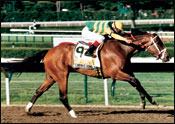 Serena's Song wins the 1995 Haskell Invitational.
Photo: Equi Photo

Published in the Aug. 3 issue of The Blood-Horse
Two summers ago, at the Keeneland July yearling sale, the second foal out of Serena's Song was being offered at auction. In the days leading up to the sale at the barn of Denali Stud, a video loop played on the monitors chronicling the racing career of the yearling's dam. It was longer running than many television programs these days. Almost comically, one after another grade I race popped up on the screen--the Gazelle, Santa Monica, Santa Maria, Las Virgenes, Oak Leaf, Beldame, Haskell. Eleven in all. And always the result was the same: The bay filly/mare in the green and yellow silks of Bob and Beverly Lewis galloping her competition into the ground. Talk about repeats. Each one more impressive than the last as the sheer body of her work absolutely overwhelmed the viewer. It is small wonder that the foal being offered that year, who became Sophisticat, fetched $3.4 million. And it is small wonder too that Serena's Song was tabbed for induction into the National Museum of Racing and Hall of Fame this year as top contemporary female. She was brilliant and she was hickory, starting 38 times in a 30-month racing career. It's one thing to race often, it's another to capture 17 graded stakes and hit the board in another 14. She faced the best in her division, butted heads with the boys, and never took a backward step. "When she broke her maiden at Hollywood Park by 10 lengths, there was no looking back," said Bob Lewis recently. "We knew we had something special. She was a marvelous credit to the racetrack and to her breed, and she remained so sound. To this day, I'm not aware of her having so much as a sniffle." Serena's Song was bred in Kentucky by Dr. Howard Baker and raised at Pope McLean's Crestwood Farm. "I remember the first day or so her legs were going in about five different directions," said McLean. "But she developed into a racy, athletic-looking filly with a really nice hip and shoulder, well-balanced. But who would have known she was going to be that good? It's what's inside that you can't always see." Trainer D. Wayne Lukas saw something in the Rahy yearling at the 1993 Keeneland July sale, where the Lewises bought her for $150,000. "She had a great walk and presence," the conditioner noted. "She wasn't real big, but she was so well-balanced with such a fluid way of moving, and she looked extremely sound. I turned to Bob Lewis when we signed the ticket and said, 'This will be your first 2-year-old stakes winner.' " Over dinner one evening, Beverly Lewis asked her husband what he thought of the name Serena. They agreed on it, only to find it already taken. So Beverly lengthened the moniker to the one that became famous, and it didn't take long for Lukas' prediction to prove out. After breaking her maiden in her third start, Serena's Song defeated nine rivals in winning the Landaluce Stakes (gr. II) at Hollywood Park by 41?2 lengths. Two weeks later, Lukas, as he would several times in her career, put Serena's Song in against the boys, and she missed winning the Hollywood Juvenile Championship (gr. II) by a half-length to Mr Purple. After two subpar efforts at Del Mar, Serena's Song won her first route race, triumphing in the Oak Leaf Stakes (gr. I) at Santa Anita. That race set her up for the 1994 Breeders' Cup Juvenile Fillies (gr. I) one month later at the same 11?16-mile distance. In one of the most thrilling Breeders' Cup contests, Serena's Song hooked up with Flanders at Churchill Downs, and the pair of Lukas trainees tangled in their own personal match race, leaving 11 others far back in their rearview mirrors. Never separated by more than a half-length, and actually no more than a head apart for the bulk of the proceedings, the two sprinted as one for the wire, with Flanders getting the nod. "Sometimes you see a Secretariat or a Slew or an Affirmed start their drive at the five-eighths pole and sustain it," said Lukas, "but you very seldom see two babies hook up and sustain an elongated drive all the way to the wire, neither of them giving an inch. That stamped them as real special ones, just awesome." For good measure, Serena's Song ended her juvenile campaign with a victory in the Hollywood Starlet (gr. I), which began a streak of five consecutive wins. Her championship season at three began with a trio of graded victories at Santa Anita. Out of challenges, she traveled to Kentucky for the Jim Beam Stakes (gr. II) against the boys at Turfway Park. She destroyed the field by 31?2 lengths, the closest to her at the wire being Tejano Run, who would finish second in the Kentucky Derby (gr. I) next out. "She had the ability to dictate the style of a race," said Lukas. "She didn't need pace up front, she didn't need a certain racetrack. She just showed up every time and got into it." Serena's Song tried the Derby as well, setting a contested pace for the first mile before tiring to 16th. Most figured she needed a rest, but Lukas was not among them, and ran her less than two weeks later in the Black-Eyed Susan (gr. II) at Pimlico. She romped by nine. "She had great bounce-back properties," he said. "She would get a couple days off and tout you she could run again, and we asked her to. As you look down through history one of the attributes of our great horses was the ability to show up all the time and race frequently." A trip to New York annexed the Mother Goose Stakes (gr. I), and after a narrow loss in the Coaching Club American Oaks (gr. I), it was time to test the boys again, in the Haskell Invitational (gr. I) at Monmouth. Lukas points to that effort as one that really stands out in his mind. "Early that day one of the supposed handicapping gurus told me that speed was holding up and we'd be in great shape. Later, just before the Haskell, he comes running back and says, 'Wayne, you're in trouble; speed's not holding.' I looked at him and said, 'How's class holding?' " Serena's Song defeated Pyramid Peak and nine others to take the Haskell. After winning the Gazelle and Beldame (both gr. I), Serena's Song ended the year with nine wins from 13 starts and earnings of better than $1.5 million. She made another $1.1 million in 1996, retiring after that 4-year-old campaign with $3,283,388 banked, the most ever for a North America-based female, a mark that held until Spain broke it earlier this year. Serena's Song has jumped off to another quick start in her broodmare career. Her first foal, Serena's Tune (by Mr. Prospector), was a three-time stakes winner of $337,260. Sophisticat (by Storm Cat) recently won the Coronation Stakes (Eng-I) at Royal Ascot. The Lewises are planning to race 2-year-old colt Arbitrate (by Deputy Minister). She has a yearling colt by Storm Cat, a weanling colt by Unbridled, and is carrying her sixth foal, a Storm Cat filly. "When she was a youngster, we thought she was one of those exceptional ones who could handle almost anything," Lukas said. "Little did we know she was going to handle everything."



Copyright © 2015 The Blood-Horse, Inc. All Rights Reserved.