Jack Westrope: Quiet Little Man
by Craig Harzmann
Date Posted: 8/5/2002 2:14:57 PM
Last Updated: 8/5/2002 4:24:41 PM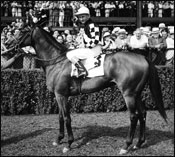 Westrope aboard Stagehand after 1938 Empire City Handicap.
Photo: Turf Pix

Published in the Aug. 3 issue of The Blood-Horse
The sound was unmistakable. Ray York was already way back, riding a hopelessly beaten filly in the stretch of the 1958 Hollywood Oaks, when he heard the sudden, ominous thump-thump-thump of disaster. Intuitively, he peeked left. The sight was grim--a fellow rider, a helpless body, bouncing along the inner rail. Another glance a few strides later revealed an even worse image. "All I could see was the whites of his eyes. Just white," York recalled. "It was bad." Jack Westrope never got up. He later died, depriving York and countless others of a hero and the sport of a respected veteran. But then, that was Westrope's way, always riding life to the edge. He was a man of flamboyance and generosity, a hard-bitten competitor and a fun-loving friend. To those who knew him best, his election to the National Museum of Racing and Hall of Fame is an overdue justice, a final, fitting tribute bestowed on one of the finest the game has ever seen. "It just made me cry," York confessed recently. "I just loved to watch him ride. They didn't come any better." "It should have been done the day he died," echoed former rider Alex Maese, another Westrope disciple. "He deserves everything that he's going to get." More than four decades have passed since Westrope's tragic death at age 40, opportunity enough for time to quietly tuck his career into obscurity. But what a career it was. In his prime, there were few others who could match his raw ability. For over 25 years, the Montana native competed at the top, winning 2,467 races--and numerous stakes--from Cuba to California and just about every point in between. Yet to some, his name is still unfamiliar. His talent, however, was undeniable. "People who were around him knew. He could do anything on a horse," said fellow Hall of Famer and Westrope chum Bill Shoemaker. "He had it all." Lean and loud, Jack Gordon Westrope was a natural on horseback. His early inspiration came from older brother Wootsie, who died following a 1932 racing accident at Agua Caliente. Determined to keep his brother's flame alive, young Jack set out on his own career, and his impact was immediate. In his first year of riding, Westrope led the nation with 301 wins, the first in a quarter-century to reach such a mark. That was 1933. He was just 15 at the time. From there, Westrope developed a reputation as one of racing's most capable and charismatic jockeys. In 1934, he won the very first race ever run at Santa Anita, and at one point or another, he picked up nearly every major prize in Southern California--the Hollywood Gold Cup, San Juan Capistrano, Santa Margarita, Vanity, and Ramona Handicaps top the list. The late '30s brought big wins from coast to coast with champion Stagehand and Cravat, while over the next two decades, he captured a host of important stakes with top fillies Honeymoon, Be Faithful, and champion Painted Veil, as well as older standouts Big Pebble and Royal Vale. But there was so much more to Jack Westrope than this race or that horse. His success was enduring, and according to his eldest daughter, Pamela Donner, the reason was simple. "He just had no fear," she said. "And he was larger than life." Indeed, the man they called "The Rope" had a flair few could surpass. He was strong with the whip, especially with his left hand, despite a pinky that stuck out straight at all times. From the gate, he was one of the best ever. And of course, there was that peculiar style. To compensate for a bad left knee, Westrope rode with his inside stirrup low and the outside high. Known in racing circles as "acey-deucy," it was the perfect formula for harnessing the centripetal force of a tight turn. "But he did it to an extreme," Maese pointed out. "His left leg was completely straight and his right knee was under his chin." Fittingly, his personality was as one-of-a-kind as his stance in the saddle. For top-shelf jockeys, celebrity status always came with the territory, and Westrope definitely lived it up, often painting the town with close pals Shoemaker and Eddie Arcaro. He played hard and rode even harder, and his aggressive nature sometimes garnered headlines for the wrong reasons. Suspensions were a thorn throughout his career, with none more notable than the one he served following a disqualification from victory on Intent in the 1952 Santa Anita Handicap. On a few occasions, his rough riding tactics even got him banned from local tracks. Fiery to a fault, Westrope quite often spoke his mind and seldom pulled punches. York, fresh in from the East and just 18 at the time, remembers one ride that unleashed a tiger years ago at Bay Meadows. "I let this horse get away from me," he said. "I bothered him really bad, darn near dropped him. I don't know how Jack stayed on. But that's the kind of rider he was. He had that balance. He came back, and oh man, did he rake me up and down. And I couldn't say nothing back then because I idolized the guy." The outbursts, though intimidating, were also constructive. More often than not, his advice came amiably, for beneath that gruff exterior beat a heart of gold. Westrope often went out of his way to guide young riders through the basics. Maese, a natural-born southpaw, was just a rookie at Tanforan when Westrope taught him the proper way to switch his whip from left to right and back again. "I couldn't switch real fast," he recalled. "One day he watched me try to do it, and the next morning he said, 'Here's how you do it.' He noticed what I was doing incorrectly and he corrected it. He offered." To Maese, the moment is still vivid, as distinct as his memory of that clear June afternoon at Hollywood Park 44 years ago. Westrope already had an easy winner that day, and about an hour later, he found himself aboard favored Well Away in the Hollywood Oaks, racing down the backstretch alongside Maese and Nushie. Together, they went after the leaders, side-by-side around the turn, till Westrope finally let his filly loose turning for home. "See you later," he told Maese, and took off. "And the next thing, I look up and he was going straight across the field, straight into the fence," Maese said. Then he sighed. "Never saw him again." At the time, there was no protective rail to cushion Westrope's fall when Well Away finally lurched left, tossing him to the fence near the sixteenth pole. He hit hard with his back, then tumbled lifelessly to the ground. The injuries were massive. There was little hope. Hours later, with his parents at his side, Westrope was pronounced dead at a nearby hospital. Now, Westrope's legacy will live on in the Hall of Fame. At the induction ceremony on Aug. 5, he will be represented by his widow, Terry Chaffee, daughters Pamela and Jackie, and two grandchildren. Pamela will be the one to accept her father's plaque. She was just 15 when he was killed, and the wound has yet to fully heal. But the saving grace, she admits, was that he left a legend--and died doing what he loved most. "It was just the way he would've wanted to go out," she said. "He lived his life like he was on the track. All the way till the end."



Copyright © 2015 The Blood-Horse, Inc. All Rights Reserved.