Haskell Invitational Report: Icing on the Cake
Updated: Friday, August 9, 2002 1:37 PM
Posted: Sunday, August 4, 2002 9:15 PM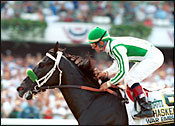 Photo: Bill Denver
War Emblem, winning the Haskell.
Published in the Aug. 10 issue of The Blood-Horse
Prince Ahmed Salman, after winning an important race, would often go up to someone, whether it be the governor of New York or a perfect stranger, and ask him to feel the beating of his heart. Following last year's Travers Stakes (gr. I), the prince's heart was racing "140 times a minute," according to New York Gov. George Pataki. Although that heart suddenly gave out on July 22, the passion that fueled it could still be felt at Monmouth Park on Aug. 4 as War Emblem came charging down the stretch under a hand ride from Victor Espinoza to win the $990,000 Haskell Invitational Handicap (gr. I) by 3 1/2 lengths. Racing's version of "The Honeymooners" was played out before a huge audience of 45,212, second-highest in Monmouth history. And if newlywed Bob Baffert and Monmouth Park officials had to best describe this wild episode, they'd be inclined to use the words of Ralph Kramden himself: "Bang! Zoom!" Monmouth aimed for the moon, trying everything possible to get War Emblem, but had to put up with numerous takeoffs and crash landings before it accomplished its mission. Sometimes, all the essential elements seem to blend together to form the perfect script. The Haskell had so many of these elements, it was as if the story had been written before the race was even run. There was the death of Salman, which eerily came almost one year to the day after the equally sudden death of the prince's brother, Prince Fahd, to whom he had dedicated last year's Haskell victory by Point Given. Then you had the wedding of Baffert to Jill Moss the day before the race, and their departure on a private jet at 5 a.m. the following morning to make the Haskell. Of course, there was War Emblem himself, who was returning from an eight-week layoff in an attempt to become the first ever Kentucky Derby (gr. I) winner to capture the Haskell. Finally, throw in a chapter called "Monmouth Mayhem," a two-week period of chaos and confusion, during which Monmouth general manager Bob Kulina and the track's racing office went on a massive phone crusade, in which they resorted to nothing short of begging, pleading, and cajoling in their attempt to land racing's marquee 3-year-old. War Emblem actually had been dropped from consideration because of the 124 pounds he was assigned, combined with the likely heat and humidity he'd encounter at Monmouth. But by the time Monmouth's telephone wires had cooled off, War Emblem was miraculously back in the race and all was again right with the world. Even when word that Monmouth was paying Baffert a $50,000 appearance fee spread like wildfire, and was picked up by every major newspaper, Monmouth officials still rejoiced in their feat of raising War Emblem from the dead and bringing him to the Jersey Shore. Baffert and Monmouth, however, were criticized in several publications for the deal, which they also had made the previous year with Point Given. But last year it went unnoticed. Feeling compelled to defend his actions, Baffert issued a statement through a marketing firm saying the fee had nothing to do with the decision to run the horse, and that he would donate half the money to the Thoroughbred Retirement Foundation. He also said he would continue to accept such fees "where warranted." Kulina said the appearance fee had been offered long before Baffert decided to change his plans and come to Monmouth. So, with all issues seemingly taken care of, everyone sat back in the sweltering heat and waited anxiously for the main attraction. And when the final credits came up on the screen following the happy and inevitable ending, the audience cheered wildly. Some 150,000 Monmouth County residents still were without power on Aug. 4 following a devastating storm two nights before, which uprooted hundreds of trees. If these people were looking for any kind of temporary electricity, then Monmouth certainly was the place to be. Here, basically, is a brief and simple synopsis of the events that led up to the Haskell. First there was War Emblem; then there was Sunday Break; then there was Came Home. Then, there was no War Emblem, then no Sunday Break (stifle injury), then no Came Home (not enough time between races). That left three probable starters--Magic Weisner, Puck, and Like a Hero--going for a $1-million purse, with no other prospects in sight. Then, out of nowhere, War Emblem came bouncing back in the picture, 124 pounds and all. Did that put the fear of God in the other invitees? Hardly. A few days later, into the picture popped the Calder-based Island Skipper. Then, Mr. Mellon jumped in. Then Peekskill joined the party. Then Medaglia d'Oro and Easyfromthegitgo entered, swelling the field to nine. But nothing about this year's Haskell was as it seemed. Island Skipper was injured, and Medaglia d'Oro, Peekskill, and Easyfromthegitgo all scratched to run in the Jim Dandy Stakes (gr. II). Suddenly, we were back down to five horses. By now, the Monmouth Park racing office was littered with empty Tylenol and Maalox bottles. "It's been a long, long two weeks," Kulina said three days before the race. "When Came Home's connections started hedging, and it looked like he wasn't coming, I called Bob and said, 'Bob, my race is falling apart. I need you.' I knew it was like selling snowballs to an Eskimo, but old racing secretaries die hard. I never gave up with him. We're like 'The Little Engine That Could.' We just keep chugging along." So, Kulina kept saying to himself, "I think I can. I think I can." And he did. Eight days before the race, Baffert called and said they were coming. At 4:30 on the afternoon of July 31, War Emblem stepped off the van looking amazingly cool, without a drop of sweat on him. But the old War Emblem surfaced as soon as he was put in his stall. He took several aggressive rolls in his shavings, then charged the front of his stall, trying to maul anyone within reach. He was so wild it took assistant trainer Jimmy Barnes and groom Roberto Luna a good 10 minutes, and a few peppermints, before they could get a bungee cord on him. Exercise rider Mick Jenner, who flew up from Kentucky and hadn't seen War Emblem since the Belmont (gr. I), became more impressed with the colt as the race neared. Finally, the day arrived. Everyone would know once and for all whether War Emblem was the same horse they saw in April and May or whether he was just a fast colt who had seen his day in the sun. There was no doubt in Baffert's mind. "He's been so awesome in his works," Baffert said. "You forget how good this horse is. From now on we're just going to let him run the way he wants. If he were one of those wild horses in the herd, he'd be the top dog. Like 'The Black Stallion,' you don't want to break that spirit." The Bafferts and The Thoroughbred Corp. manager Richard Mulhall touched down at 1:30 p.m., arriving at the track at 4:30. Baffert, who had recently been informed that no Kentucky Derby winner had ever won the Haskell, told Mulhall about that dubious statistic. "We'll change that today," Mulhall replied. War Emblem was the first horse in the paddock and received a rousing ovation. The place was jumping, and Kulina and Co. were all smiles.
Continued
(Chart,
Equibase
)
FREE! E-Newsletters from The Blood-Horse!...
Follow the top stories of major racing events, racing previews and results with FREE e-newsletters from bloodhorse.com. As news develops, we'll deliver updates to your inbox. Follow important events moment by moment, step by step!