Rebate Debate
by Ray Paulick
Date Posted: 7/30/2002 10:27:22 AM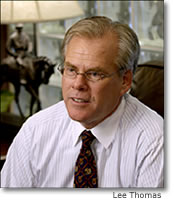 Ray Paulick
Editor-in-Chief


Rebate shops have been on the scene several years now, and it appears there has been limited success in slowing down their ability to recruit and retain some of horse racing's biggest gamblers. Generally speaking, these rebaters are not the offshore casinos that book bets on sports and horse racing. Those operations don't want anything to do with sharp horseplayers who, over the long run, are more likely to win than lose. That's because most of the offshore casinos do not channel horse racing wagers through the pari-mutuel pools, instead operating as old-fashioned bookmakers with limits on the type of wagers taken and on the payoffs given. The serious rebate operations send the wagers they handle through the pari-mutuel pools. They take any wager a track offers and pay full track odds, and then some. Some are located offshore, but many do business in the United States, working through legitimate channels to gain access to pari-mutuel pools and simulcast signals. They represent a substantial percentage of North American handle. These rebaters may be a horseplayer's best friend, but they are a nightmare to racetracks and owners' organizations. Say, for example, a California horseplayer who bets $60,000 per week is recruited by one of these rebate shops and offered a 10% rebate on what he bets. Over the course of the year, that player pushes more than $3 million through the pari-mutuel pools, so a 10% rebate puts $300,000 back in his pocket. Problem is, California tracks and horsemen are probably getting less than 4% of what that player bets, just over $100,000 for the year. That's what the rebater pays a simulcast hub or reseller for the signal, and the difference between that number and the takeout (between 15-20%, depending on the type of wager) is theirs to keep as profit or to share with their best customers. The profit margin is large because the rebater has no horsemen with which to share its slice of the pari-mutuel pie, and no racetrack to maintain. If that same player bet through the pari-mutuel windows of a California track, intertrack wagering site, or with one of the licensed advance deposit wagering operations, tracks and horsemen would receive closer to 15% of the amount bet, upwards of $500,000 per year. That's a huge difference, and it's something tracks and horsemen are struggling with. They know which simulcast hubs are selling signals to rebate shops, they know who most of the rebaters are, and they know many of the local horseplayers who are channeling their bets through out-of-state operations. The "easy" solution would be to cut the signal from the resellers, putting the rebaters out of business. But many track officials are worried such a drastic move would alienate some of their best customers and send them elsewhere. Some tracks and horsemen's groups have insisted the resellers pay a premium fee for the signal, with the resellers then passing along their price hikes to the rebaters. But that isn't enough to make up the lost revenue. Others are trying to put pressure on the resellers to prove they are not breaking any laws. In California, for example, it is illegal for anyone not licensed with the state to accept bets from California residents. The rebate shops are not licensed in California, so it could be inferred that the reseller is aiding and abetting criminal activity. Shutting down the rebaters won't be easy, and it's a move that will not be well received by the horseplayers who use them. Instead, tracks should be able to compete with the rebaters through customer loyalty programs that provide serious benefits, and not just coupons for free admission, programs, and food. Tracks know who their best customers are--or were. They need the regulatory flexibility to compete in the marketplace and the commitment to reward that customer for his business.



Copyright © 2015 The Blood-Horse, Inc. All Rights Reserved.