Came Home's Haskell Status in Question
by Steve Haskin
Date Posted: 7/26/2002 3:14:27 PM
Last Updated: 7/28/2002 10:26:06 AM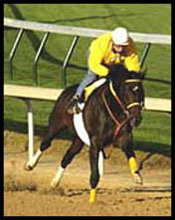 Came Home, shown here in April workout, is questionable for the Haskell Invitational.


Trainer Paco Gonzalez told the Monmouth Park publicity department Friday morning that he is now undecided whether to run Came Home in the $1 million Haskell Invitational Handicap on Aug. 4.Gonzalez said he wants to see how the son of Gone West comes out of this morning's five-furlong breeze in 1:02 1/5 at Santa Anita before making any decisions."My little horse ran less than two weeks ago," Gonzalez said. "I was looking for about 1:01 in today's work, but better to work too slow than too fast. We're moving to Hollywood Park (Saturday), so we'll probably make a decision on Sunday."Gonzalez said an alternate race would be the seven-furlong King's Bishop Stakes at Saratoga on Aug. 24. But co-owner John Toffan said he doesn't see that happening."God, I'd hate to miss (the Haskell)," he said. "But the colt probably needs more time between races. Even coming back that quickly, he'd still probably do all right, but we want to see how he comes of today's work before deciding. I find it hard to believe that we'd run in the King's Bishop. I can't see him cutting back in distance at this time."The defection of Came Home would leave the Haskell with only three definite starters – Magic Weisner, Like a Hero, and Puck. Bobby Frankel, trainer of Belmont Stakes runner-up Medaglia d'Oro, said, although he's been pointing the colt for the Jim Dandy Stakes the same day, he's not committed to the race, and could opt to go in the Haskell."Right now, the only thing I'm committed to is getting up in the morning," Frankel said. "There's always a chance I could change my plans. It's only a short van ride down to Monmouth."Frankel said he'd definitely consider running Lexington Stakes winner Chiselling in the Haskell if the half-brother to Chester House were to be invited. Chiselling, a son of Woodman out of Toussaud, has never run on dirt.If Medaglia d'Oro does run in the Haskell, as it stands now, there would be no one fast enough to pressure him on the lead, as the three pointing for the race are basically all come-from-behind horses. Puck did win the Unbridled Stakes on the front end, but that was in the slop, and run in slow fractions.Monmouth officials are also keeping an eye on Arlington Classic winner Mr. Mellon, who at this time is being pointed for the Jim Dandy. Also, Nick Zito has two horses aiming for the Jim Dandy, but one of them, Nothing Flat, has no early speed and might not be suited to Monmouth and a small field.



Copyright © 2014 The Blood-Horse, Inc. All Rights Reserved.