Pendulum Swing
by Ray Paulick
Date Posted: 7/24/2002 11:49:36 AM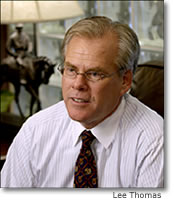 Ray Paulick
Editor-in-Chief


A decade ago, the grim faces belonged to management and staff of Fasig-Tipton, following yearling auctions in Kentucky and upstate New York that were, in a word, disastrous. This year, after the first round of yearling sales in Kentucky, where Keeneland suffered a major setback with its July auction and cross-town rival Fasig-Tipton took a huge step forward, the roles are reversed. Keeneland officials are on their heels, much like the Fasig-Tipton team was in 1992 and 1993. Make no mistake. Keeneland still dominates the marketplace on the strength of a September yearling sale that dwarfs all others, along with breeding stock sales in November and January that are clear market leaders. But the event that gave the association the heavyweight title among all horse sales, Keeneland July, doesn't have much of a punch anymore. Fasig-Tipton has been able to jab away at Keeneland with its less-select Kentucky July sale. In 1992, FTK had gross sales of $2.3 million, compared with Keeneland's $47.1 million--giving Fasig-Tipton less than 5% of the July share of auction dollars. In 2002, with FTK's gross receipts soaring by 37.3% to $31.8 million (while Keeneland's fell by 32.9% from $63.2 million to $42.4 million), the market share gap has narrowed decidedly. The tale of the tape for the two sales in 2002 gives FTK a 42.9% share of the dollars spent in the July market to Keeneland's 57.1%. Making matters worse for Keeneland, Fasig-Tipton's Saratoga auction will almost certainly surpass Keeneland July in gross receipts this year--a major milestone. Just as the FTK sale has chipped away at Keeneland July, so too has the Saratoga auction. In 1992, the Saratoga sale generated $12 million in gross receipts, roughly one-fourth the amount spent at Keeneland in July. Last year, Saratoga drew on almost even terms with Keeneland July when 162 horses sold for $62.4 million (with Keeneland at $63.2 million). Combined, the two Fasig-Tipton sales have risen dramatically in gross sales. In 1992, FTK and Saratoga sold $14.4 million worth of horses. In 2001, the two auctions generated $85.6 million in sales--nearly a 500% increase. Keeneland hasn't stood still during the same time frame. Emphasis has shifted to the September yearling sale, which has more than tripled in revenue, from $78.4 million in 1992 to $254.2 million in 2001. Combined, the two Keeneland sales generated more than $317.4 million last year, compared with $85.6 million for Fasig-Tipton's two top auctions. That gave Keeneland a 78.7% market share in a head-to-head comparison with Fasig-Tipton. That is a dominating position, but not nearly as strong as the 89.7% share of the market Keeneland owned in 1992. The pendulum has shifted in Fasig-Tipton's direction. Going into the two July sales, conventional wisdom suggested Keeneland would not be affected by the weakened American economy and recent staggering news from Wall Street. The July sale's biggest buyers--Ireland-based Coolmore and Dubai-based Godolphin--were thought not to be influenced by the stock market. On the other hand, the FTK sale was far more dependent on American buyers who were susceptible to the ups and downs of the financial markets. Once again, conventional wisdom had it wrong. While the United States economy may not be in very good shape, American racehorse owners remain bullish, especially after seeing the type of horses offered at FTK. While most of Keeneland's leading buyers of the recent past were critical of the horses at that sale this year, those at FTK were singing the praises of the racing prospects on display there. The presence of bullish American buyers at FTK was very good news, and not just for sale company officials. Following a rocky start to the auction season at Keeneland, breeders could breathe a sigh of relief that the July yearling market wasn't dead. It had merely traveled from one side of Lexington to the other.



Copyright © 2015 The Blood-Horse, Inc. All Rights Reserved.