The Thoroughbred Corp.'s Ahmed Salman Dead at 43
by Lenny Shulman
Date Posted: 7/22/2002 4:16:50 PM
Last Updated: 7/25/2002 2:55:53 PM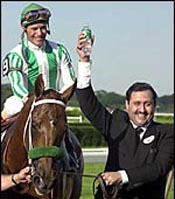 The late Prince Ahmed bin Salman.


Barely two months after realizing his dream of winning the Kentucky Derby (gr. I), Prince Ahmed Salman in Saudi Arabia of a heart attack Monday, July 22, at age 43. Salman, a nephew of Saudi Arabia's King Fahd, ran his country's biggest publishing and media group, owning television stations, newspapers, and a holding company. Salman had been involved with horses for most of his life. At age seven he won a horsemanship cup in Saudi Arabia and as a child he saw the Kentucky Derby on television. Winning that race became "one of the main ambitions of my life," he said at Churchill Downs May 4 after War Emblem made his dream come true."I'm in shock," said Bob Baffert, who trained classic winners War Emblem and Point Given for Salman. "When you go through a Triple Crown together you get really close. He was like family. His passion for horses was incredible--he lived and breathed them."The prince was American-educated, coming to this country in the 1970s and attending ranger school and then college. While at the University of California-Irvine, he befriended Thoroughbred trainer Richard Mulhall, who had a nearby farm. The pair began finding success in modest claiming races, because, the prince joked, "I didn't have much money back then."That all changed in 1996, when the prince purchased a strapping filly at Barretts. Sharp Cat became an outstanding racehorse and touched something inside Salman. "She got me excited about racing. Buying expensive horses came from her because I became emotionally involved."Salman's The Thoroughbred Corp. became synonymous with high-priced, talented runners. He wasn't shy about spending good money at auction, and procured top-class athletes. Jewel Princess captured the Breeders' Cup Distaff and an Eclipse Award in 1996. Oath won the 1999 Epsom Derby (Eng-I), the same year Anees took the Breeders' Cup Juvenile (gr. I) and an Eclipse Award. Royal Anthem, Lear Fan, Windsharp, Military, Fantastic Fellow, Dr. Fong, Sapphire Ring, Desert Hero, Officer, Spain, Habibti, Saudi Poetry, and Crafty Friend all carried The Thoroughbred Corp.'s green and white colors to stakes conquests.But the prince will be most remembered for taking two legs of the Triple Crown in 2001 and 2002. Last year, Point Given, the Big Red Train, exploded onto the 3-year-old scene and was widely thought to be a threat to become the first Triple Crown winner since Affirmed in 1978. But Point Given threw in a clunker in the Derby before smashing wins in the Preakness (gr. I) and Belmont Stakes (gr. I).This year Salman purchased 90% of War Emblem just one month before the Kentucky Derby and watched his acquisition upset the Derby field and win the Preakness before stumbling out of the gate and finishing unplaced in the Belmont. Salman thus became the first Arab owner to win the Kentucky Derby."He would tell me the one he wanted to win was the 'Tobacco Derby,' " Baffert said. "That's what he called it. We went through the two Triple Crowns together and he wasn't just a client, he was a friend who enjoyed having fun. He was looking forward to coming to Del Mar, which was his favorite place. I feel sorry for his wife and kids."Almost one year ago to the day, Salman's brother, Prince Fahd Salman, died of a heart attack at 46. Salman dedicated Point Given's Haskell win last summer to his brother.Salman is survived by a wife and five children, including 5-year-old triplets and a young son.In bloodhorse.com's early reports on the death of Prince Ahmed, it was incorrectly reported that he died in his sleep from a heart attack. Reports published later said he was stricken at his home, then taken to a local hospital in Riyadh, where efforts to save him were futile.Read Profile of Prince Ahmed Salman



Copyright © 2016 The Blood-Horse, Inc. All Rights Reserved.