Keeneland Rebounds in Second Session, But Overall Average Down 31.4%
Date Posted: 7/16/2002 8:32:09 PM
Last Updated: 10/1/2002 12:36:15 PM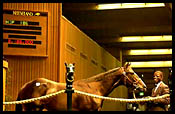 Storm Cat colt topped the Keeneland July yearling sale at $3.1-million.
Photo: Anne M. Eberhardt

By Ron Mitchell, Ray Paulick
Deirdre BilesUnlike Monday's opener, in which only two horses were sold in excess of seven figures, the second session of Keeneland's July Selected Yearling Sale was strong from start to finish.The top price paid during the session and for the entire sale was the $3.1-million bid from Irish agent Demi O'Byrne for a Storm Cat--Tacha (Mr. Prospector) colt consigned by Taylor Made Sales Agency. O'Byrne, representing the Coolmore Stud interests of Michael Tabor and Mrs. John Magnier, said the March 26, 2001 foal was the best colt in the sale.During Tuesday's session, 46 horses were sold for a gross of $26,645,000. The average was $579,239 and the median price was $327,500. During the comparable session one year ago, 45 horses averaged $830,333 from a gross of $37,365,000 and a $450,000 median. The 58 horses that did not sell represented 40% of the 145 through the ring.For the entire two-day sale, Keeneland reported 87 yearlings were sold for a total of $42,385,000. The sale average of $487,184 represented a decline of 31.4% from 2001 when 89 horses were sold for a total of $63,212,000 and an average price of $710,247. This year's median was $300,000, compared with $427,000 one year ago.While Keeneland officials were pleased that Tuesday's session showed a solid rebound from Monday's opener, sales director Geoffrey Russell said they were still surprised and disappointed by the results."While we got some very favorable comments on the conformation of the horses, I would guess they didn't fit the profiles of the top leading buyers," Russell said. "We look at these horses in March and April. Sometimes they change for the better and sometimes they change for the worse. Sometimes we take a shot at some sires we think will be popular and sometimes people don't agree with us."He noted that a lot of horses were withdrawn by consignors before each sale session because they had apparently decided the individuals had not been sufficiently inspected by veterinarians, giving an indication they would not bring as much as their owners expected.As with all Keeneland sales, Russell said the July sale will be evaluated by the sales company, along with consignors, to determine if changes need to be made."We will adjust and amend to see what the right thing is to do. This is not a fixed recipe...Times have changed. There is no mistake September has become the marketplace. July has lost a little of its luster because of that factor. People like to be in the massive numbers. We will review everything. Keeneland is committed to the July sale. We are as committed as our consignors are. We are only here as a marketing agent. It takes two sides to do this."One of the first horses into the sale ring, a Storm Cat filly consigned by David and Ginger Mullins' Doniga, was purchased by Canadian breeder-owner Eugene Melnyk for $2.8-million, by far the top price of the sale so far. Agent Robert McMartin signed the ticket on behalf of Melnyk, who was at the sale Monday but was at his home in Barbados on Tuesday.Speaking by telephone following the purchase, Melnyk said he rated the filly as the best of her sex in the sale and that he had appraised her at between $2.4- to $2.8-million. Produced from the Bold Hour stakes-placed mare Amelia Bearhart, the filly is a half-sister to multiple U.S. and Canadian champion Chief Bearhart and grade I winner Explosive Red."She was a bit smallish, but I didn't let that bother me because I remembered how well Chief Bearhart had run in Canada," said Melnyk, a Canadian businessman.Underbidder on the filly was trainer D. Wayne Lukas, representing the partnership of Bob and Beverly Lewis and W. T. Young's Overbrook Farm.Second-highest price during the early portion of the sale was the successful $2.1 million bid from agent Buzz Chase for a Gone West--Colonial Play colt from the Taylor Made Sales Agency consignment. Chase said the colt was bought for a newcomer to horse ownership who wishes to remain anonymous at this time.With the million-dollar frenzy continuing, agent Reynolds Bell, sitting with Jayeff "B" Stable principal Richard Santulli, went to $1.8-million to buy a Seeking the Gold filly produced from Breeders' Cup Sprint (gr. I) winner Desert Stormer. The filly was consigned by Eaton Sales, as agent.Top Prices, Second SessionHip No--Sex, sire--dam/consignor/price/buyer186--C, Storm Cat--Tacha/Taylor Made Sales Agency, agent/$3,100,000/ D.L. O'Byrne105--F, Storm Cat--Amelia Bearhart/David and Ginger Mullins, agents/$2,800,000/Eugene Melnyk118--C, Gone West--Colonial Play/Taylor Made Sales Agency, agent/$2,100,000/Buzz Chace, Agent 123--F, Seeking the Gold--Desert Stormer/Eaton Sales, agent/$1,800,000/Reynolds Bell, Jr., Agent189--C, Gone West--Touch of Greatness/Three Chimneys Sales, agent/$1,800,000/John Ferguson Bloodstock163--C, Kingmambo--Mysterial/Calumet Farm for Calumet Farm/$1,500,000/John Ferguson Bloodstock107--C, A.P. Indy--Ballerina Princess/Three Chimneys Sales, agent/$1,250,000/B. Wayne HughesComplete Results, bloodhorse.com



Copyright © 2015 The Blood-Horse, Inc. All Rights Reserved.