Breeders' Cup Elects Board Members, Adopts New Eligibility Rules
by Eric Mitchell
Date Posted: 7/12/2002 5:01:26 PM
Last Updated: 7/15/2002 11:30:15 AM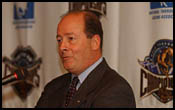 Van Clief


Breeders' Cup Limited used a new method of electing directors Friday that allows the nominators of foals and stallions the same input as shareholders in a publicly owned company.During its annual board of directors meeting in Lexington, the organization approved the elections of 13 members who will serve three-year terms. They are: Helen C. Alexander, Lucy Young Boutin, Robert N. Clay, Tracy Farmer, Richard I.G. Jones, Wayne G. Lyster, Leverett S. Miller, Charles C. Nuckols III, Michael Pons, Alex Rankin, J.V. Shields, Jr., Kenny Troutt and David S. Willmot.Previously, board members were elected by members of the Breeders' Cup corporation. The system was changed last year in part at the urging of Magna Entertainment chairman Frank Stronach who wanted more democratic representation within the industry. When Stronach threatened to pull his tracks out of the National Thoroughbred Racing Association in 2000, he made the new voting system a condition of his return.D.G. Van Clief Jr., Breeders' Cup president and NTRA vice chairman, said the rule was already being considered for revision."We were eyeing the old system and saw it was becoming archaic," Van Clief said. "The new method empowers the foal and stallion nominators, just like any stock corporation shareholder."Under the new program, a $500 foal nomination is worth one vote and stallion nominators receive one vote for every $500 increment of a stallion nomination fee, which is equal to the stud fee. Everyone who nominated horses this year was initially asked to submit a list of nominees, from which was selected a slate of 28 candidates who had each received a minimum of 50 nominations. Foal and stallion nominators then were asked to pick 13 directors from the list of candidates. About 32% of the people or entities eligible to vote returned their ballots."I thought the turn out was pretty good for a first effort," said Van Clief. "I think the system worked well and produced a high-quality board of directors. It is knowledgeable, committed group of horsemen."The Breeders' Cup board has 49 members, of which seven are appointed by the seven founding members and two are Van Clief and secretary Jim Philpott Jr. The remaining 40 positions are elected positions. As of now, some directors on the board because they are presidents of state breeders' organizations. These presidency position will be phased out next year and become elected positions.Other action taken by the Breeders' Cup board included the adoption of minimum eligibility requirements for starters in a Breeders' Cup World Thoroughbred Championship race.Starting this year at Arlington Park, any horse 3 years old and older that has won a race and started in a race worth $15,000 or less cannot run in the Breeders' Cup unless it has won a race worth $20,000 or more within the previous two years. The same horse would be ineligible if it had not finished second through fifth in a race worth $20,000 or more since it last started in a race worth $15,000 or less.The second rule applies to maiden horses 3 years old and older that have started in maiden races with a $32,000 or less claiming price. Maidens that have not finished second through fifth in a race for $18,000 or more within their previous four starts will be ineligible. Horses must start in last least four maiden claiming races for the rule to apply, and any horse that has started in a maiden claimer of $18,000 or less is ineligible.The need for an eligibility rule that could travel with the championship became evident in 1996 when Ricks Natural Star entered the Breeders' Cup Turf. The 7-year-old gelding had won two races in 23 starts before the Turf, and its two victories were three years earlier in a $2,100 and $2,000 claiming race. Ricks Natural Star stopped during the Turf."Illinois has a minimum eligibility down around the $4,000 level, and we felt it was time to have our own rule to carry with us," said Pam Blatz-Murff, senior vice president of Breeders' Cup. "Also many of the rules at some associations are for stabling on the backside only, not for running, and we want a rule that applies to both." The $15,000 minimum standard selected by Breeders' Cup is essentially double the minimum requirement set by Southern California tracks and the New York Racing Association.



Copyright © 2015 The Blood-Horse, Inc. All Rights Reserved.