End Sweep Dies in Japan
by Peter Tonkes
Date Posted: 7/12/2002 7:37:49 AM
Last Updated: 7/16/2002 1:53:08 PM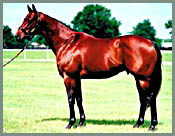 End Sweep, shuttle stallion euthanized July 12.


Champion sire End Sweep was euthanized July 12 at the Shadai Horse Clinic in Japan. The decision of the joint owners representing Australia's Arrowfield Stud and Shadai Stallion Station was made after they were informed by the clinic's head, Dr. Masaaki Tagami, that the 11 year-old horse had "gone down" and could not regain his feet."There was no other option but to have End Sweep euthanized immediately on humane grounds," said John Messara. The Arrowfield chariman said the horse's prognosis had gone from positive to hopeless in a matter of days."As a growth pressured his spine, it left him as a virtual wobbler," Messara said.End Sweep was well into his book of around 100 mares when he flipped over at Shadai Farms in late May. He "knocked down" his withers in the fall, but appeared to be recovering well until around seven days before his death. X-rays taken as his recovery faltered revealed no abnormality.As it was explained to Messara and Arrowfield's chief veterinary surgeon, Dr. Mark Wylie, an undetected soft-tissue injury, possibly an abscess or tumor, developed deep under the withers. It placed increasing pressure on the horse's spinal column. His condition deteriorated to the point he was dependent on anti-inflammatory drugs. Within days he became ataxic.Shadai and Arrowfield veterinarians sought the best medical opinion, internationally, but such a condition is inoperable. To reverse it in a horse is without medical precedent. In layman's terms the spine is about a foot beneath the wither in a fully-grown horse and that is merely problem #1.End Sweep was working his third season in Japan, having covered 100 and 98 mares in the two years since Shadai purchased a 50% interest in the Forty Niner horse. That was soon after End Sweep left North America for what would be the last time in 1999.Messara is convinced that End Sweep is set to make a big impact when his first Australian runners hit the tracks in late September. His first southern generation turn two on Aug. 1. As yearlings earlier this year, 67 of 85 offered averaged $91,801 (Australian funds) on a $25,000 fee. The median was $75,000."His death is a giant loss to Arrowfield," Messara said, "Biased as I am about End Sweep, I believe his loss will ultimately prove a significant one to the Australian breeding industry."According to an unwritten but well-tested Thoroughbred truism, whatever his progeny might achieve in Australia and Japan the impact will now surely be greater.There are 94 foals from his first southern season, 86 from his second and likely to be 70-plus on the ground this spring. Expect Arrowfield to lead the pursuit for a sire son. The company head has already gone on record as saying that the next big thing from the shuttle might very well come from such a source.Raced by Christiana Stables and later by Harry Mangurian's Mockingbird Farm, the colt from grade I winner Broom Dance (by Dance Spell) won six of his 18 starts, including the Highlander Handicap (Can-I) at Woodbine at three. He was also third behind Prenup in the Jerome Handicap (gr.I) at Belmont before entering stud at Mockingbird Farm in 1995.He swept all before him with a world record 33 individual 2-year-old winners from 50 runners in 1998 -- from 75 foals. With the exception of a lone winner in Japan, the others made him an overwhelming champion freshman sire, on a $6,000 season. Clearly his days down at Ocala were numbered.That Mockingbird had produced top freshman Diablo just two years earlier might have made some potential buyers wary, Messara included: "but this wasn't cheap speed," he said, "they came early and they trained on. They could run and they were tough." In the deal to purchase End Sweep, Messara and Mangurian signed confidentially agreements regarding the sale price.At the time of his death, End Sweep was second on North America's 2-year-old list and eighth on the general table. He earlier had been champion second and third crop sire in North America.Oddly, Forty Niner was lost to North America in 1995, the year End Sweep started what would be a tragically brief stud career. Forty Niner is expected to be returned to Kentucky and Taylor Made in 2003. The Nicholasville outfit is the northern home for former Arrowfield commuter Unbridled's Song.



Copyright © 2015 The Blood-Horse, Inc. All Rights Reserved.