Top Sire End Sweep Euthanized
by Ron Mitchell
Date Posted: 7/12/2002 6:37:47 AM
Last Updated: 7/12/2002 7:47:12 AM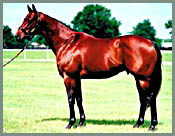 Stallion End Sweep, euthanized as a result of an injury.


End Sweep, the stallion who had shuttled between Australia and Japan after setting a North American record with 33 juvenile winners in 1998, was euthanized Thursday night at Shadai Farm in Japan after complications developed following a serious injury last month."He had a fall and knocked down his withers," said Dr Mark Wylie, veterinarian for Australia's Arrowfield Stud. "He seemed to be doing well but secondary complications occurred over the last five days and when the horse went down late in the evening, the situation was dire and the decision was made to euthanize him on humane grounds."Australian-based Arrowfield purchased End Sweep (Forty Niner--Broom Dance, by Dance Spell) in the first part of 1999 and transported the stallion to its farm following stallion duty at Harry Mangurian Jr.'s Mockingbird Farm near Ocala, Fla. End Sweep, who set a North American record with 33 juvenile winners in 1998, has shuttled to Shadai Stallion Station several times. The horse sustained the withers injury at Shadai last month."I believe he will prove to be a big loss not only to Arrowfield but to the Australian breeding industry," said Arrowfield chairman John Messara. "He was a champion sire that was set to make a big impact here with his first runners. We are really disappointed with what has happened as Australian breeders supported him very well in his time here."



Copyright © 2015 The Blood-Horse, Inc. All Rights Reserved.